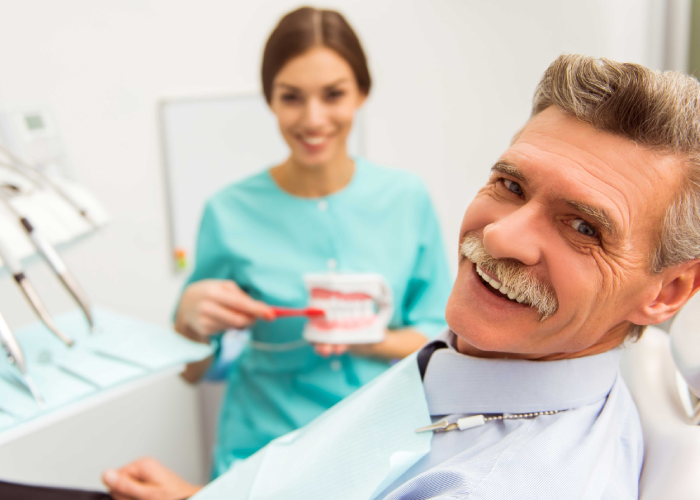 Have you become concerned about the appearance of your smile? Perhaps one or more teeth are missing or severely damaged. Whether intended for cosmetic reasons or functional purposes, dental implants are some of the most effective ways to address these issues. 
If you're considering dental implants, let's review some common questions about this very popular dental treatment. 
You likely want to know: How do these implants work? What advantages can they offer? Are there any risks? What aftercare steps can you take to ensure that no problems arise? These are a handful of the questions that we will be addressing immediately below.
A Basic Overview of Dental Implants
Dental implants are designed to permanently replace one or more teeth that may have been lost or otherwise damaged beyond repair. 
Implants are made from titanium and capped with a ceramic crown. Once installed, the implant will eventually fuse with the bones within the jaw. This allows them to remain firmly in place over time — perhaps for decades if the dental implants are cared for properly. 
Note that implants are likewise designed to look and feel like your natural teeth. This is why they are popular cosmetic options.
Are You a Good Candidate for Implants?
One common concern involves the density of your jawbone, as the jaw needs to provide a strong foundation for the implants. Those who have lower bone density due to conditions such as osteoporosis may therefore be unable to qualify.
It is also important to remember that dental implants will require oral surgery in your dentist's office. This is why a dentist will also examine your overall state of health – including any conditions that compromise your immune system. These could complicate the healing process. So, be sure to discuss these issues with a specialist. 
The Implantation Process at a Glance
If you have been approved for dental implants, what does the surgery itself entail? First and foremost, the dentist will apply local anaesthetic to the area that is affected. 
A small incision is then made around the gums. This provides access to the underlying bone. The base of the implant – a titanium post — will then be affixed permanently into place. 
Note that this is only the first phase of the procedure. Most patients will require a follow-up visit to determine whether the implant has become attached to the jawbone (a process known as osseointegration).
The next (and final) step involves inserting the crown of the implant. This is the portion that is outwardly visible and mimics your natural teeth. This portion of the process does not entail any type of pain and it is normally completed within a single visit. 
What Benefits Can You Enjoy?
It is now apparent that installing dental implants generally represents a straightforward process. So, what are some of the advantages that these appliances have to offer?
Perhaps the most obvious involves aesthetics. Implants are arguably one of the best ways to replace missing teeth and to restore your smile. You can therefore enjoy higher levels of self-esteem and feel better when presented with a photographic opportunity!
Of course, dental implants serve numerous functional purposes. They can make it easier to chew certain foods. Once they have completely healed, you can once again eat your favourite meals. 
Another lesser-known benefit of dental implants is that they can actually lessen the chances that you lose additional teeth in the future. Implants help to "anchor" existing teeth in place thanks to the lateral pressure that they apply. 
Dental implants are likewise attractive as they are low-maintenance. Assuming that they are cared for properly (this will be discussed a bit later), you should not encounter any major problems. This is not always the case when referring to other oral appliances such as bridges and partial crowns.
Finally, were you aware that implants can be used to replace more than one tooth? You can have multiple individual teeth replaced with implants.
Also, a special treatment — known as All-on-Four – is capable of replacing 6 or more teeth – even an entire mouth. This involves four implants that hold a partial or complete arch secure in your mouth.
This will once again depend on your overall health as well as if your jawbone has the density to support more extensive configurations. 
Are There Any Potential Risks?
Similar to any type of oral surgery, there are specific risks to mention. One of the most common involves an infection at the site where the base of the implant is attached to the jaw. This can normally be treated effectively with the use of oral or topical antibiotics. 
Other potential issues include:
The implant is rejected

Sinus issues when implants are placed within the upper jaw

Slight damage to the surrounding teeth, jaw or blood vessels
The good news is that these conditions are relatively rare and in most cases, easy to treat.
Aftercare Tips and Suggestions
Once an implant has been installed, you will still need to take certain precautions during the healing process. Here are some professional recommendations to follow at all times:
Consume softer foods until directed otherwise by your dentist.

Adopt a healthy and balanced diet.

Avoid foods high in cholesterol that may raise your blood pressure.

Keep any eye out for symptoms of an infection. These include localised redness, swelling, a low-grade fever, or a sour taste within the mouth.
Thanks to modern technology, you can once again display an attractive smile through the use of dental implants. Whether you are missing a number of teeth or you instead wish to address aesthetic issues, speak with a dentist. He or she can provide professional insight. 
Sources:
https://yourdentalhealthresource.com/are-you-a-good-candidate-for-dental-implants/
https://yourdentalhealthresource.com/when-dental-implants-are-the-right-choice/
https://yourdentalhealthresource.com/top-tips-for-caring-for-your-dental-implants/s/
https://yourdentalhealthresource.com/can-you-get-professional-teeth-whitening-if-you-have-dental-implants-or-dentures/
https://oralb.com/en-us/oral-health/life-stages-adults/how-to-clean-your-dental-implants/