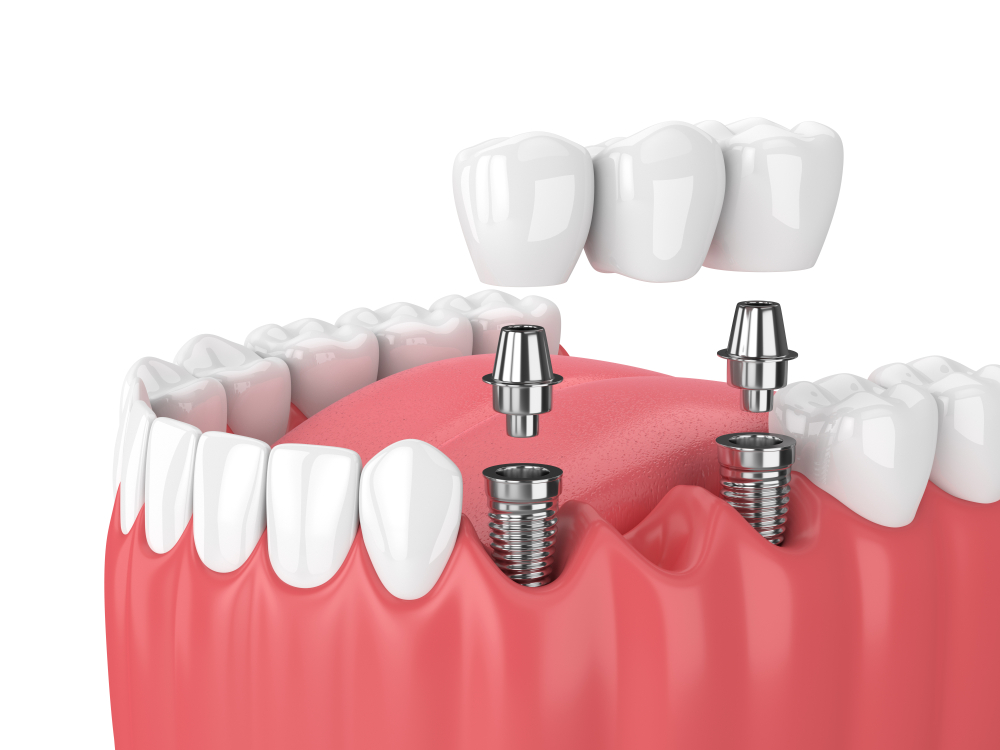 If you've lost teeth then you may be wondering how best to replace them. Should you be considering dental implants in Manchester or dental bridges? Manchester patients probably know already that both treatments address the issue of missing teeth but on a technical level, they provide two very different options to consider. Because an implant is surgically attached to the jaw bone it can't be moved with braces. So, if you need a dental implant and your natural teeth need straightening, then it's best to do this first. Discreet braces offers patients an incentive to straighten their teeth and make space for the dental implant. Alternatively, if their mouth is overcrowded then braces might shift the remaining teeth so that they close the gap where the missing tooth was.
Whether you need a dental implant, dental bridge or even braces to restore your smile, there's certainly a lot to think about. Fortunately, our experienced dental team are here to advise you and suggest the best options for you, your lifestyle, and your budget.
Missing teeth can knock your confidence
Losing teeth can seriously impact your smile and also create problems with your bite functionality. Not only that, but it can also knock a big dent in your confidence. Two of the most common solutions to replace missing teeth are dental implants or dental bridges. If you're looking for the best solution for you, then it's important to understand the treatments that are available to replace your missing teeth and also to know what's involved with each of them before deciding which one to choose. We've put together some information about dental implants in Manchester and dental bridges in Manchester to help you find out what's best for you.
What is a dental implant?
A dental implant is an artificial tooth root made from titanium. It's inserted into the jaw bone at the site of the missing tooth and left for a couple of months to fuse with the surrounding bone. Once the structure has stabilised, your dentist will screw a dental crown onto the top of it and seal it in place. Not only does your new implant look like a natural tooth but it also functions and feels the same too.
Dental implant pros and cons
One of the main advantages of dental implants, as opposed to dental bridges in Manchester, is that they are stand-alone structures which don't rely on adjacent teeth for support. In addition,  they also prevent the bone loss which occurs when teeth are missing and which causes the jaw to change shape over time. Provided they're cared for properly, dental implants can last for decades, and even a person's lifetime.
One of the downsides of dental implants in Manchester and elsewhere is their high cost – particularly if a patient needs several implants in different places in their mouth. Even the replacement of a single tooth with a dental implant can set you back an average of £1500 to £2500. If you're trying to replace a large number of missing teeth, then it's not uncommon for your dentist to recommend a traditional dental bridge instead.
Receiving a dental implant also takes longer than getting a dental bridge and involves several procedures to complete. Oral surgery is required and healing can take several months after the initial implant placement. In the worst-case scenario dental bridge work should take no more than a few weeks to complete.
So, what is a dental bridge?
A dental bridge is secured to the remaining healthy teeth at either end of a gap where a tooth or teeth are missing, to literally 'bridge the gap' and restore a patient's smile. In order to fit the bridge, the teeth at either end of the gap have to be reshaped to fit two dental crowns which support the bridge. Depending on whether or not there is a tooth on either end of the gap, determines the type of dental bridge that is used.
Pros and cons of dental bridges in Manchester
The main advantage of dental bridges is that they are considered a cost-effective solution for replacing missing teeth. In addition, there's no need for bone grafting if bone has been lost and overall the procedure is far quicker than when getting dental implants in Manchester.
One of the biggest disadvantages of a dental bridge is the strain it places on the supporting structures, particularly the teeth which it is attached too. Because of this, bridges are not expected to last a lifetime. Moreover, because they don't address the underlying issue of bone loss this will continue to advance even when the gap has been filled.
Taking a mixed approach
Where patients have lost a large number of teeth in a row, their dentist may suggest a mixed approach.
For instance, if all the molars have been lost, a dental implant may have to be placed at one end where a tooth is no longer there. The dentist can then place a crown at the other end and create a bridge from the implant post to the healthy tooth.
Similarly, if a person has lost several or all of their teeth in one part of their mouth, they may be suitable candidates for a dental bridge which is supported at both ends using dental implant posts.
Finding the best option for you
The only way of finding the best treatment to replace your missing teeth is to talk to your dentist about what options may be available to you. They can weigh up everything that needs to be considered in your specific case to help make the right recommendation for you.
Whether you need to find out about braces offers prior to receiving dental implants in Manchester or want to discuss whether dental bridges in Manchester may be more suitable to replace your missing teeth, we're here to help. Call Church Road Dental & Cosmetics today on 0161 486 0743 and book an appointment. You can trust us to restore your beautiful smile.