For people missing one or more teeth, having dental implants in Manchester is the ideal solution. It offers the opportunity to restore your appearance and chewing function with implant supported crowns, bridges and dentures that are the next best thing to natural healthy teeth.
Whether a recent trip to a Manchester emergency dentist after an accident has left you with a gap, or you've had missing teeth for a number of years, dental implants are the gold standard option available today. What's more, modern-day implants have a very high success rate.
Having said that, they still need to be well cared for at home and maintained with regular check-ups and visits to our Manchester dental hygiene and therapy team. But because dental implants aren't natural teeth, why is after-care so important and what does it involve?
Let's find out…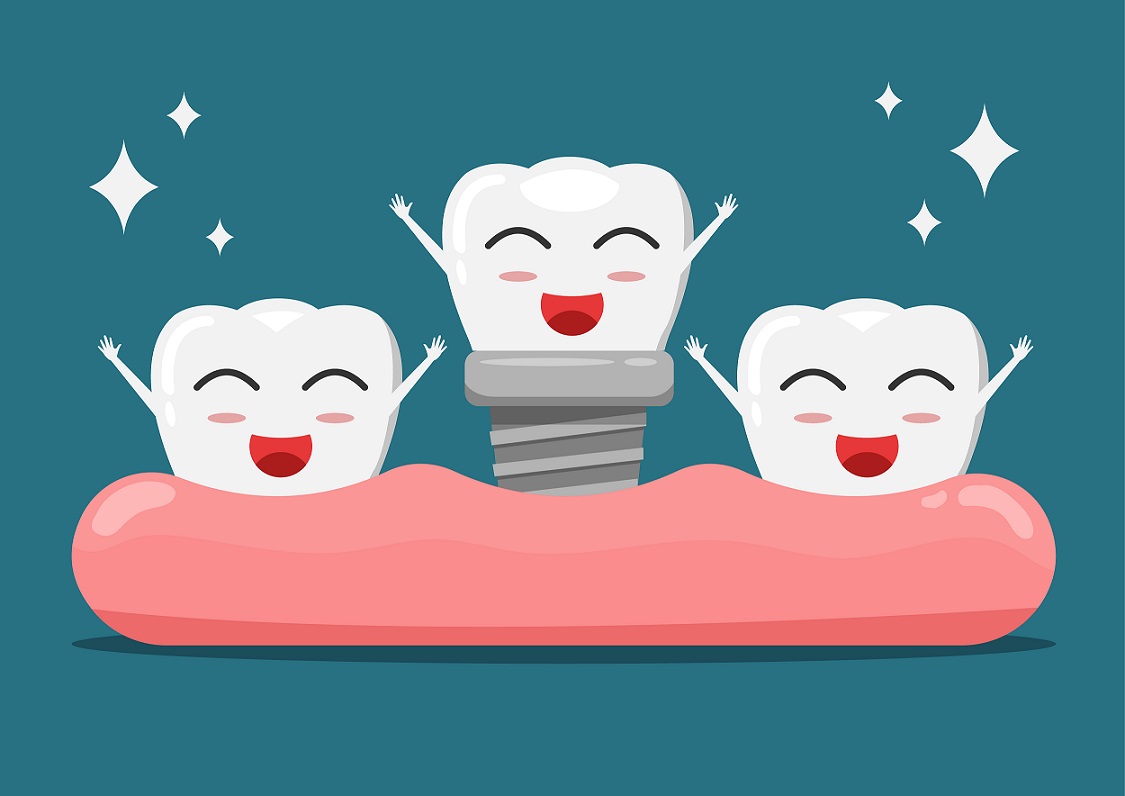 First, what exactly are dental implants? 
A dental implant is a titanium post that's surgically placed into your jaw to replicate the tooth's natural root. The bone then begins to grow around the new implant and fuses to it.  This is a process known as osseointegration and takes around 3-6 months. The implant can then be used to hold prosthetic teeth with crowns, bridges or implants.
There's many reasons our patients find themselves needing to replace missing teeth. It could be due an infected tooth that can't be restored, or because of advanced gum disease leading to the gradual loss of one or more teeth. While a visit to our Manchester emergency dentist can easily be avoided in most cases, accidents do happen and trauma to a tooth can also cause irreparable damage leaving no other option but to extract a tooth. In many cases, dental implants are the best option.
Why is it important to care for your dental implants?
Because the implant-restored crown is artificial, the good news is that your 'new' tooth can't get cavities. That said you still need to take really good care of them.
Why?
Well to put it simply, natural teeth have more protection against infections than implant supported teeth do.  Plaque, which is a build-up of soft bacteria responsible for gum disease, gathers on artificial teeth just the same way it does on natural teeth. This means that it's still important to brush twice a day.
If you don't practice good oral hygiene by removing the build-up of plaque daily, this can cause inflammation and infection of the gum tissue surrounding the implants very quickly.
Unfortunately this infection can then damage the bone and may cause you to lose your dental implant. Although the failure rates for implants are low, it's well-documented that poor oral hygiene is a large factor in the loss of bone around implants. The bottom line is that dental implants are an investment, so it pays to look after them properly!
With this in mind…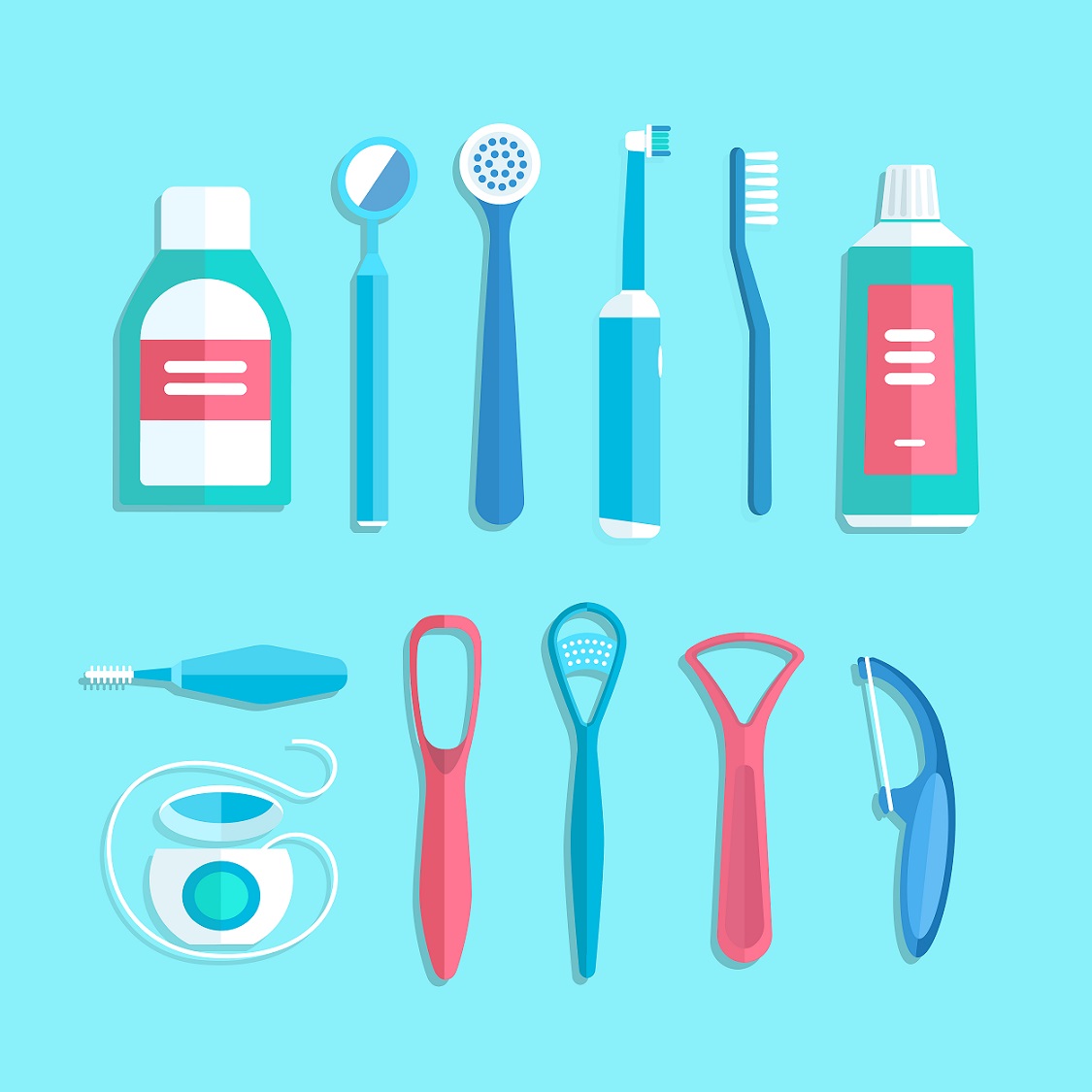 What's the best way to Look after your dental implants?
If you're in need of dental implants as a result of poor oral hygiene, then this is your second chance to get it right. When it comes to dental implants, Manchester residents find that they're easy to look after and it only requires a few minutes each day.
Brushing your implant teeth can be done the same way you'd brush your natural teeth, although we may recommend that you use a special implant cleaning brush. This is because they're specifically angled to help you reach the important surfaces. If not, an electric or manual toothbrush do the job nicely too, providing you brush twice a day.
Single tooth implants are easier to clean, particularly those at the front of the mouth and can be done thoroughly by brushing well, in addition to using floss or interdental brushes to reach between the teeth.
For those with multiple teeth implants, it's recommended to follow the usual advice as above but in addition, it's helpful to include the use of a tool called a water flosser. This helps to remove and wash away any stubborn food particles.
Don't worry if you can't remember this information because when first fitted with dental implants, Manchester residents will be shown how to clean them and look after them properly.
How our Manchester dental hygiene and therapy team can help
In addition, once your implants are fitted you're not on your own….
During regular appointments with our hygienist we'll be able to discuss how you're managing to clean your implants at home and if needed, give you personalised advice on possible ways to improve.
Also during your visit our hygienist will use special tools to help remove any build-up of plaque and tartar so you can continue to enjoy your new teeth for years to come.
But after surgery isn't the only time you might visit a Manchester dental hygiene and therapy team. In addition you may be required to speak to them, prior to implant treatment
So why is this?
In essence the condition of your gum health is really important because any issues, such as gum disease, can affect the success of your implant, particularly in the early stages of implant treatment. So it stands to reason that problem areas will need to be dealt with first before fitting can take place.
So, the million dollar question is….How long will dental implants last?
With proper care, there is no reason why a dental implant can't last a lifetime. However to ensure longevity, a combination of daily brushing, flossing and regular check-ups, are vital.
So, if you've got missing teeth or had to visit our Manchester emergency dentist recently for an unplanned extraction, by choosing to restore your smile with dental implants, Manchester residents can get their confidence back. If you've got any questions about the process of dental implants, or would like to book an appointment with our Manchester dental hygiene and therapy team, call us today on 0161 486 0743.
Save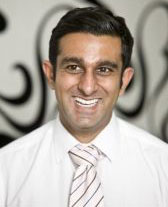 Shi Karim GDC No. 82155
My name is Shi Karim and I am the Clinical Director at Church Road Dental and Cosmetics. I qualified at the University of Liverpool in 2003 and since qualifying I have attended many post-graduate courses worldwide to futher my knowledge in the dental field. I have sat and passed post graduate royal college of surgeon exams and am continually studying, attending courses and pushing myself to further my knowledge in the dental field.
My area of expertise is cosmetic dentistry and have helped numerous patients achieve their dream of a new smile. This is using the most up to date and technologically advanced treatments available. My preference is using minimally invasive treatments such as orthodontics and aesthetic composites but I also have a wealth of experience in placing veneers, crowns and bridges and implants and this can be seen by the cases in my smile gallery. I am also renowned for my treatment of nervous patients and pride myself on good communication to help to relieve any dental phobias that they may have. This is why I have received the recognition of being dental phobia certified.