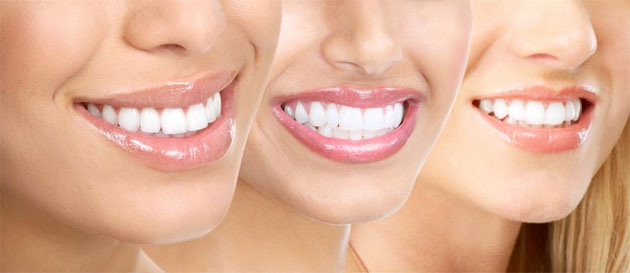 From subtle changes to major dental repairs a cosmetic dentist Manchester can perform a wide variety of procedures, techniques, and treatments aimed at restoring and rejuvenating a person's smile. From relatively quick and simple techniques such as lip enhancement Manchester through to lengthy, life-changing improvements such as dental implants, Manchester residents can rest assured that a cosmetic dentist can help restore both facial aesthetics and tooth function. For this reason they're very much in demand.
With this in mind, it's worth taking a closer look at the type of treatments they offer
Teeth whitening
With more than 100,000 UK people opting for teeth whitening treatment last year it remains one of the most popular cosmetic dental procedures and not without good reason. Treatment can either be carried out in the dental practice by the dentist using laser teeth whitening procedures, or under  dental supervision in the comfort of a patient's home using home bleaching kits. Home whitening kits take anywhere between 2-4 weeks to achieve results whereas results with laser teeth whitening can be achieved in as little as one 45 minute session. Both options provide convenience and treatment is affordable.
Cosmetic bonding
How many of us have those annoying silver amalgam fillings that are visible when we open our mouths? Although they do a great job, they don't really do any favours to enhance a smile. As such a cosmetic dentist in Manchester can carry out a simple procedure known as cosmetic bonding. This is where those unsightly silver amalgam filings are removed and replaced with modern tooth coloured white fillings. It's quick, easy, and pain free making it an increasingly popular treatment.
Lip enhancement Manchester
It isn't solely the teeth that a cosmetic dentist can concentrate on. In addition they can also improve the overall smile using cosmetic lip enhancement. Manchester patients that aren't satisfied with thin or small lips can opt to have them enlarged using dermal fillers such as Restylane. It's a quick, temporary process that involves injecting small quantities of filler into the area giving the lips both body and definition. The results are immediate and generally last somewhere between 6-12 months.
Crowns
Dental crowns, also known as caps, are used to cover the surface of a tooth to restore form and function. They can be used as part of a dental implant in Manchester to sit on top of the permanent implant itself or alternatively they can be used to strengthen a chipped or broken tooth or to protect a tooth after root canal therapy. Crowns can have the longest life expectancy of all cosmetic restorations, but they are also the most time-consuming to fit.
Veneers
Unlike crowns, porcelain veneers are a partial cover for the front of the tooth. They're often used on teeth that have ingrained staining that can't be removed using teeth whitening processes, or teeth that have uneven surfaces, or are slightly chipped. They can also be used to enhance the appearance of crooked teeth or even slight tooth gaps. In essence veneers are shell-like, tooth-coloured pieces of porcelain that are stuck on to the front of the teeth using a fast hardening cement. Once in position the process can't be reversed, but they do give a seamless appearance to a smile creating the perfect look.
A smile makeover
Finally, a cosmetic dentist Manchester can also perform a treatment known as a smile makeover. In essence it isn't really one treatment, but instead it's a whole series of one or more of the above procedures designed to personally transform your smile. The number of treatments usually depends upon the person's needs and requirements but it can be as few as two, or as many as four or five, in order to totally restore and rejuvenate an ailing smile.
Remember, you don't have to put up with a less than perfect smile, so whether it's something as simple as lip enhancement Manchester, or more complex procedures such as dental implants Manchester, why not talk to our cosmetic dentist Manchester today. To book a free no-obligation consultation, contact us on 0161 486 0743 and start the ball rolling towards a healthier smile and a happier you!