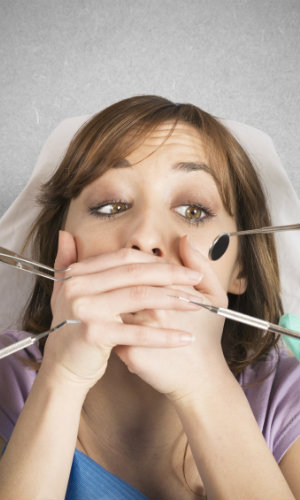 At our Cheadle Hulme dentist we've been taking dental anxiety very seriously for many years. In fact, we apply treatments such as dental sedation Manchester to help people feel as relaxed as they can before undergoing invasive dental treatments.
If you suffer from some form of dental anxiety then you're not alone. Did you know that according to the British Dental Association, 35% of the UK population feel some type of anxiety before visiting the dentist? What's more, a further 12% suffer from dentophobia (full blown dental anxiety). With this in mind, let's take a closer look at how many dentists, including our Church Road dentist, are tackling this problem.
Less clinical, more welcoming
When you walk into our practice you'll notice that our dental clinic isn't at all clinical in appearance. Instead it's warm and inviting. There's no sterile white walls and clinical smells here. Instead you'll find soft pastel colours on the walls, the smell of newly cut flowers, freshly brewed coffee, and an all-round relaxing environment where you can wait for treatment.
Keeping you informed
We know that one of the factors that triggers any type of anxiety is the fear of the unknown. This is why when you visit our Cheadle Hulme dentist we make it our business to explain the dental or cosmetic processes you're about to undertake and more importantly what to expect. We also listen to your concerns and always try to answer them in patient-friendly terms that you'll understand.
We have the technology
One of the biggest dental fears is a fear of needles. Innovative computer controlled systems such as Digiject and dental wands help to make any injections completely painless therefore maximising comfort. In cases when dental sedation Manchester needs to be applied there are alternative ways of applying it such as ingestion (orally, via a pill) or inhalation (breathed in via the mouth)
Relaxed treatments
At Church Road Dental we always put the patient first. We never rush treatments and if you're feeling a little anxious or uncomfortable then we're more than happy to stop and wait until you feel sufficiently relaxed to continue. To us the most important thing is the patient and the results, not the amount of time it takes to achieve them. We also advocate relaxing techniques such as self-hypnosis and realisation when being used alongside other techniques.
Don't let anxiety put you off from having any essential dental treatment that you really need. Instead when you visit our Cheadle Hulme dentist we encourage you to talk to us about your dental anxieties. In return we'll do everything we can to make sure that you'll feel as calm and relaxed as you can before we begin any treatment. Whether this involves dental sedation Manchester or any other techniques, patient welfare is our number one concern.
Why not book yourself a free no-obligation consultation at our Church Road dentist. Here you can come and see the premises, meet the team and discuss how we can help you with your dental fears. To make an appointment contact us on 0161 486 0743 today. We look forward to welcoming you.