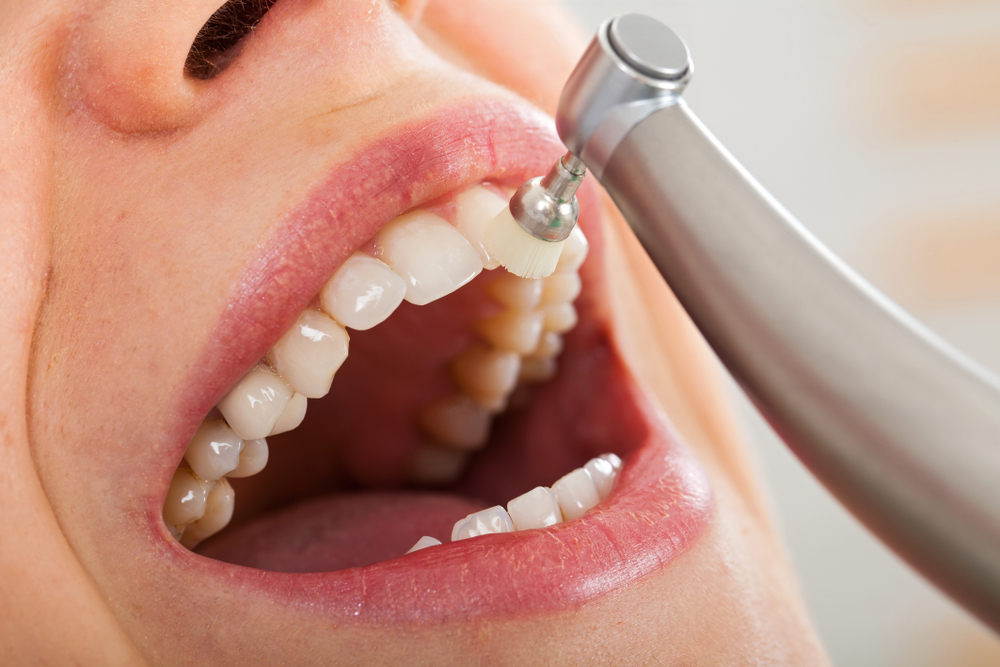 If you've ever considered teeth whitening in Poynton, the first thing that usually springs to mind is how quickly can I whiten my teeth and what's the most effective method? What you may not have considered is can I whiten my dental implants? To answer your question, our private dentist in Manchester explains a little more about dental implants.
Dental implants in Manchester – what they are and how they work
A dental implant is an artificial tooth that is used to replace a missing or damaged tooth. It's made from titanium and placed into the jawbone where it acts as a replacement tooth root.
Over a period of a few weeks, the surrounding bone fuses with the implant to make a secure platform that can support a dental crown. Because the implant takes on the role of a tooth root, it stimulates the bone, helping to prevent the bone loss that naturally occurs when a tooth is lost. It is this natural process that causes an implant to become a permanent fixture in the mouth.
Dental implants are commonly used to replace a single missing tooth but were you aware that they can also replace multiple missing teeth or even all of a person's teeth?
Implants can be used with a crown to replace a single tooth, with a dental bridge to replace multiple missing teeth, and with dentures to replace all of the teeth. Such is their versatility that no matter where in the mouth or how many teeth you have lost, dentists have an implant solution.
The popularity of dental implants in Manchester and the rest of the UK has continued to rise steadily. The Association of Dental Implantology stated in 2012 that some 130,000 single implants were being placed every year and now that figure is thought to have almost doubled.
When implants are placed into the mouth, great care is taken to ensure that their colour matches the shade of the surrounding teeth to give a seamless smile.
However, after having implants there may still come a time when you decide that you need to whiten up your smile. This is when you need to consider your options. Can you undergo teeth whitening in Poynton and will it whiten your dental implants?
Let's take a look at everything you need to know about whitening dental implants in Manchester
First, the bad news
The simple answer to your question is that it isn't possible to whiten dental implants. This is because they are usually made from porcelain due to its close resemblance to tooth enamel, and unfortunately, porcelain is resistant to teeth whitening agents.
Only natural teeth can be bleached or whitened with such products as whitening strips, a teeth whitening kit, or professional teeth whitening undertaken at your dental clinic.
So, what's the good news?
The good news is that your implants are unlikely to discolour or stain like your natural teeth, especially if you look after them carefully and clean them regularly. Furthermore, if your implants were used to replace back teeth, they're not going to be seen anyway.
That said, perhaps your implants have been used to replace front teeth and you're keen to know if they can be whitened. There are a couple of ways to achieve this, but it will involve some dental work. Our private dentist in Manchester explains ….
Replacing the implant crown
One option is to remove the dental crown that tops your dental implant and replace it with a crown that is lighter and brighter.
In this instance, you would undergo teeth whitening in Poynton and then any implants or visible teeth with restorations would receive new dental materials that match the colour of your newly whitened teeth.
Porcelain veneers
Another solution is veneers. These are thin shells of porcelain that fit over the front surface of your natural teeth. Our Manchester dentist can then replace the implant crown with one that matches the colour of the veneers.
With this procedure we can also correct small imperfections such as gaps between the teeth or irregularly shaped teeth, to give you the white, even smile you've always longed for. Naturally, this involves more dental work and is costlier than the previous option.
It's always best to consult your private dentist in Manchester before undergoing any form of teeth whitening. In some cases, the whitening treatment could damage your natural teeth or your restoration, especially if it is old or you have some decay. You could experience sensitivity, irritation, or burning from an over-the-counter teeth whitening product.
A dentist that is experienced in cosmetic dentistry can discuss the best options for whitening your teeth.
Some surface stains such as those caused by coffee or tobacco may lift off tooth coloured fillings or crowns. However, you should never have a teeth whitening treatment without first having your teeth and mouth examined by a dentist. You want to be sure that the treatment won't harm your natural teeth or restorations.
How to prevent implant stains and whiten your teeth
The key to preventing tooth discolouration to your natural teeth and your implants is prevention. Firstly, dental implants and any restorations need to be cared for in the same way as your natural teeth with regular brushing and flossing. This means brushing for at least 2 minutes, twice a day and flossing once a day.
You can also help reduce staining by cutting back on certain stain-inducing foods, such as curry, and lowering your intake of drinks such as coffee, red wine, and cola. Be aware, however, that teeth naturally darken and lose their lustre with age.
Visiting your private dentist in Manchester for regular 6-monthly cleaning will remove surface stains from natural teeth and dental implants. The hygienist will also use a special paste to clean both teeth and restorations.
Maintaining a white smile
Over time your natural teeth will start to absorb some stains. This is why it's important to touch up your whitening treatment a couple of times a year (preferably after a clean and polish) to keep your natural teeth the same colour as your dental implants. Otherwise, your implant crowns will be whiter than your natural teeth after just a couple of years. With professional teeth whitening in Poynton, you can get much better results than when using an over-the-counter whitening kit.
So there you have it. How to whiten your teeth when you have dental implants. Whether you're considering dental implants in Manchester or teeth whitening, come and speak to our experienced dentists at Church Road Dental and Cosmetic. Call us today on 0161 486 0743 to book an appointment.