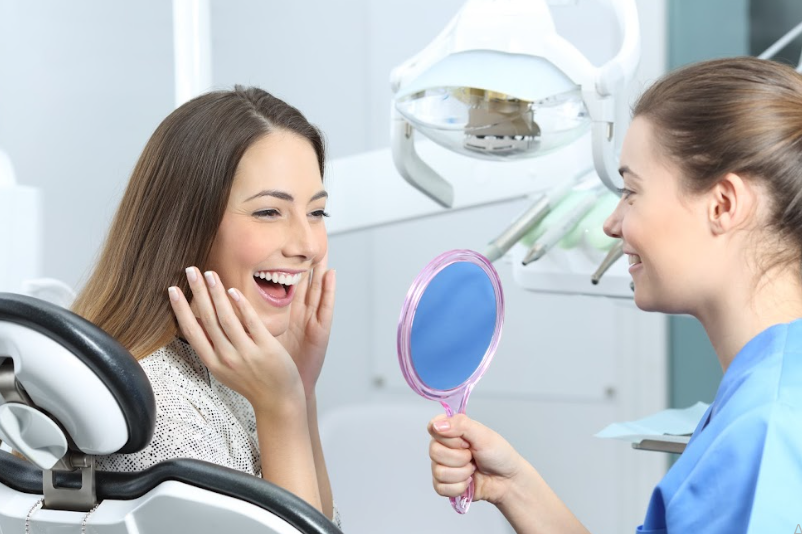 Are you less than satisfied with the appearance of your teeth? Have they become stained over time? Perhaps slight damage such as a chip or crack? Perhaps one tooth is crooked, or shaped unevenly – or you've got a front tooth gap?
These are reasons why a bit of a cosmetic upgrade may be in order. Thankfully, modern technology is capable of offering a host of powerful solutions. Dental veneers are a perfect example of the options at your disposal. 
What are veneers? What are their main benefits? How are they applied to your teeth? What types are available? Let's take some time to examine these questions in more detail.
Dental Veneers at a Glance: Transforming Your Smile
We can think of veneers as a "facelift" for your teeth. A dental veneer is a type of thin material that is applied over the surface of a tooth. The two most common coatings are porcelain and a composite mixture (we will discuss these at greater length shortly). Veneers serve a few interesting purposes:
Help to restore your smile.

Fix problems such as chips, cracks of gaps.

Protect the underlying tooth from further damage that might require more in-depth intervention.
Of course, most people are concerned with the aesthetics of dental veneers. Your dentist will discuss the options that are best for your situation. Let's now examine how veneers are applied as well as some common types of veneers.
The Installation Process
The first step will involve a local anaesthetic so you experience no discomfort. There may also be times when the tooth must be slightly reshaped to guarantee that the veneer fits snugly in place. 
Subsequent steps will vary in accordance with the type of veneer. For instance, porcelain coatings first require than an impression of your tooth is made. Composite resin veneers may require multiple layers and an ultraviolet light source to achieve the optimal shade. 
These non-invasive treatments are rather straightforward and will require little time to complete. 
Composite Veneers/Dental Bonding
Composite veneers are unique as layers of composite material can be directly applied to the teeth. This helps to save time as well as money. This depends on the condition of the tooth as well as if any physical issues (such as gaps or cracks) need to be addressed.
There may also be times when these veneers are created outside of the office before they are installed. These are known as "indirect" composites. 
Composite bonding can correct multiple flaws, including:
Deeply discoloured tooth

Small chips or cracks

Reshaping a tooth
Most experts believe composite is not as strong or durable as porcelain. However, even if composite veneers must be reinforced at times, this drawback could be offset by their relative affordability. 
Porcelain Veneers
Porcelain veneers are very well-known, and involves the application of a porcelain layer over a tooth. The durability of porcelain is an important factor, as porcelain can last a lifetime with proper care.
The porcelain material can be formulated to offer a more natural appearance and unlike tooth enamel, it is highly resistant to staining. Once again, a potential downside involves the process of reshaping the tooth before the veneer is applied. This signifies that porcelain veneers cannot be reversed once they are affixed in place. 
Lumineers
A relatively new solution within the world of cosmetic dentistry comes in the form of appliances known as Lumineers. The main difference between this option and traditional porcelain and composites involves how Lumineers are applied.
Lumineers are essentially a proprietary formulation of porcelain. However, this mixture is unbelievably durable. This signifies that a much thinner layer is required during the application process. So, reshaping the underlying tooth is generally not required. 
Lumineers will therefore help to retain the original shape of the tooth. Many also believe that these solutions are less translucent when compared to porcelain, quite important in terms of visual aesthetics. 
The thin nature of Lumineers can be removed when required. This is another benefit for those who don't want a permanent treatment. 
Which One of These Cosmetic Dentistry Options is Right for You?
There are several factors that will be taken into account when determining if veneers are the most appropriate solutions. These include:
The current appearance of your teeth.

The severity of issues such as discolouration, gaps or cracks.

How much enamel needs to be removed to prep your teeth for veneers.

Whether you desire a permanent or temporary solution.
Dental veneers are nonetheless an excellent option to transform the appearance of your smile. The painless and convenient treatment can indeed work wonders immediately. 
If you would like to learn more about the advantages of veneers, be sure to speak with your dentist. 
Sources:
https://www.yourdentistryguide.com/veneer-procedure/
https://my.clevelandclinic.org/health/treatments/10922-dental-bonding
https://www.healthline.com/health/composite-veneers
https://www.healthline.com/health/veneers-vs-lumineers#lumineers