We have now moved into our brand new, state of the art, 6 surgery dental practice. We purchased the building back in May2021 and renovations on the building, that used to be a Nat West Bank began back in August. It's been a hectic nine months, transforming the building from a derelict, run down space with just one floor, into the beautiful two storey building we have now.
The Patient Lounge of Our Dental Practice
This is our stunning patient lounge. This is the first area of the dental practice you walk into, and a comfortable place to relax whilst waiting for your appointment in stunning surroundings.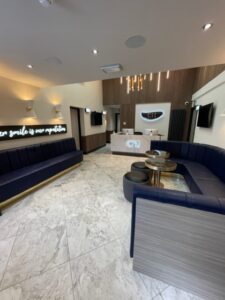 The Refreshments Area
Our refreshments area is where you can help yourself to a variety of teas and water in that patient lounge of our dental practice. We also have a top of the range, bean to cup coffee machine which makes all different types of coffee from espresso to macchiato. Just ask a member of staff for your favourite coffee and they'll be happy to make it for you.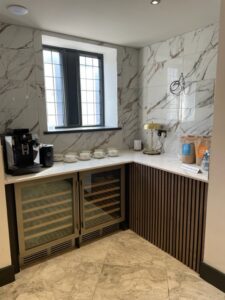 The Reception Area of Our Dental Practice
This is our swanky new reception area, complete with backlit branding and ultra modern lighting. It also features the LED light panels in the ceiling which you'll find in every room throughout the dental practice.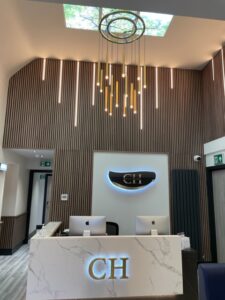 The Consultation Rooms
Our consultation rooms scream luxury, and are impressive places to discuss your dream smile in our dental practice. These rooms are where our smile advisors will go through every step of the journey towards your perfect smile. Whatever your questions, needs and desires they will all be addressed here, and you will be shown previous cases on flat screens so you can see exactly what to expect. And all of our initial consultations are free, so you literally have nothing to lose.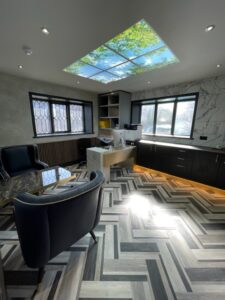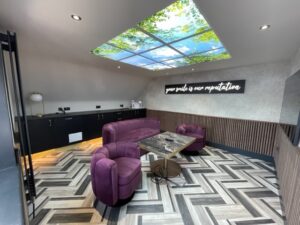 Our Treatment Rooms
Our state of the art treatment rooms is where the magic happens! We have six surgeries like this one, all fully equipped with luxurious dental chairs and the latest features of modern technology in the dental world. The most up to date x-ray machines, flat screens for looking at your scans and TV screens in the ceiling to watch something of your choice whilst having treatment. Dental appointments have never been so enjoyable!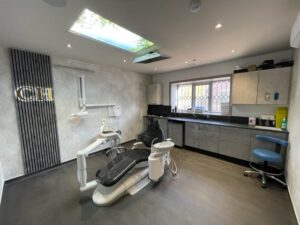 Visit our website to find out about the treatments we offer here at our state of the art 6 surgery dental practice: https://www.cheadlehulmedental.com/treatments/
Take a virtual tour of our dental practice here: https://www.youtube.com/watch?v=m8x2FX2r1wU