taken from the www.cosmeticdentistryguide.co.uk
Many people are born with crooked teeth. In some cases, perfectly straight teeth can become crooked with age, as the structure of your mouth changes, or due to tooth loss and movement of the remaining teeth.
Teeth straightening can be achieved by a variety of different cosmetic dental techniques. Not everyone needs to have fixed wire braces or wear unsightly headgear for a perfectly aligned smile.
At Church road dental & cosmetics we offer invisalign, the inman aligner and the 6 months smile.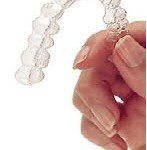 The Invisalign system aims to achieve perfect teeth-straightening results without the need for visible wires, which can be a source of embarrassment for some people. Using a system of clear aligners that look like transparent gum shields, your teeth are slowly moved into their desired position. The aligners are changed every two weeks. The advantage of Invisalign over metal braces is that you can remove them to clean your teeth and eat. Invisalign is an increasing popular treatment for the straightening of adult teeth.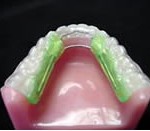 The Inman Aligner is a cross between the invisible braces system and a metal braces system, as it is not as "invisible" as Invisalign (since it has metal components) but it relies on a removable aligner that moves the teeth by applying force to them over time. The Inman Aligner is often quicker than Invisalign, only one appliance is required for the entire treatment, and it is more affordable.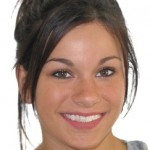 The  six month smile is a new orthodontic treatment uses tooth-coloured brackets and wires and focuses on moving the teeth that you see when you smile (rather than focusing on the bite and moving all the teeth). It uses special nickel wires to move the teeth into the desired position. Treatments that would usually take 18 months to two years are completed in as little as six months.
We offer complimentary home tooth whitening on completion of our orthodontic treatments so you can have that perfect, white smile you always dreamed of.
Our dental practice is based in Cheshire and is a 15 minute drive to Manchester City Centre and is close to Wilmslow, Alderley Edge, Bramhall, Gatley, Hale, Altrincham, Sale, Stockport and Hazel Grove
To book an appointment simply call us on 01614860743 or email [email protected] and we can arrange this for you. Alternatively you can fill out a contact form on our website and we can contact you at your convenience.