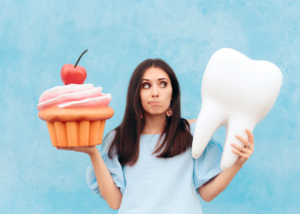 Anyone who is concerned about the health of their teeth and gums should always monitor their sugar intake. Sugar been clinically proven to cause issues such as tooth decay and gum disease, which can lead to more serious oral issues if left unchecked. Thankfully, there are several ways to cut back on sugar while still catering to your sweet tooth. 
One step involves replacing sugar-laden foods with their natural counterparts (such as choosing unsweetened yoghurt over sweetened versions). When thirsty, opt for seltzer or mineral water as opposed to soft drinks. Select dark chocolate over milk chocolate. As opposed to a bowl of ice cream, why not whip up a tasty smoothie with veggies, fruits, milk, yoghurt? 
Once again, here are some useful recommendations to consider:
Cut back on your consumption of sweetened foods.

Avoid soft drinks that contain large amounts of sugar.

Drink a fresh smoothie as opposed to eating ice cream.
Finally, be sure to schedule regular appointments with your dentist so that any problems can be detected at an early stage.
"Sugar isn't just acidic, but it causes oral bacteria to produce acids, which can attack tooth enamel."
Check out other ways to limit your sugar consumption:
https://yourdentalhealthresource.com/simple-swaps-to-reduce-your-sugar-consumption/