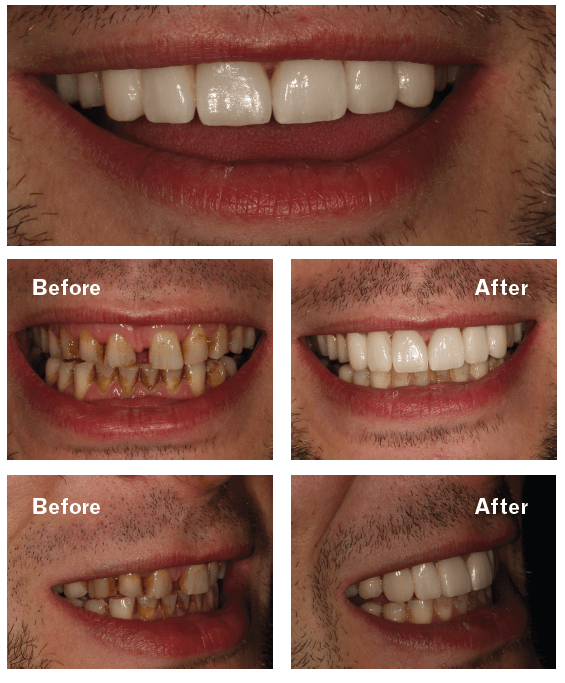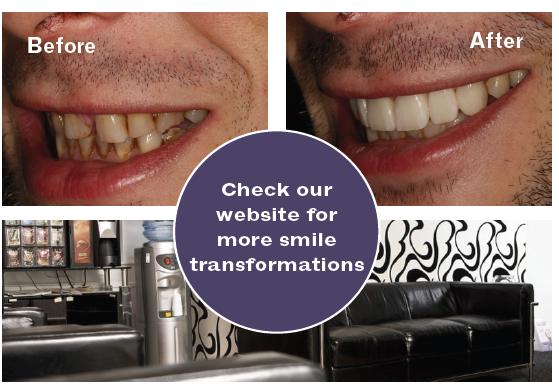 This patient came into the practice for a free consultation with our smile
advisor Jane. He had been unhappy with his teeth for several years and had
neglected his oral hygiene. He wanted to improve his smile and make a
change. His main concerns were that the teeth appeared worn, discoloured,
aged, small and stumpy. He didn't like the gap between his front teeth and he had a
gummy smile. He requested crowns to improve the look of his teeth.
During a full comprehensive assessment with Dr Karim, a series of intraoral
photographs were taken in conjunction with a 3 dimensional scan using our cutting
edge digital scanner. This helped to explain to the patient which different treatment
options are available. We later used this digital scan to produce a 3d mock up of the
patient's new smile, therefore involving the patient in the design process.
At the consultation visit, we highlighted that his teeth were quite short due to a
lengthened period of grinding. Once we had discussed a strategy to treat the
grinding, we decided on a plan in order to aesthetically enhance the look of his teeth.
If we were to lengthen his teeth with crowns, the front teeth would have continued
looking gummy and too long. After a lengthy discussion, it was decided that gum
surgery was the best course of action. This allowed us to push the gum level up,
allowing us to make the teeth longer by going upwards into the gum, rather than
downwards. This was shown to the patient using our 3d mock up software.
After discussing all of the options, we decided to start by whitening the teeth using
our premium Enlighten whitening system. This is the only system to guarantee the
lightest shade on a natural tooth shade guide. This allowed the patient to get to a very
light shade within only 3 weeks, without damaging his teeth.
Gum surgery was then completed to achieve the desired new gum position and the
gums were allowed to settle for 4 months.
We then had a session to accurately prepare the teeth using a guide. Once this was
done, temporary crowns were placed which resembled the new crowns. This is called
the trial smile and allows the patient to make sure that they are happy with the shape
and look of the teeth. The patient also attended the dental laboratory for a personal
visit with our lab technician to match the tooth shade accurately.
Under 2 weeks later the new crowns were back from the lab. We removed
the temporary ones and fitted the permanent crowns. With the additional
shade match the new crowns blended in perfectly to his smile.