Everyone should be able to have that perfect, white smile that all of us so desire. Thankfully this is possible by having cosmetic dental treatments such as teeth whitening. Alderley Edge and Wilmslow residents or those looking for a dentist near Didsbury can be confident that with a visit to our practice, you can get the dazzling smile you've always dreamed of.
That being said, if you're planning to have a considerable amount of dental work carried out then it's important that your treatment is done in the correct order. But what about if you already have dental implants? Manchester patients most commonly asked questions about tooth whitening are answered below.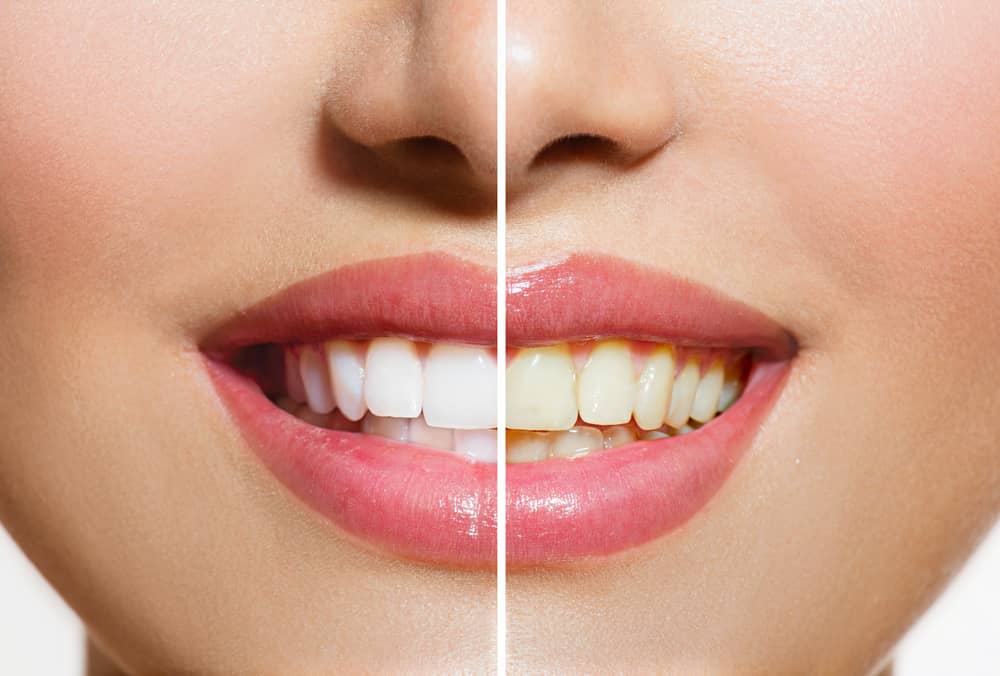 What is tooth whitening and does it actually work?
If you're interested in having a brighter smile, then one of the most effective and simple ways to achieve this is by having your teeth whitened. This is actually our most popular dental cosmetic treatment because it can really help to boost our patient's confidence and is a quick way to improve your smile.
There are many reasons why you might want whiter teeth. We all have a different tooth colour and some people have a naturally darker shade than others. Or it could be due to ageing or lifestyle factors such as:
Smoking
Drinking coffee, tea or red wine
Certain medications
Whatever the reason, you can expect great results.
If you're interested in having teeth whitening near Alderley Edge, you may be wondering what it involves and if it's safe.
Bleaching your teeth change your natural tooth colour from between 5 to 7 shades lighter. You can either have this done in surgery or at home using our night tray system. Either option means using a bleach that contains a mild form of hydrogen peroxide that guarantees great results. Having your teeth whitening in our surgery will take around an hour. If you choose to whiten your teeth from the comfort of your home it generally takes between 1-2 weeks for noticeable results.
While having your teeth whitened is safe, you may find that you have increased tooth and gum sensitivity but don't worry, this is normal and is usually only temporary. One thing to bear in mind is that it's really important is to only ever have your teeth whitening carried out by a professional. Although there's many non-dental professional that offer tooth bleaching nowadays, it's not advised. It's safest to have your treatment done only by your dentist. Didsbury and Manchester residents can then be sure they are having their teeth whitened both effectively and safely as we'll always do a check-up before to make sure the treatment is right for you.
Can I have tooth whitening after dental implants?
In a word, yes. However, tooth whitening will only lighten the colour of your natural teeth. This means that it doesn't have any effect on dentures, veneers, or crowns. You can have the rest of your teeth whitened if you have dental implants, it just won't change the colour of your implant crown.
With dental implants, Manchester patients have a great solution for missing teeth by using prosthetic on a titanium post to fill their gaps. Once fitted, a lot of time and money has been invested in the process, so it's understandable, that you want them to look as natural as possible, so they'll always be colour matched to the rest of your teeth.
If you choose to whiten your sorrounding natural teeth after your implant treatment is finished then you may need to replace your dental implant crown with one that matches your new whiter shade, otherwise, you may have unevenly coloured teeth. That is of course unless your implant crown isn't visible when you smile, then it doesn't matter.
Is it best to whiten my teeth before implants?
Yes. Ideally, teeth should always be whitened first before any other restoration is carried out, particularly dental implants. Manchester residents should always make sure that they've reached their final desired result and are happy with their tooth shade before their new crown is colour matched. This saves time and money down the line replacing their crowns for whiter ones.
How to maintain whitened teeth
To make sure you keep your teeth looking white, we recommend:
Avoiding any dark coloured foods and drinks for a week after treatment
Following up with maintenance whitening at least once a year
Sipping dark coloured drinks through a straw
Having a good oral hygiene routine at home, brushing and flossing after meals
Visiting our hygienist regularly for a scale and polish
Stopping smoking to prevent discolouration
There are many reasons you might decide to have teeth whitening near Alderley Edge at our Church Road Dental and Cosmetic practice. Whatever the reason, if it's to boost your confidence or for a special upcoming event, we can help, regardless of whether you have dental implants. Manchester residents can find out what their best option for tooth whitening is and if they are suitable by booking a consultation with us. If you're looking for a cosmetic dentist near Didsbury, call us today on 0161 486 0743 or visit our website www.cheadlehulmedental.com.
Save