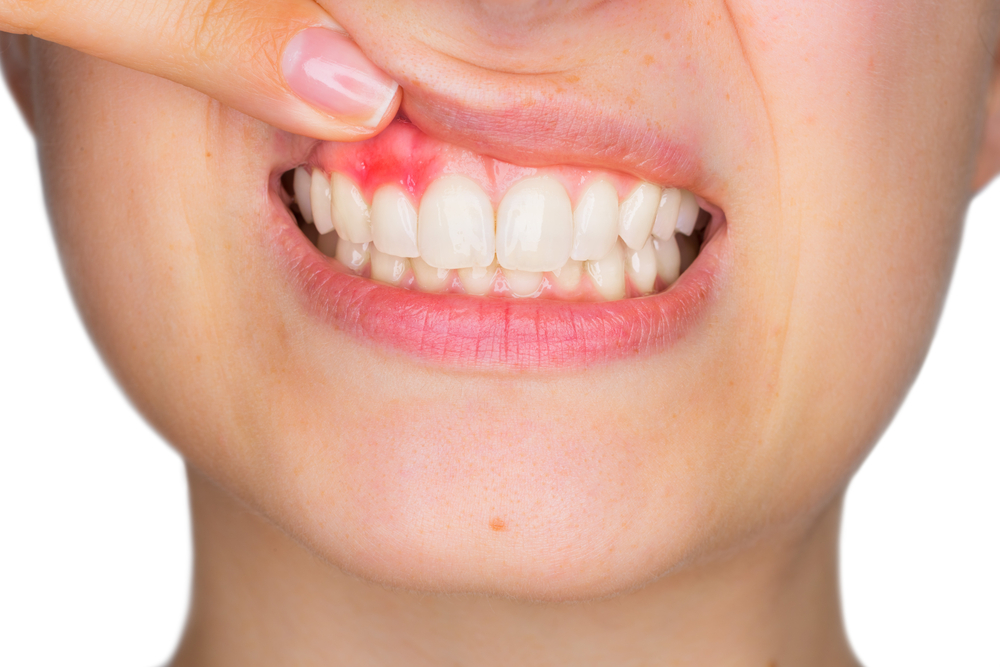 If you don't want to have to choose expensive treatments to correct your smile such as dental implants, Manchester residents should consider paying attention to the signs and symptoms of gum disease.
It's true, we all live busy lives. So visiting the dentist can easily get pushed to the back of the 'to do' list – after all, it's nobody's favourite place, right? But when it comes to oral health, gum disease is one of the biggest problems facing adults today. Unfortunately, we find that many people just don't understand the importance of having healthy gums and presume that their gums problems will go away without a visit to their Manchester gum clinic.
In fact, a survey revealed that almost one in five people would ignore bleeding gums and 15% of people consider it to be normal…
The fact is that it's not normal. Healthy gums don't bleed, neither should they be swollen or sore. There are many problems that can come from ignoring your gum issues. Did you know for example that it can stop you from having dental implants in Hale?
For these reasons, it's important that you take the time to visit a dental hygienist at your nearest gum clinic. But before you do, let's take a look at the common causes of gum disease, what you can do about it and the consequences of ignoring it.
First of all, what is gum disease?
It's a chronic and serious infection that damages the health of your gums, areas around your teeth and the tooth structure too – this includes the bones underneath your teeth and the ligaments that hold them in position.
This inflammation process begins when plaque (containing bacteria) builds up on your teeth and underneath the gums. If this soft plaque isn't removed with good daily brushing and flossing habits, it begins to harden on the teeth, causing chronic inflammation of the gum tissue. If gum disease is ignored, it will continue to worsen, to the point where the gums gradually begin to pull away from the teeth, offering no support and leading to eventual tooth loss.
Research shows that around 75% of people suffer from some stage of this disease and it's actually the main cause of tooth loss in adults. Many people who've lost teeth to gum problems end up seeking expensive treatment like dental implants to restore their smile.
But the good news is that gum disease is completely preventable! With a great oral hygiene routine and regular visits to our gum clinic, Manchester patients can avoid the pain and expense that ignoring gum problems can cause. So don't wait, if you suspect that you've got gum disease, visit our friendly team as soon as possible.
When it's time to visit your Manchester gum clinic
Sometimes, improving your gum health only takes a few changes to your oral routine at home. But, if your gums are bleeding regularly – like, every time you brush – it's a good idea to visit your local dentist. Patients should also look out for other symptoms of gum disease that include:
• Red or swollen gums
• Loose teeth (as an adult)
• Sensitive gums
• Bad breath or taste in your mouth
• Gums that seem to be pulling away from the teeth
• Changes in the way your top and bottom teeth meet together
Remember, the sooner you visit your nearest Manchester gum clinic, the easier it will be to reverse the condition and the less likely you are to need pricey tooth replacement options such as dental implants in Manchester.
Preventing gum disease before it happens
As we mentioned, gum disease begins when plaque is left to build-up on the teeth. If this plaque isn't thoroughly removed, it soon begins to harden in as little as 2 to 3 days. Hardened plaque is called tartar and isn't as easy to get rid of. At this point – no matter how much you brush and floss – it can only be removed with a professional clean.
So to avoid any issues, it's important to thoroughly clean your teeth and remove any plaque build-up every day. To do this properly, make sure you're brushing and flossing your teeth twice daily for at least two minutes – and don't forget to gently clean your tongue too!
We also recommend that you visit our Manchester gum clinic every six months. This gives us the perfect chance to monitor the health of your gums and catch any issues early on. We'll give your teeth a gentle but thorough clean, remove any plaque, tartar or stains and advise you on ways to improve your oral care routine at home.
Other ways to improve your gum health include:
• Eating a balanced diet including green leafy vegetables that are antioxidant-rich
• Stopping smoking or using tobacco as this greatly increases your risk of gum problems
• Reducing stress levels that make it harder for your immune system to deal with gum infections
Don't leave it too long!
If you haven't visited the dental hygienist at your local Manchester gum clinic for a while then it might just be time to book your next appointment. Remember, gum disease is much easier to prevent than it is to cure, so don't wait too long. Whether you need gum disease treatment or dental implants in Hale, Wilmslow or Cheadle, trust our friendly team to help get you smiling again in no time.