18 March 2019
Teeth Whitening in Stockport – Everything You Need To Know and Probably More Besides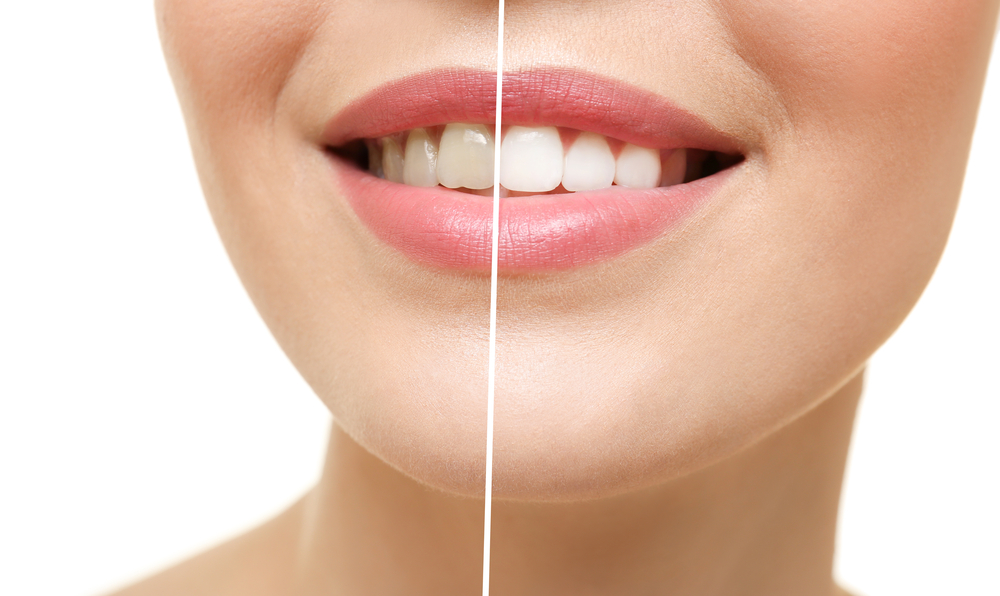 According to dentalhealth.org, one in every four people have undergone teeth whitening. Stockport and Manchester dentists say that professional teeth whitening is their most popular cosmetic dental treatment by far. This is understandable, given that other cosmetic-driven treatments such as dental implants in Manchester can be costly and time consuming.
Conversely, chairside teeth whitening is both quick, easy and in many cases delivers instant results. In fact, in as little as your lunch hour, professional teeth whitening offers the perfect way to boost the brightness of your smile.
So why do we need teeth whitening?
Believe it or not, just as we all have varying tones of hair and skin colour, people also have different tooth colour. Some people's teeth are naturally more yellow than others, while other people's teeth will yellow more with age. In addition to this, there are a number of other factors which can contribute to less than perfect teeth including:
• Lifestyle choices like smoking or drinking stain-producing beverages such as red wine, tea, coffee and Coca-Cola
• Accumulation of plaque and tartar deposits over time
• Tooth trauma which can cause a blackening or darkening effect.
• Taking of certain medications that can also discolour teeth
As you can see, there are a whole range of events that can contribute to yellowing teeth, but whatever the reasons, research has shown that people with a brighter, whiter smiles are more confident, happier and, if research is to be believed, more attractive 
Teeth whitening in Stockport – Why go pro?
You only have to go into your nearest supermarket or pharmacy to see the huge range of over-the-counter teeth whitening products. Here you'll find teeth whitening toothpastes, teeth whitening strips and even teeth whitening gels which you paint onto the tooth surface – all of which claim to help you achieve a brighter whiter smile. They range in price from only a few pounds to £50 or £60.
While there are various claims to suggest that they do work, the fact is that EU directives state that only dentists can legally sell teeth whitening products with a hydrogen peroxide level above 0.1%.
If you're not already familiar with hydrogen peroxide, it's the active ingredient in many teeth whitening products. While some contain sodium perborate or carbamide peroxide, both of these agents break down to release hydrogen peroxide.
So what does this mean?
In essence, pretty much every over-the-counter teeth whitening product contains miniscule amounts of the active teeth whitening ingredient and therefore is likely to produce minimal results at best.
What about take-home teeth whitening kits supplied by your dentist?
Just to confuse you, many dentists now offer teeth whitening kits designed to be taken away from the dental clinic and used in the comfort of your own home. But how are these different from the over-the-counter varieties above?
The difference between these and over-the-counter teeth whitening remedies is the strength of hydrogen peroxide. Let me explain…
Because it's been supplied by your dentist, take home teeth whitening kits like Pola Night or Zoom for instance are legally allowed to contain up to 6% hydrogen peroxide in the UK.
In theory, stronger quantities will produce better and faster results, often up to 8 shades lighter.
Aside from whitening strength, the other main difference is that your dentist will take a mould of your teeth and from this, bespoke plastic trays are worn. This ensures any whitening agent touches your teeth only and not your gums, so take home kits of this nature are always dentist-led!
Chairside teeth whitening in Stockport – What does it entail?
When a dentist offers a chairside teeth whitening product – in other words, teeth whitening treatment that is carried out in and under the supervision of the dentist – they can contain somewhere between 25% and 35% hydrogen peroxide.
As you can see, this is far stronger than take home kits supplied by the dentist and unequivocally better- and therefore more effective- than the numerous over-the-counter teeth whitening products on offer.
Because the teeth whitening process is supervised by a dentist from start to finish, patients can see a difference to teeth colour in as little as one hour. Here's how the process works…
Provided that your dentist gives you the all clear for teeth whitening treatment here in Stockport, the first step is to the cover and protect the gums using a plastic or runner guard known as a damn.
Once the dentist is sure that the gums are fully protected, a syringe is used to apply the gel-like whitening substance to the teeth. In some instances depending on the product, a pen-style laser light may also be used to activate the material. This then causes the gel to foam slightly as it penetrates and lifts the staining. The compound remains in place for around 10 minutes then it is wiped off.
This process is repeated as many as 3 times until the desired degree of tooth whiteness has been reached. Finally the mouth is rinsed, and the protective gum cover is removed.
The whole treatment from start to finish takes less that 1 hour and patients should notice a difference right away. Although be aware that the process can take several days to fully reach the desired levels of whiteness.
So, does teeth whitening hurt?
Some people will experience what's known as teeth whitening sensitivity. While this can be a little uncomfortable, patients should know that it doesn't cause any permanent damage and any discomfort shouldn't last for very long. A good idea to avoid sensitivity is to refrain from eating anything too hot or too cold. Instead, patients might want to stick to foods that are room temperature or just above. Over-the-counter medications such as nurofen and paracetamol may also help to alleviate any type of sensitivity after the event.
What about teeth whitening in conjunction with other treatments?
In some cases, chairside teeth whitening here in Stockport is used in conjunction with other dental treatments such as dental Implants. Manchester patients for example, will usually undergo teeth whitening before fitting any implant-based restorations, because tooth whitening gels cannot whiten restored teeth.
In addition, teeth whitening is also best carried out after orthodontic (braces or aligner) treatment because it's far easier to whiten straight teeth than crooked teeth. In this instance teeth whitening will enhance your new look and brighten up your smile.
Finally, your dentist may suggest teeth whitening treatment as part of a full smile makeover which takes into consideration the whole face and includes treatment such as non-surgical facial rejuvenation (Botox), porcelain veneers, dental implants and cosmetic bonding.
So there you have it, everything you need to know about teeth whitening in Stockport!
If you'd like to find out more about the teeth whitening process or feel it's about time you brightened up your smile, then give the team at Church Road dental and Cosmetics a call. Book your consultation by phoning us on 0161 486 0743 today!
Back to Blogs
Treatments
Taking your smile in a positive direction
When it comes to a friendly, caring, and professional dentist in Cheadle Hulme, you won't find better than Cheadle Hulme Dental and Cosmetics. Why not book an appointment by contacting us directly at 0161 486 0743? We look forward to welcoming you.
View our treatments