Are you missing entire rows of teeth or struggling with removable dentures? Then consider All-on-4 dental implants.
Our Manchester dentist explains – If you've been told you require full-mouth implants to replace multiple missing teeth or are currently struggling with your conventional dentures, then you might want to consider All-on-4 dental implants. Manchester patients should know that they offer a cost-effective solution to fully restoring your smile.
All-on-4 is a registered trademark of Nobel Biocare, a renowned dental implant company, and as the name suggests, it is a technique for replacing more teeth with fewer implants – Four to be exact. This allows the support of an entire row of prosthetic teeth allowing the patient full bite functionality and great aesthetics.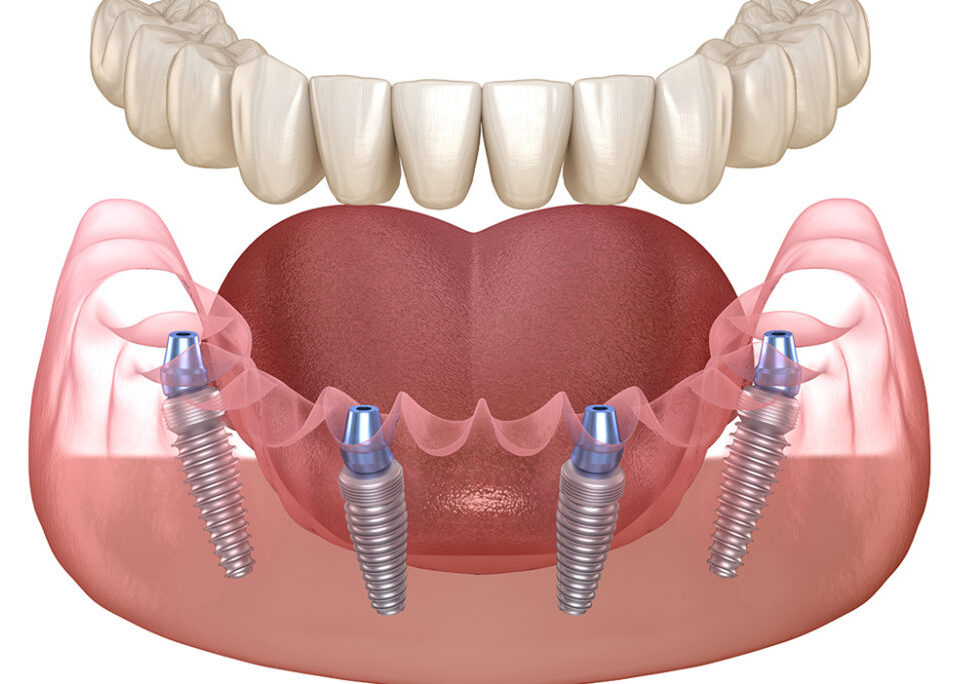 For patients utilising this dental implant technique, there are 3 key advantages:
All-on-4 dental implants can save you money
It's long been stated that the gold standard of missing teeth replacement is dental implants, but they don't come cheap. One can set you back anywhere between £1000 and £2000, so just imagine if you needed an entire arch! Under normal circumstances, this would include around 8-10 implants. On the contrary, the All-on-4 implant method achieves the same results using 4-6 implants depending upon whether the replacement arch is in the upper or lower jaw.
Posterior implants are angled for optimum strength
Where conventional dental implants are inserted vertically, All-on-4 implants are inserted into the rear of the mouth at a 17-45 degree angle.
This means they don't require so much bone depth and density for support. This is good news for bone atrophic patients who would otherwise have to go through the lengthy and costly process of bone grafting.
Same day teeth
Perhaps the biggest benefit of All-on-4 dental implants in Manchester is that implant-supported bridges using All-on-4 restorations can be fitted on the very same day. This is a huge difference from conventional dental implants, where patients must wait 4-6 months or more to receive their new and improved smile.
All-on-4 dental implants vs dentures
Here in Manchester, and indeed anywhere else across the country, the traditional way of replacing multiple missing teeth is by using a denture. Even though modern-day dentures are lighter, more lifelike, and more comfortable than their predecessors, many people who have them are plagued with the same problem – loose or ill-fitting dentures.
The reason? As dentures are designed to fit over the gums, they can't halt the bone loss process that occurs when teeth are missing. As a result, the jaw changes shape, and dentures become loose. This is why they need to be replaced every so often.
In contrast, implant-supported bridges are fixed permanently into position using 4 to 6 strategically placed dental implants. As a result, they act just like your natural teeth, and there is very minimal (if any) risk of them falling or slipping out.
While it's true that conventional dentures offer a clear initial cost-benefit to an edentulous patient, remember that they need to be replaced every 5 years or so. Therefore, when compared to All-on-4 dental implants, Manchester patients may be better off opting for implant-supported dentures, which are designed to last for several decades and more.
All-on-4 dental implants – The fitting procedure
The consultation
During a consultation, our Manchester dentist will examine your mouth and carry out a CBCT scan to assess your suitability for dental implants. Using the latest technology, we can check your exact jaw bone density and plan precisely where to place the implants.
In addition, we are more than happy to discuss alternative treatment options with you, allowing you to make a fully informed decision.
Impression taking
If you are suitable for dental implants and you do decide to go ahead, we will need to take a dental impression. This can either be done traditionally using trays and a putty-like substance known as alginate, or we might use an intra-oral scanner. Either way, from these impressions, your new bridge is designed.
All-On-4 dental implant surgery
Sometimes a patient may need to have some teeth extracted before dental implants can be placed. We can usually do this on the same day. Throughout the treatment, we use the latest conscious sedation techniques to ensure you are both comfortable and relaxed.
Next, precise holes are drilled at the front and rear of the jaw, and the implants are inserted. In many cases, your new bridge will also be fitted. This puts less pressure on your implants as they heal. Either way, you will walk out with a new set of fully functioning teeth.
Final bridge fitting
Some 6-9 months after surgery, you should be ready for your permanent bridge fitting. This is normally made from metal/acrylic, porcelain hybrid or other high-quality dental materials.
Of course, our Manchester patients will need to return to us from time to time to check progress and to carry out any maintenance, but other than that, an implant-retained denture using All-on-4 dental implants should give you the hassle-free experience you desire.
To find out more about All-on-4 dental implants in Manchester, book a consultation with the team at Cheadle Hulme Dental and Cosmetics. Call today on 0161 486 0743 or visit our website and let us help you to transform your smile once and for all!
Back to Dental Implants
Treatments
Taking your smile in a positive direction
When it comes to a friendly, caring, and professional dentist in Cheadle Hulme, you won't find better than Cheadle Hulme Dental and Cosmetics. Why not book an appointment by contacting us directly at 0161 486 0743? We look forward to welcoming you.
View our treatments