We at Cheadle Hulme Dental are extremely proud to offer the innovative and discreet Six Month Smiles® brace system.
6-month Smiles® offers you brilliant results, which are completed within a very short space of time.
Most other braces are worn for around 1 to 3 years and may require noticeable metal brackets, but 6-month Smiles® is a different kind of brace. Using white brackets and clear wires, the system is able to effectively and discreetly straighten teeth within a fraction of the usual time.
What's the difference between Invisalign® and 6-month smiles?
A number of orthodontic problems can be treated with 6-month Smiles, including crossbites, overjets, underbites, crowding and spacing. 6-months Smiles is also a great deal gentler than other braces, using less overall force than traditional braces. This is because they only treat the teeth that you can see when you smile.
Another advantage of 6-months Smiles is the cost, which is often a great deal less than other fixed or invisible braces like Invisalign®. If this sounds like your type of brace, then please feel free to book a consultation with one of our dentists, who can assess whether you would be a good candidate for 6-month Smiles.
Is the treatment painful?
6-month Smiles is one of the gentlest brace systems available, but as with any brace system, there may be some minor discomfort o begin with. This will soon subside, but you can choose to take ibuprofen or paracetamol to alleviate the initial pain if needed.
Stage 1: Your Free Consultation
All patients are welcome to take advantage of our free consultations. We spend time addressing your dental worries, which helps us find the most suitable treatment option for you. There is no cost for this service.
Stage 2: Measurements
If you are found to be a suitable candidate, then your treatment can begin. Your 6-month Smiles brace will be custom-made according to the structure of your teeth to provide optimum results for your dental situation.
Stage 3: Bespoke braces
Your brace is realigned and adjusted every 4-5 weeks, according to the movement of your teeth, until they sit in the desired position.
Stage 4: Treatment begins
When the brackets and wires are fitted, these will remain on your teeth for the entirety of the treatment. But, as the material used is so discreet, the 6-month Smiles brace is a great alternative to other noticeable systems.
Stage 5: Treatment is complete
When you and the dentist are satisfied with the position of your teeth and feel that no more work is needed to create your perfect smile, you are free to show off your rejuvenated smile to the masses.
Free tooth whitening and consultation are included in the Six Month Smiles® treatment.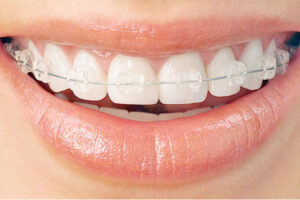 Back to Teeth Straightening
Treatments
Taking your smile in a positive direction
When it comes to a friendly, caring, and professional dentist in Cheadle Hulme, you won't find better than Cheadle Hulme Dental and Cosmetics. Why not book an appointment by contacting us directly at 0161 486 0743? We look forward to welcoming you.
View our treatments