09 May 2012
Dental Implants Stockport – Gold Standard for Teeth Replacement
If you're considering your options for missing teeth replacement and have been doing some research on Dental implants in Stockport, you'll probably know that implant-based restorations are seen as the gold standard or rather, the pinnacle of modern-day teeth replacement.
The truth is that dental implants aren't the only option available and other forms of missing teeth replacement such as conventional bridges and dentures are not only quicker and easier to fit initially – they're also less expensive! Yet, and despite this, we find that we see a lot of patients from the Stockport area that are seeking to close gaps using tooth implants. The question is why? Our dentist near Stockport explains….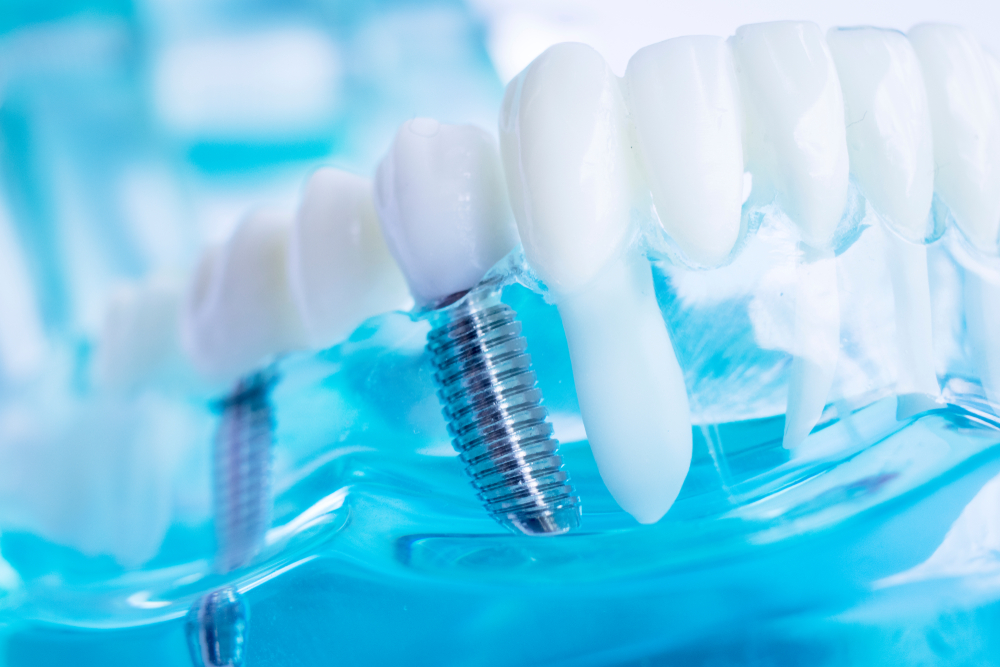 Longevity
Longevity is one of the key factors that patients choose dental implants. In Stockport, for example, we suggest to patients that if looked after and cared for correctly, their implant-based restorations can last for several decades at least. Did you know for example that the very first implants placed in a human patient lasted 40 years until the subsequent death of the patient in 2006? Furthermore, there's no telling how much longer they would have lasted had the patient still been alive today.
Now, compare this to conventional dentures. Typically, dentures only have a shelf life of somewhere between 5 and 10 years. This is because the comfort and fit of the denture alters as the facial shape changes during bone resorption – This is the process by which bone tissue gets resorbed back into the body when it's no longer required. As the jaw shape changes, it causes the denture to become loose. When this happens, they can move around in the mouth causing embarrassing denture slippage, as well as making the mouth sore as they rub against the cheeks and gums. For a while, it's true that conventional dentures can be adjusted to fit your changing jaw However, after a period of time, they will need changing altogether.
So, let's be conservative and say that your dental implants in Stockport last for only 20 years – That's the bottom end of our estimate, right? Now, let's say that you were lucky and your dentures lasted for the full 10 years, it doesn't take a genius to work out that you'll need to replace your dentures at least twice during that time. The question is are dental implants twice as expensive as conventional dentures? In this scenario – well…probably, but remember we did say that it was a conservative estimate and any sway either way, makes dental implants in Manchester a good deal.
By the way, we use a system call Nobel Biocare. These are high quality implants that have been tried and tested on our Stockport patients for many years. So, with our skilled team and quality implants, we guarantee that you are in safe and knowledgeable hands.
Halts bone loss
We've already talked about the problematic issues that bone resorption can cause. The real thorn in the side of when a patient is fitted with a conventional denture or bridge is that resorption continues, despite replacing a tooth gap. But what about when it comes to dental implants? Stockport patients can rest assured that bone resorption is permanently halted the moment an implant is placed. Furthermore, in many cases, as remaining bone tissue starts to merge and fuse with the implant in order to create a super-strong platform, the process is also reversed. So, what does this mean for you the patient?
Quite simply, no more jaw and facial shrinkage causing skin sagging, together with an appearance that makes you to look older than your years.
Hassle free
Okay, so you might be forgiven for thinking that the possibility of undergoing invasive treatments such as bone grafting or sinus lifting, in addition to the dental implant process, plus a lengthy recovery phase in many cases, is far from hassle free. Indeed, you'd probably be right. However, once in position, this is when dental implants in Stockport really do come into their own.
Patients can be expected to eat again normally without having to worry about what they chew. Moreover, keeping them clean and bacteria free, is a walk in the park! Simply brush and floss them like you would your normal teeth. But that's not all – because they're permanently anchored into the jaw, you never have to worry about embarrassing denture slippage every time you eat or speak. Provided they're cared for properly, they'll happily sit – doing their own thing – for many years to come and you won't even know that they're there!
If you are worried about initial surgery through bone grafting and multiple implant placement (for those with several or more missing teeth) you'll be pleased to know that we offer single tooth implants, implant supported bridges and all on 4 implant treatments for patients from Stockport. Many of these treatments require minimally invasive methods and are faster and more efficient.  In addition, our team are well-versed in the art of gentle dentistry, using conscious sedation so our Stockport patients can expect pain-free implantations. Our team also accepts patients in Stockport from other areas. It is common for patients to seek out dental implants in Stockport for a one-off implant treatment and then return to their own Stockport Dentist.
What about the cost factor?
The cost of dental implants can vary depending on the complexity of the implant procedure and whether more complicated procedures are also required such as bone grafting or sinus grafting. Therefore, taking all of this into consideration, initial costs will be more than other non-surgical treatments. However, and as already mentioned, when you look at the long-term benefits of implants vs non-surgical teeth replacement options and weigh them up against the initial costs, you might concur that dental implants in Stockport are a good deal!
As you can see, dental implants in Stockport really are the gold standard of missing teeth replacement in many aspects. To see all our dental implants treatments please visit our dental implants Stockport page for further information.
Centrally located our dental practice is based in Cheshire and is just a 15 minute drive to Manchester City Centre. We also provide dental implants in Wilmslow, dental implants in Alderley Edge, dental implants in Bramhall, dental implants in Knutsford, dental implants in Gatley, dental implants in Poynton, dental implants in Altrincham, dental implants in Sale, dental implants in Hale, dental implants in Prestbury, dental implants in Stockport, dental implants in Macclesfield, dental implants in Didsbury, dental implants in Hazel Grove and… dental implants in Manchester.
To book an appointment simply call us on 0161 486 0743 or email [email protected] and we can arrange this for you. Alternatively, you can fill out a contact form on our website and let us contact you at your convenience.
Back to Blogs
Treatments
Taking your smile in a positive direction
When it comes to a friendly, caring, and professional dentist in Cheadle Hulme, you won't find better than Cheadle Hulme Dental and Cosmetics. Why not book an appointment by contacting us directly at 0161 486 0743? We look forward to welcoming you.
View our treatments