If you're doing a google search for 'my dentist in Poynton' to find out if they offer professional teeth whitening, then you're certainly not alone. More and more dentists are offering professional teeth whitening services and it's very much in demand. People are expecting more from their dentist and as a private dentist in Stockport we don't just fix teeth or act as an emergency dentist in Manchester. In addition, we help patients gain in confidence and even knock a few years off their appearance by offering a range of cosmetic treatments, the most popular of which is teeth whitening.
It's difficult to keep teeth white no matter how religiously you brush and floss, so let's take a closer look at the types of teeth whitening my dentist in Poynton offers, what the treatment involves, and the benefits to be gained.
If you've whitened your teeth before then you're probably well aware that over-the-counter whitening products don't always produce the best results. Often it's a case of expectations being high and of disappointment when the product you've used doesn't whiten your teeth sufficiently.
Thankfully this isn't the case when you opt for professional teeth whitening with our private dentist in Stockport and judging by the reaction of patients whose teeth we have whitened, you'll be delighted with the results. What's more, we offer a variety of teeth whitening treatments so that there's something for everyone. So what about the benefits of professional teeth whitening? Well, some are more obvious than others, so let's take a closer look.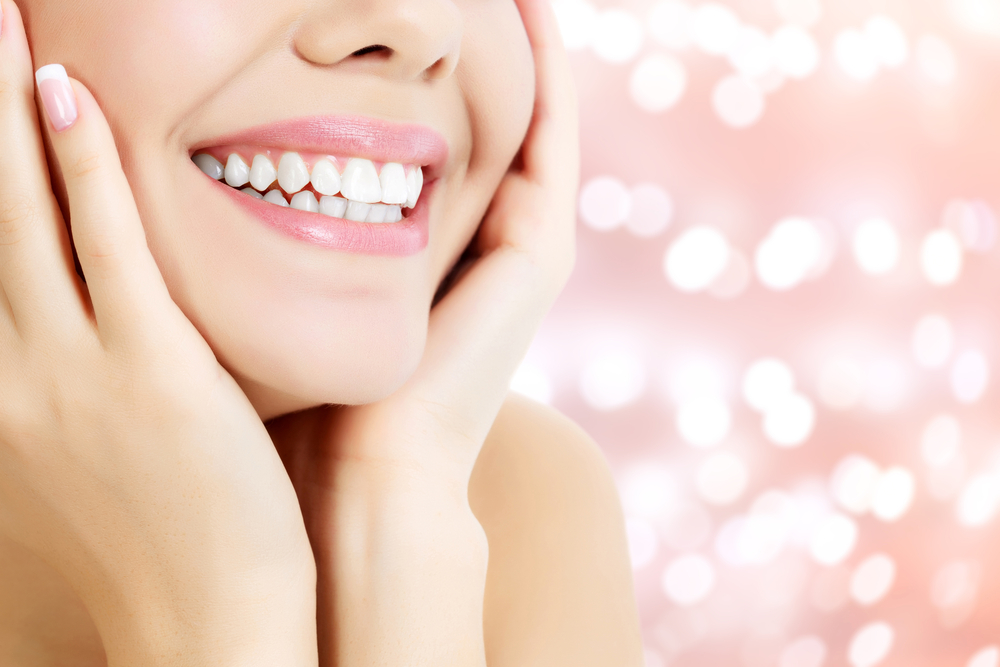 Obvious Benefits of Teeth Whitening
At Church Road dental, care is taken to ensure that your teeth and mouth are healthy before carrying out any type of teeth whitening. Don't worry – if you need any dental treatment we'll get that fixed first and then you can go ahead with whitening your smile.
We all know that a mouth full of whiter teeth has benefits, with the most obvious one being that your smile looks brighter and nicer. Stains and blemishes distract from a nice smile and no matter how much you smile, it's missing something. A whiter smile looks fresh and sparkly and will do wonders for your self-esteem.
Improved oral health is another obvious benefit of teeth whitening. Because your smile looks so great, you'll want to keep it looking that way with regular brushing and flossing. This will strengthen your teeth and gums, and keep your entire mouth more healthy.
So, that's the obvious benefits of teeth whitening but what about the not so obvious? My dentist in Poynton explains….
Less Obvious Benefits of Teeth Whitening
1. Stronger more thorough whitening – Home teeth whitening treatments such as trays and strips contain a lower concentration of bleaching agent and will struggle to lift anything more than light staining. What's more, because the trays often don't fit and the strips don't always stick, you can end up with white patches and a mottled smile. For a whiter smile and to address more severe stains, then nothing comes close to the thorough, even whitening results achieved by a professional treatment.
2. Reliable speedy results – So you want your teeth lightened really fast? Well, how about 60 minutes- does that cut it? Yes, really, our Zoom Power Laser whitening can be carried out chairside and will fit into your lunch hour. With our dentist monitoring the results, you can be assured of reliable whitening of up to 8 shades lighter.
3. Customized treatments – Over-the-counter whitening treatments work on a one size fits all basis and as my dentist in Poynton will tell you, each mouth is different. We offer a variety of whitening treatments designed to fit in with you – whether you want fast whitening or you prefer to take your time and whiten your teeth yourself at home. We can even offer a combination of in-chair and take-home trays to achieve the level of whiteness you want.
4. Safer treatment – If not used properly, over the counter whitening remedies can damage your gum tissue and the insides of your mouth, causing pain and sensitivity. Church Road dental care is safer and more comfortable because you've got a dental professional carrying out the procedure and monitoring your progress from start to finish. Your gums and other areas of your mouth can be covered for protection and the concentration and amount of whitening gel can be adjusted. Your dentist will also give you tips on limiting tooth sensitivity and on caring for your new white smile.
5. More popular – Have you ever noticed how people seem to flock around those with gleaming white smiles? It's because a lovely white smile acts like a magnet and seems to draw people to you since you're perceived as friendly and approachable. You could even find your love life improves since, in a survey carried out by Match.com, it was shown that both men and women rank nice teeth as one of the most important characteristics they want in a partner.
6. More career success – Several studies have also shown that people with a perfect white smile are perceived to be more confident and more trustworthy, and as a result are more likely to be offered a promotion or pay rise. Who knows, your new whiter smile could even land you your dream job! Who'd have thought that Googling 'my dentist Poynton' for teeth whitening, may open so many doors?
7. Mood enhancing – Teeth whitening can also improve your mental health and state of mind. Did you know that smiling more (which make no mistake, you will be doing) relieves stress and makes you feel happier. When you smile your brain sends a message to the 'happy chemicals' within your body – endorphins, dopamine, oxytocin, and serotonin – not only making you feel happier but more positive and motivated too.
So, you see! A white smile really can benefit you in ways you might not have considered. If you're considering teeth whitening then a quick google search for 'my dentist Poynton' followed by 'teeth whitening treatment' should do the trick. Did you know that here at Church Road dental and Cosmetics our Church Road dental care is highly regarded in the local community? Don't forget, we're also an emergency dentist in Manchester in the event you need dental assistance right away. Call us today on 0161 486 0743 and take the first step to a beautiful white smile.