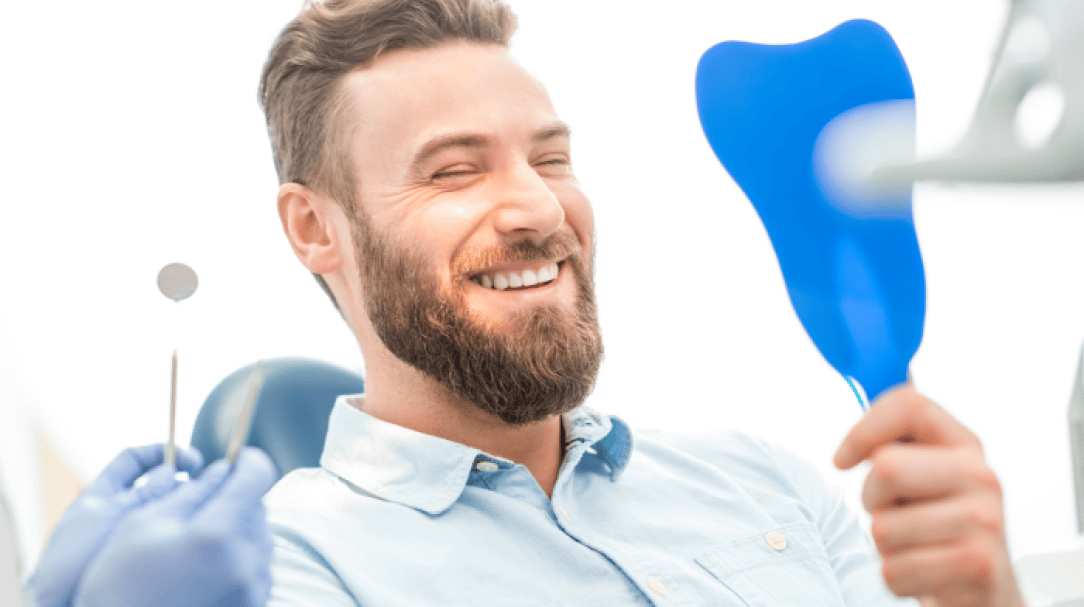 22 August 2023
Is it Time for Dental Implants?
Dental Implants for Stockport
With dental implants, you can restore a natural-looking smile. Dental implants are one of the most effective ways to replace missing teeth, helping to boost self-confidence through a more confident smile. 
As well as the cosmetic benefits, implants restore total functionality too, allowing you to freely bite and chew again. So, what are dental implants and are you a suitable candidate?
What Are Dental Implants?
Dental implants for Stockport
Dental implants consist of a titanium or ceramic post that is screwed into the jawbone. The implant fuses with the jawbone to provide a solid, sturdy replacement for a missing tooth. This helps prevent the loss of jawbone caused by a missing tooth which can lead to a sagging of the face or shifting of the position of the surrounding teeth.
Once the implant has fused and the affected area has healed, your dentist can fit a crown. Whereas the implant acts as the tooth root, the crown restores your tooth's biting and chewing surface. The crown is custom-made to match the colour of your natural teeth to seamlessly restore a natural-looking smile. Therefore, the crown delivers cosmetic and functional benefits.
Do I Qualify for Dental Implants?
Dental implants for Stockport
There are three prime points your dentist will need to consider before you can become a candidate for implants. These are:
1. You Have Good Oral Health
Oral health problems like gum disease and tooth decay would need to be addressed before being considered a candidate for a dental implant. Good oral health is key for the success of the implants and therefore any underlying issues will need to be resolved first.
2. Your Jawbone Is Strong Enough
The jawbone needs to be dense enough to support the titanium post of the implant. You can lose bone mass where a tooth is missing, and the longer you leave replacing the tooth the more bone loss that is possible. If there has been significant bone loss, the jaw may not support the implant.
A bone graft is one solution to this issue by adding natural or synthetic bone to strengthen the jaw around the area of the missing tooth or teeth. Without the appropriate density of jawbone, an implant is unlikely to be an option to replace your missing teeth.
3. You Don't Smoke
The chemicals in tobacco-based products can hinder the healing process. This reduces the chance of a dental implant being successful. Of course, quitting smoking is not an easy task and advice can be given to help you find the help and support needed. At a minimum, you would need to refrain from smoking for a good period before, during and after your implant procedure.
The Different Dental Implant Options
Dental implants for Stockport
Dental implants aren't a one size fits all solution. They are a versatile solution to replacing a single missing tooth or several missing teeth. Regardless of how many missing teeth you may have, dental implants for Stockport are worth considering.
Single missing tooth – just one missing tooth can make you self-conscious about your smile. An implant fitted with a crown fills the gap and restores a natural look and functionality to your tooth.

Several missing teeth – an implant-supported bridge sees one or two implants used to support a bridge in replacing several missing teeth.

A row of teeth – in this instance you could opt for all-on-four dental implants, where up to six implants are used to support your new replacement tooth structure.

All the teeth – implants can even be considered when you have lost all your natural teeth. Again, the all-on-four implant option may be considered, but it may be possible to use implants to support dentures.
Going the implant route rather than other tooth replacement options like dentures offers a more stable and longer-lasting solution. The stability of implants can translate into more comfort and confidence in their performance as well providing a cosmetic benefit — as the crown topping an implant is custom-made to enhance a natural look.
Dental Implants AfterCare
Dental Implants for Stockport
Once you have your implants fitted you will want to ensure they retain their look and functionality. Your dentist will discuss how best to look after them in the immediate days following the insertion of the implant post and the permanent crown. This will involve rest, avoiding certain acidic foods, brushing with a soft-bristled toothbrush and antibiotics.
You look after your implants long-term as you would look after the rest of your teeth. The implants are susceptible to the same bacteria and plaque as they attack the gums that support them. Therefore, you will want to ensure you maintain the following good habits:
twice daily brushing using a soft-bristled toothbrush

daily flossing

regular dental check-up appointments

regular professional teeth cleaning at your dental clinic

mouthwash as rinsing can help maintain healthy gums

consider changing from a manual to an electric toothbrush
Your implants require healthy gums for support. A dental implant is designed as a permanent tooth replacement option while the crown that tops them can last up to 20 years given the right care. This can also depend on where they are located in the mouth and whether they are teeth that see heavier levels of chewing activity.
Can I Still Whiten My Teeth for a Brighter Smile?
Yes, but the best time to do this is before you have your implants fitted. Porcelain crowns are stain-resistant and therefore resistant to whitening products. When you have teeth professionally whitened first, your custom-made crowns will match the newly whitened colour of your teeth for a uniform effect. This is the best way to ensure you get the all-round brighter smile you desire. However, the benefits of teeth whitening may still be gained after you have implants if the implants are toward the back of the mouth and out of sight. 
Dental implants for Stockport and its neighbouring area residents offer a leading tooth replacement option. You can consult with your dentist to see whether you qualify for dental implants to restore your smile to its former glory.
Back to Blogs
Treatments
Taking your smile in a positive direction
When it comes to a friendly, caring, and professional dentist in Cheadle Hulme, you won't find better than Cheadle Hulme Dental and Cosmetics. Why not book an appointment by contacting us directly at 0161 486 0743? We look forward to welcoming you.
View our treatments