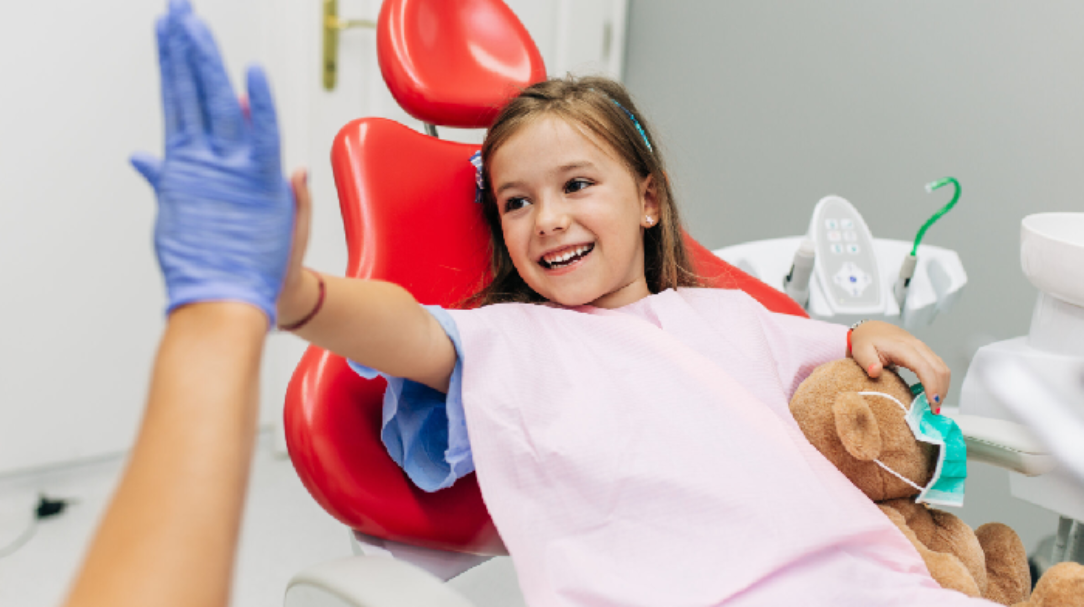 26 September 2023
Pediatric Dentistry: Building a Foundation for a Lifetime of Oral Health
Were you aware that over half of all children between the ages of six and eight have had at least one cavity within their primary teeth?
This can increase the chances of developing more serious problems as they age. This is why pediatric dentistry plays such an important role.
What is the primary role of a pediatric dentist? When should you begin consulting with a pediatric dentist? What should you expect during an average visit? Let's jump right in to learn more.
The Importance of Pediatric Dentistry
Children will normally begin developing their primary (baby) teeth once they are six or seven months old. These teeth then remain in place until the age of six or seven; eventually being replaced by permanent (adult) teeth.
Unfortunately, some parents do not pay attention to the health of baby teeth due to their decidedly transient nature. In other words, they feel that any oral health problems at this stage will be eliminated once the permanent teeth emerge.
This is a dangerous misconception and it can have a very real impact upon the oral health of a child as he or she begins to grow. This is also why experts recommend that a parent should consult with a pediatric dentist as soon as the first baby tooth appears.
What Services Does a Pediatric Dentist Provide?
Pediatric dentists will generally provide examinations and treatments for young infants, children and adolescents. These often involve standard visits in order to ensure that no problems (such as cavities or gum disease) are present.
However, there are many other roles directly associated with the field of pediatric dentistry. Some of these include:
Standard cleanings and fluoride treatments (both important to protect tooth enamel).
Orthodontic issues (such as detecting any misaligned teeth at an early stage).
Removing and filling cavities.
Performing x-rays (although this might sometimes be addressed by a dental technician).
Repairing acute injuries such as chipped or cracked teeth.
Managing gum disease.
Interestingly, pediatric dentists may also be able to provide early diagnoses associated with conditions such as asthma and diabetes that may be caused by oral health issues.
When to See a Pediatric Dentist
As a rule of thumb, parents should always make it a point to consult with a pediatric dentist once the first baby tooth has erupted through the gums. This is also the time when children (and even some parents) are taught proper oral care habits such as brushing, flossing and knowing what types of foods to avoid.
Note that pediatric dentists will also place a significant amount of focus upon the notion of preventative care. This is the best way to detect seemingly minor issues before they evolve into problems that require more in-depth treatment.
Also, introducing children to the dentist at an early age will often help to avoid fears of dentist visits in the future. Such good habits can therefore last a lifetime.
A Quick Look at a Standard Visit
Let's now imagine that you and your child will be seeing a pediatric dentist for the first time. What can you expect during a typical visit? The offices themselves may have been designed to provide a sense of comfort for your child. You are therefore likely to encounter bright decorations, plenty of games and friendly staff.
The dentist will also make it a point to bond with your child — as well as explain to the parent what treatment options are available. The intention here is to impress upon adults the importance of obtaining dental treatments at a young age. Here are some other procedures that may be performed:
A thorough examination of your child's teeth and gums.
Teeth may be cleaned and polished before a fluoride gel is applied.
If an issue is detected, an x-ray may be recommended (although these are not always possible with extremely young children).
The dentist will likewise touch upon other topics such as general oral health, brushing techniques and any additional concerns that the parent may have. Most visits to a pediatric dentist will last between 30 and 45 minutes.
All About Prevention
Dental health is an obvious concern at any age. However, developing strong oral care habits as a child will help to ensure that issues such as cavities and gum disease can be avoided.
Let's also not forget that children who appreciate the need for a pediatric dentist are much less likely to suffer from entirely avoidable problems as they grow into adolescence and adulthood.
Sources:
1. https://www.cdc.gov/oralhealth/fast-facts/cavities/index.html
2. https://www.webmd.com/a-to-z-guides/what-is-a-pediatric-dentist
3. https://my.clevelandclinic.org/health/diseases/22594-dentophobia-fear-of-dentists
Back to Blogs
Treatments
Taking your smile in a positive direction
When it comes to a friendly, caring, and professional dentist in Cheadle Hulme, you won't find better than Cheadle Hulme Dental and Cosmetics. Why not book an appointment by contacting us directly at 0161 486 0743? We look forward to welcoming you.
View our treatments