26 November 2018
All-On-4 Dental Implants Manchester – The Modern Alternative
Most people seeking teeth replacement know that dental implants in Manchester are ultimately the current gold standard. However, while conventional implants are the ideal and long-lasting solution for replacing teeth on a one-for-one basis, what about if you have lost or will potentially lose multiple teeth due to decay, disease or injury? Our Poynton dentist explains…
When it comes to perfect smiles, our dental Manchester clinic offers various ways to replace multiple missing teeth. One is either full or partial dentures. Conventional dentures have been around in one form or another for several hundred years, so they are a tried and tested method of replacing multiple missing teeth to restore both form and function of a smile. While modern dentures are far more lightweight and lifelike than their predecessors, despite the advances of technology, conventional dentures are not without their problems.
The main issue with dentures is that they can't halt the natural bone loss process that occurs when teeth are missing. Over time, the shape of the jaw changes as the surrounding bone tissue that once supported the missing tooth root reabsorbs. As the jaw changes shape, once-snug fitting dentures become an ill fit. When this happens they can move about or lose suction in the mouth. Aside from causing acute embarrassment, they can also rub the inside of the gum causing irritation and sores.
To counteract this, conventional dentures need to be adjusted regularly to ensure continual best fit, but eventually (somewhere between 5-10 years) they will need replacing. Clearly, this isn't an ideal situation. The good news, however, is that there is another better, long-lasting alternative involving a combination of modern dentures and dental implants. In Manchester and indeed the rest of the world, these are known as All-on-4.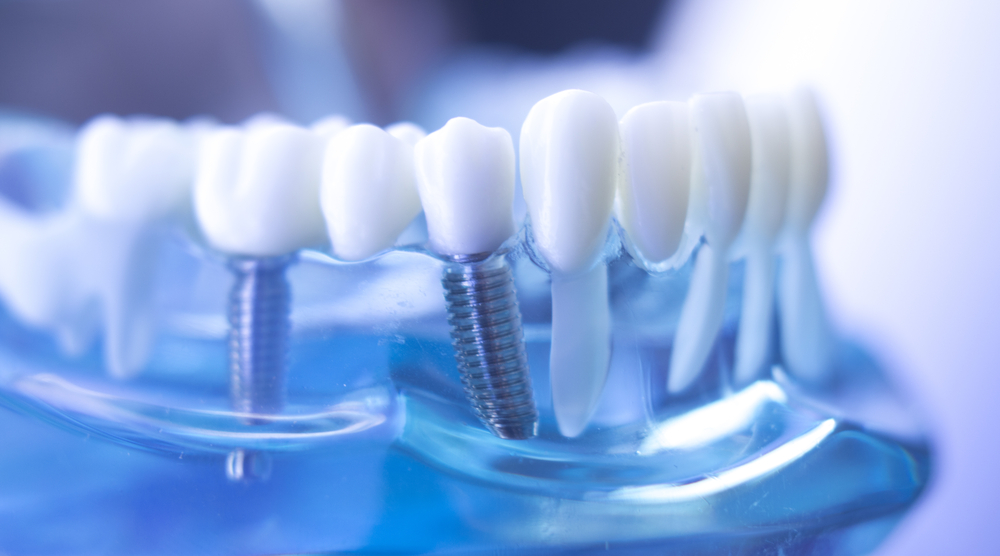 All-On-4 dental implants – The benefits explained
Of course, patients can visit our Poynton dentist for dental implants and as already mentioned, they're an excellent alternative for missing teeth replacement. What's more, because a dental implant is anchored directly into the jawbone, it acts as a tooth root and as such, surrounding bone tissue fuses with it. This not only creates a super strong platform but also it halts the bone loss process altogether.
Despite this, however, some people understandably have misgivings about the complex nature of dental implant surgery. The idea of multiple visits, long healing periods and the distinct possibility of added surgery such as bone grafting, doesn't help. This is why many people are switching to All-On-4 procedures as the perfect, hassle-free way to replace missing teeth on a permanent basis.
Before we delve into the benefits of the All-on-4 system, perhaps it's a good point to explain exactly what it is and how it works.
As the name suggests, this system utilises a way of supporting an entire edentulous arch (16 teeth) with just 4 dental implants. In Manchester, this allows for the type of support and aesthetics that you would be able to achieve with 16 individual dental implants, but at a fraction of the cost.
So now we know what the All-on-4 system is, let's dive into those benefits…
Full set of teeth in just 3 appointments
 Perhaps the greatest benefit of this system is that it allows patients to receive an entire set of permanent teeth in as little as 3 appointments. Once the four implants are inserted into the jaw, the design allows for your permanent crowns to be fitted on to the implants in just a day or two after initial placement.
When you compare this to conventional implant procedures the patient will need a relatively long recovery period after initial surgery, plus further smaller surgical appointments to fit the abutment which holds the crown in position. This can take the best part of 9 months or more if the patient requires multiple implants.
Less need for bone grafting
One of the factors that dental implants need to thrive is sufficient bone mass. The problem (as already stated) is that when teeth have been missing for any period of time, bone is likely to be in short supply. For many people, this means additional invasive surgery at our Poynton dentist, involving a bone graft. This is where healthy bone or alternatively, a synthetic bone substitute, is transplanted onto the implant site. This is left to heal over a period of time. Eventually, after a few months, the result is sufficient healthy bone mass so that the implant can then be placed.
Conversely, patients who lack bone volume may well find an alternative in the All-On-4 procedure. Because All-on-4 implants are designed to be placed in strategically angled positions, they can overcome the bone support issue by allowing greater maximum bone-to-implant contact in the first place. Ultimately, this makes All-on-4 far less invasive and less time-consuming in many cases.
No more slipping and sliding dentures
The benefits are certainly no less attractive when comparing All-on-4 to conventional dentures. Because the implants are used to anchor a denture in position, patients don't need to worry about embarrassing denture slippage. Instead, when it comes to perfect smiles, dental Manchester implants using the All-on-4 method means that your replacement teeth remain fully and firmly in position. Unlike dentures, there's also no need to remove them, meaning that you can clean your teeth and eat just as you would your natural set.
To summarise, All-on-4 dental implants are a fully-restorative technique that improves both the speed and efficiency of conventional implants and the permanent positioning of dentures but do so in a cost-effective way.
If you have multiple missing teeth or your existing conventional denture is really getting you down, then you might want to come and talk to our dentist in Poynton about All-on-4 dental implants in Manchester. Here at Church Road Dental and Cosmetics, Dr. Shi Karim and the team are highly experienced and highly skilled at implant-based restorations. They use the latest technologies and techniques to ensure the most accurate and hassle-free placement. To find out more about All-on-4 or dental implants in general, or if you'd like to book a consultation, contact us on 0161 486 0743 today and take the first steps towards a healthier happier smile that you can really be proud of.
Back to Blogs
Treatments
Taking your smile in a positive direction
When it comes to a friendly, caring, and professional dentist in Cheadle Hulme, you won't find better than Cheadle Hulme Dental and Cosmetics. Why not book an appointment by contacting us directly at 0161 486 0743? We look forward to welcoming you.
View our treatments