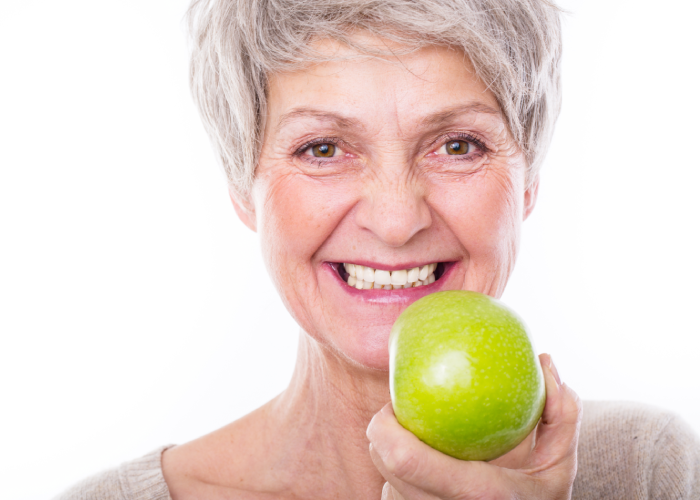 Dentures are false teeth that help maintain the natural appearance of your smile. They are very common, with over 40 million Americans using them. Replacing missing teeth can also help prevent the bone loss which may otherwise lead to a sagging of the face.
However, there are two types available, removable and permanent. If you are looking for a more stable and comfortable denture, as well as ones which can last for years if properly looked after, then permanent dentures may be the more suitable option.
What Are Permanent Dentures?
Permanent dentures are a form of dental implant that are surgically implanted into the jawbone. This is in comparison to a denture which is removable and uses an adhesive to bond them in place. The adhesive means they can be removed and placed back in the mouth whenever required.
A permanent denture can be custom-made to replace a single tooth or a row of missing teeth. They bring more stability when chewing and talking than a denture you can remove. 
They can last for up to 10 years providing you look after them through a good oral hygiene routine. This includes regular brushing to keep them free of plaque and tartar, plus regular dental appointments. You should avoid biting down on hard foods where possible.
How Are Permanent Dentures Fitted?
In the first phase, you will have titanium posts surgically inserted into your jawbone. These serve as the "root" of the implants. You need good jawbone density to support the implants. If you have waited a while before visiting a dentist, you may need a bone graft first to replace any bone loss.
Once the implants are inserted, you will need to wait for the jaw to heal. Small incisions are required to insert implants, with sutures used to aid the healing process. Once healed, the custom-made crowns are securely attached to the implants – and should last many years.
Are There Different Types?
Dentures can be used to replace one tooth or a whole row of teeth. To account for the different scenarios you may face, there are different forms of denture. The following are examples of the most common permanent denture types.
Full dentures – these can be the solution when you need to replace a whole arch of missing teeth. To provide a permanent option, the dentist might need to insert in the region of six dental implants for support.
Partial dentures – these are used to replace a row of missing teeth, and like full dentures have both a removable and a permanent denture option.
All-on-Four dental implants – this solution uses just four implants to support a full arch of dentures.
Dental bridges – this option uses fused prosthetic tooth pieces, which can be supported by implants for a permanent denture option.
Pros and Cons
Weighing up the main pros and cons of permanent dentures will provide some insight into whether they are the right choice for you.
Stability – implants embedded into the jawbone provide a more stable and secure denture. A removable denture can slip or even fall out when talking or eating. Ones that are permanent remove this issue.
Natural appearance – custom-made to match the appearance and color of your surrounding natural teeth. This can return confidence in your smile. This in turn can lead to an improvement in your overall self-confidence in public situations.
Comfort – Being custom-made to fit your gum-line, a permanent denture can feel more comfortable, as well as cause less irritation.
Duration – Looked after properly, they can last up to 10 years.
Improved oral health – a permanent denture, supported by implants, can help prevent jawbone loss.
Cons:
Surgery – a permanent denture requires surgery to insert the implants that support them. This can be understandably off-putting to some.
Post-surgery discomfort – as with any surgery, there can be an element of pain or discomfort while the affected area heals.
Cleaning – as a permanent denture consists of more parts it can be harder to keep clean.
Bone density – you will need sufficient jawbone density to support an implant.
Not permanent – they will still need replacing after around 10 years.
Cost – more costly than the removable option.
If you are considering dentures, consult with your dentist on the pros and cons and how they may affect you. Your dentist can advise on whether you are a suitable candidate for the permanent option and whether they are the right choice for you.
Permanent dentures have several benefits compared to their removable counterparts, including improved longevity, comfort and stability. Your dentist can advise on whether they are the right choice for you.