04 March 2020
Damage to Dental Health from Tobacco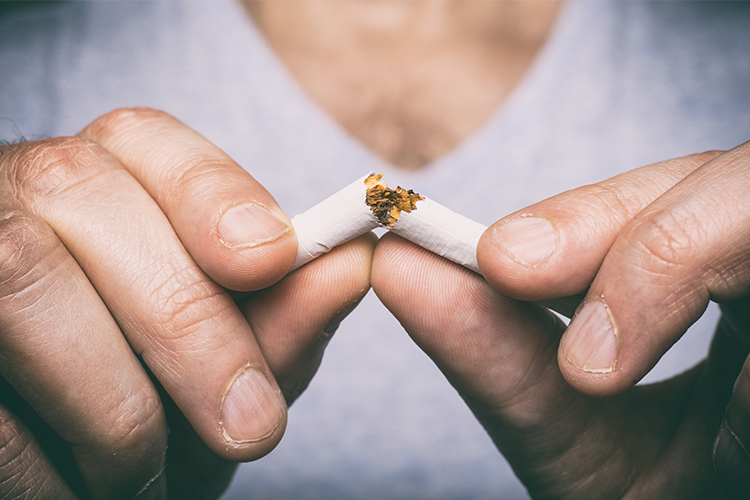 Smoking is an extremely addictive habit and one that is hard to break. Quitting is, however, worth the effort for the benefits it brings not only to your pocket but also to your physical and dental well-being.
The heart, lung, and cancer conditions that tobacco has been linked to are well documented. But the nicotine and other chemicals used in cigarettes can also be extremely detrimental to oral and dental health. Some of the most common oral issues associated with tobacco are:
–  Badly stained and discoloured teeth
–  Gum disease
–  Various oral cancers
There are numerous quit-smoking programmes available to help give up cigarettes — as well as a vast array of replacement therapies including patches and gum.
But will power is the one essential requirement that everyone needs to succeed. Some days will be harder than others as cravings will inevitably happen as your body withdrawals from nicotine. These will pass quickly if you can find alternatives such as sweets or chewing gum.
Your body starts to heal from the moment you quit and you will soon be able to face your dentist with a confident, and whiter, smile. More tips on quitting cigarettes can be found at https://yourdentalhealthresource.com/kick-tobacco-and-save-your-smile/
Back to Blogs
Treatments
Taking your smile in a positive direction
When it comes to a friendly, caring, and professional dentist in Cheadle Hulme, you won't find better than Cheadle Hulme Dental and Cosmetics. Why not book an appointment by contacting us directly at 0161 486 0743? We look forward to welcoming you.
View our treatments