23 January 2017
Dental Hygiene For Children – 5 Tips On Taking Care Of Teeth
Let's face it, restorative dental procedures such as dental implants in Manchester, or indeed anywhere else in the country aren't cheap. The reasons for having them is often down to long-term problems that could have been prevented from an early age. With this in mind, it's important for parents to practice early dental hygiene for children. Here are 5 top tips on how parents can help to prevent tooth decay in their children by getting them to practice good oral hygiene.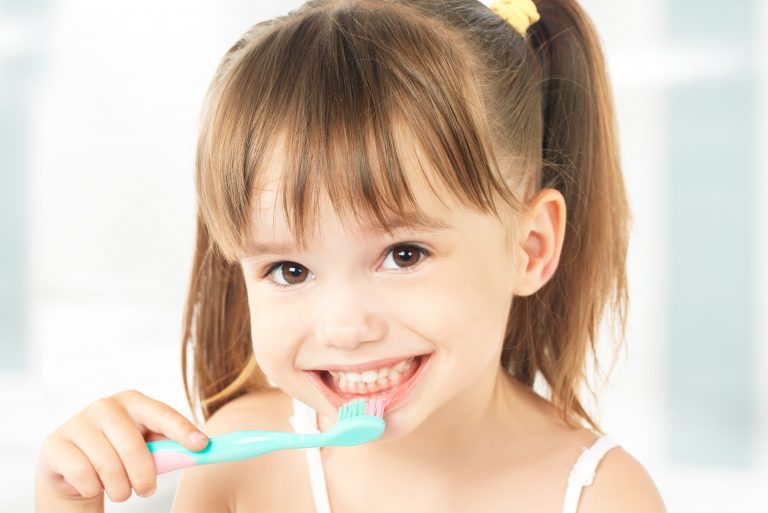 Limit Sweets
At our Didsbury dentist we see a good number of children with dental caries. In many cases this is down to sweets. It wouldn't be fair to deprive your child totally of sweets but instead limit them in
return for healthier sweet foods such as tangerines, bananas, and home made low-sugar snacks. It's also important to avoid sweets directly before going to bed because the saliva flow lessens and it's this that helps to keep the teeth free from bacteria.
Start dental hygiene for children early
Dental hygiene in children should start early. In fact parents should start brushing a baby's teeth as soon as the first milk tooth breaks through. It isn't necessary to buy 'special' children's toothpaste. Instead ensure it contains 1,000 ppm fluoride content. Use a toothbrush with a small head, soft bristles, and a large handle along with a minuscule amount of toothpaste about the size of a grain of rice. Brush thoroughly for around 2 minutes at the front and back of the tooth and hold your child's brush until they're able to hold it themselves.
Familiarise them with the dentist from a early age
So when should you first take your child to the dentist? Our Didsbury dentist would suggest that they go as soon as their first milk tooth appears (usually around the six month point). This is so that they become familiarised with the environment and also to meet the dentist for the first time. Simply getting the child to open their mouth for the dentist to take a look at is a useful practice that will stand them in good stead for the future.
Don't let your child fall asleep with a bottle
One of the main reasons of early tooth decay in children is the frequent exposure of the teeth to sugary drinks. This includes fruit juices and milk formulas. If your child falls asleep with a bottle containing sweet drinks, the sugar contained within is likely to pool around the teeth and gums for long periods of time while they are asleep. For this reason at nap-time it's advisable to give them either water or a dummy.
Fissure sealants
Did you know that something as quick and simple as a fissure sealant for a child, can go a long way towards preventing them from needing dentures or dental implants in Manchester, later on in life. Fissure seals can be carried out once a child's back teeth have come through (normally around the age of six or seven). This is where the bumps and ridges of the teeth are coated with a thin plastic sealant. This keeps food particles and bacteria from becoming lodged in tiny grooves on the surface of the teeth and can last for up to 10 years.
If you'd like to find out more about dental hygiene for children then come and talk to our Didsbury dentist today. Remember it's never too early to take care of your child's dental health so contact us on 0161 486 0743 to book an appointment.
Back to Blogs
Treatments
Taking your smile in a positive direction
When it comes to a friendly, caring, and professional dentist in Cheadle Hulme, you won't find better than Cheadle Hulme Dental and Cosmetics. Why not book an appointment by contacting us directly at 0161 486 0743? We look forward to welcoming you.
View our treatments