28 January 2020
Dental Problems Caused by Nail Biting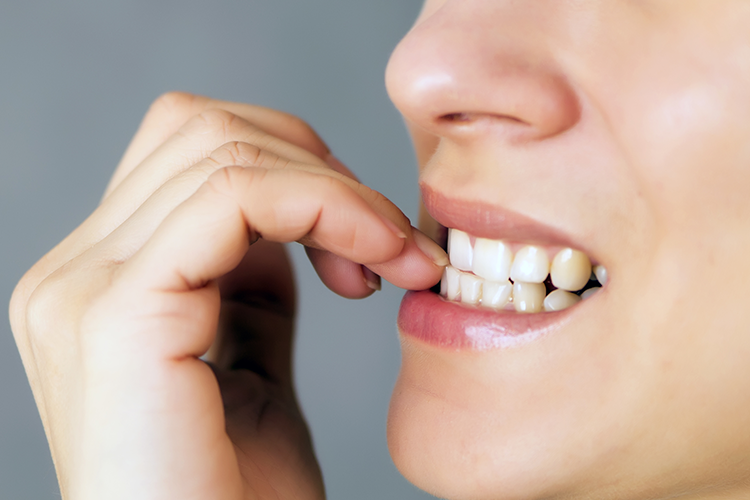 Apart from unsightly nails, it may seem that nail biting, or onychophagia, is a harmless, if somewhat annoying, habit. This is not the case as nail-biters may be causing dental problems that will eventually lead to the dentist for treatment.
Human nails comprise mainly of keratin which is an extremely hard substance while nails constantly come into contact with many types of germs and bacteria.
It is little wonder then that biting the nails can lead to dental issues such as:
–   Damaged tooth enamel
–   Chipped, cracked and broken teeth
–   Increased oral bacteria
Regular nail biting also puts extra stress on the temporomandibular joint (TMJ) which sits just under the ears at the back of the jaws. Overuse or abuse of the temporomandibular joint not only leads to pain and inflammation — but can also cause problems with the jaw, including jaw pain and headaches.
Nail biting is not a dental disorder but your dentist may be able to recommend a doctor or specialist who can help break the habit.
Read more about how nail biting affects the teeth at https://yourdentalhealthresource.com/does-biting-your-nails-hurt-your-teeth/
Back to Blogs
Treatments
Taking your smile in a positive direction
When it comes to a friendly, caring, and professional dentist in Cheadle Hulme, you won't find better than Cheadle Hulme Dental and Cosmetics. Why not book an appointment by contacting us directly at 0161 486 0743? We look forward to welcoming you.
View our treatments