17 December 2020
Effects of Sugar on Teeth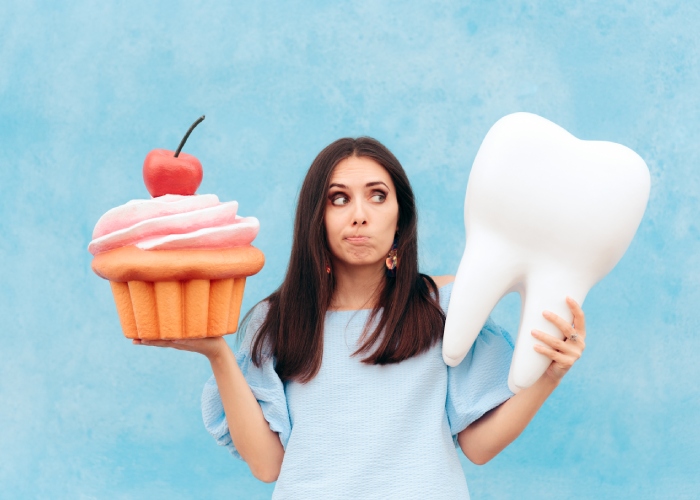 Too much sugar in a diet is not just bad for general health but can also impact negatively on dental well-being. This is because the sugar mixes with bacteria in the mouth to produce acids and these can be harmful to teeth.
Because of the increased acidity in the mouth, there is an associated increase in the risk of damaged tooth enamel which can lead to cavities and gum disease.
Eroded or damaged tooth enamel can result in:
– Tooth sensitivity due to the loss of the protective coating of enamel
– Discoloured teeth as the yellow colour of the underlying dentin shows through the missing enamel
– Formation of cavities as bacteria can penetrate teeth lacking the protection of dental enamel
Replacing sugar with sugar-free drink and food is not a solution as many of these products still have an acidic effect on teeth as they contain sugar substitutes. Avoiding sugar damage is best done by avoiding or limiting sugar consumption and drinking water as an accompaniment to sugary snacks or fizzy drinks. Damaged enamel cannot be replaced so it is best to avoid the problem by practising good dental hygiene and having regular check-ups at the dentist.
Find out more at https://yourdentalhealthresource.com/how-does-sugar-impact-your-teeth/.
Back to Blogs
Treatments
Taking your smile in a positive direction
When it comes to a friendly, caring, and professional dentist in Cheadle Hulme, you won't find better than Cheadle Hulme Dental and Cosmetics. Why not book an appointment by contacting us directly at 0161 486 0743? We look forward to welcoming you.
View our treatments