12 October 2011
Toothbrushes: How Important is It to Get the Right One
Tooth brushing has been done for humans for many years. Frayed twigs, bird feathers and animal bones have been excavated ad thought to be used around teeth.
The earliest is thought to be from 3000bc.So why do we brush teeth and would a frayed stick be sufficient?
Tooth brushing is done to remove the sticky layer of micro organisms that forms on our teeth. This film is called plaque and is referred to by scientists as a bio film. This film is so sticky and complex that mouthwashes cannot remove it. The only means of removing it is by the shear forces of a good tooth brush and floss.
Most manual toothbrushes on the market are too big to reach the back teeth and inside surfaces. A small headed tooth brush with medium bristles is generally agreed by all dental professionals to be the best. Powered toothbrushes such as the Philips Sonicare and Oral b Triumph have become increasingly popular. A recent study in 2010 done by the Cochrane collaboration demonstrated that there was little difference between the performances of these 2 individual brushes.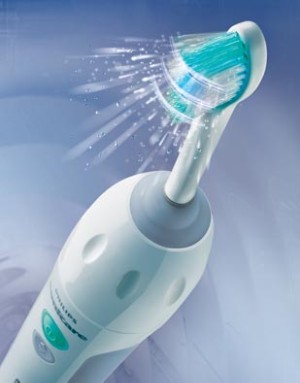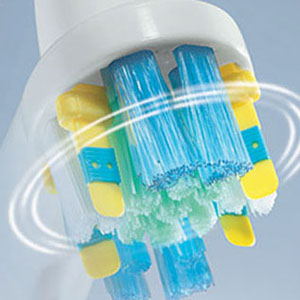 For many people powered toothbrushes help them gain better access to all their teeth surfaces and gauge the right amount of time and pressure to be applied. For techno geeks the new Philips Sonicare Diamond clean can be charged with a USB cable, ideal for travel; but can also be charged through mains electricity via a neat little glass.
The average person in the UK spends only 45seconds cleaning their teeth whereas the dental profession recommends 3 minutes.
Powered toothbrushes have timers on them to encourage the right amount of time spent cleaning. The average toothbrush is thrown away at 10 months whereas the profession advises that all brushes should be replaced after 3 months.
If plaque is left on a tooth surface it starts to mature and become even more harmful. Mature plaque is the root cause of gum disease and as a Wapping 70 % of the adult population are losing their teeth due to gum disease tooth cleaning is not something we should take lightly.
Interdental cleaning is extremely important too. A third of our teeth cannot be accessed by a tooth brush and need cleaning daily with either floss or Interdental bottle brushes like Tepee or curaprox.
Plaque also contributes to tooth decay, if sugar passes over the teeth often enough plaque bacteria turn it into acid which starts to attack the teeth causing cavities.
It is entirely possible to go through life without ever experiencing tooth decay or gum disease. It just requires us taking a little more time to care and to prioritise oral care along with all our other personal hygiene routines.
Back to Blogs
Treatments
Taking your smile in a positive direction
When it comes to a friendly, caring, and professional dentist in Cheadle Hulme, you won't find better than Cheadle Hulme Dental and Cosmetics. Why not book an appointment by contacting us directly at 0161 486 0743? We look forward to welcoming you.
View our treatments