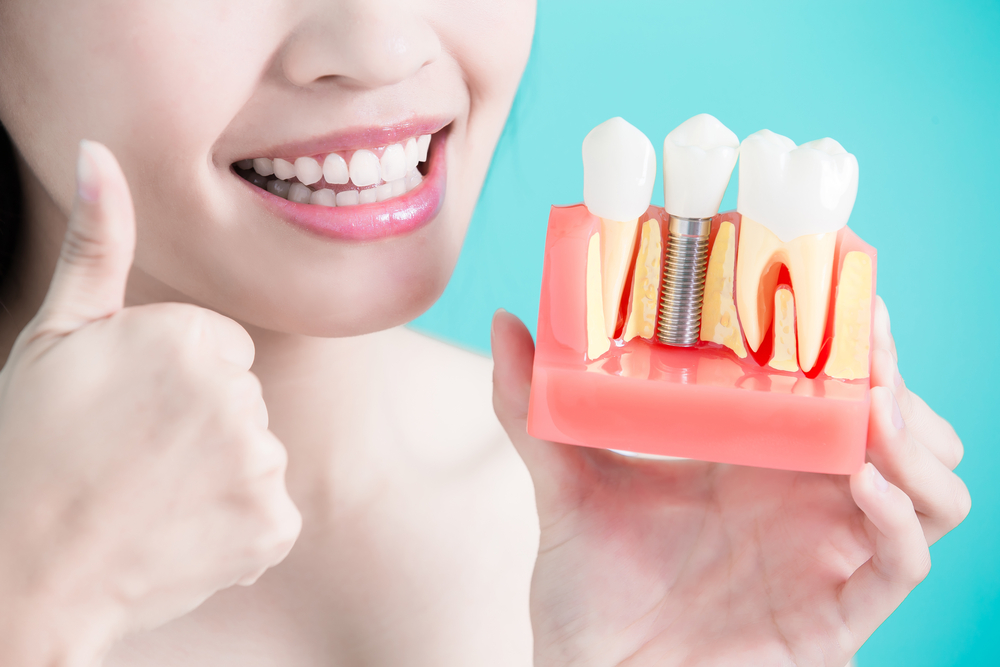 If you asked any Didsbury dental practice to give an honest assessment of conventional dentures they would probably say something along the lines of "conventional dentures do a good job of replacing missing teeth in terms of restoring functionality and aesthetics, but they aren't ideal'. Yet, if the latest statistics are to be believed, the UK still has around 17.6 million conventional denture wearers or a little over 28% of the population.
The question is…when it's been proven that dental implants in Manchester offer a better all-round solution for many edentulous and partially edentulous patients, why are there still so many people wearing conventional dentures? Our dentist in Poynton explains…
Dental implant cost – In the short term at least, dental implant treatment is the costlier procedure. With dental implants there is normally a 'price per tooth' cost, whereas with full or partial dentures, there is no such cost.
To put this into perspective, the initial price of one single tooth implant can cost more than an entire single-arched conventional denture in most dental practices. Understandably, many patients see this initial cost factor as a deal breaker.
Treatment time – While the latest digital all-on-4 dental implant treatment can be carried out quicker, typically – implant-based restorations can take up to nine months to complete when you take into account the osseointegration (bone fusion) process. Alternatively, conventional dentures can be fitted in just 3-6 weeks over 4 visits.
Available bone – When a patient doesn't have sufficient available bone to place a dental implant they face a choice of undergoing bone graft surgery which ads on more expense and more recovery time. Alternatively, conventional dentures can be fitted whether a patient has sufficient bone or not.
Surgical process – Because of the way that dental implants in Manchester are attached into the jaw bone, the process requires one or more surgical procedures. While chair time is usually painless and quick (under 1 hour for conventional implants or 15-20 minutes for digital flapless surgery) the alternative is a non-surgical process involving 3-4 visits. For many people who can't face the thought of undergoing any type of dental surgery, it's more likely that they'll opt for conventional dentures instead.
So, as our dentist in Poynton explained, those are the main reasons why 17 million+ patients choose conventional dentures over dental implants, but are they making a hasty decision? Let's take a closer look…
Problems facing many conventional denture wearers
As we said at the start of this article, conventional dentures aren't without their issues, so much so in fact that in the long term, many denture wearers are often reduced to feelings of 'acceptance' while others simply try to soldier on regardless.
In truth, long-term denture wear can become a miserable existence for patients who may have to put up with embarrassing denture slippage, and dentures that rub. Add to this the inability to eat certain foods (remember dentures aren't as strong as natural teeth) and the fact that many wearers lose the ability to taste, and it's fair to say that even with the most modern of dentures, they don't represent the ideal solution for missing teeth replacement in the 21st century.
So do dental implants in Manchester fare any better?
Many denture wearers are puzzled by the fact that their dentures have become loose and uncomfortable over time. As a result, they find themselves having to make frequent return visits to their Didsbury dental practice to have them tightened or replaced. This happens because dentures are only able to replace the crown part of the tooth. With nothing to replace the tooth root, the surrounding bone starts to shrink, making dentures appear loose and uncomfortable.
Conversely when a patient opts for dental implants in Manchester per se, they're buying into a product (an artificial tooth root) that avoids this problem. Ultimately, when a dental implant is anchored into the jaw line, it's fixed into position permanently and therefore won't rub, won't slip and slide, and can be 6-7 times stronger than the equivalent denture in terms of bite force.
Inevitably for the patient, it means they should now be able to live a hassle-free life. One that's free from the fear or embarrassment of denture slippage and one which doesn't dictate what they can and can't eat. For many long-term denture wearers, the results can be life changing.
Okay, so that's all well and good but what about those aforementioned reasons why 17+ million people favour conventional dentures? Let's revisit them again and look at them from a dental implant perspective…
Cost – We've already mentioned that the initial cost of a Manchester tooth implant is higher than a conventional denture, but what about the long term view?
The average shelf life of a conventional denture due to bone shrinkage is 7-10 years. Alternatively, a dental implant supporting an implant-retained denture can easily last several decades and more.
When you think of it in those terms, an implant-retained denture supported by 4 or more dental implants is likely to be a cost effective option, especially when you consider that you'll be replacing a denture at least twice during that time.
Treatment time – While it's true that a tooth implant placed in the conventional manner may take 6-9 months to complete, it may be a possibility that denture patients are eligible for all-on-4 treatment. While this type of tooth implant-supported restoration does need careful planning (which in itself may take several weeks or more) the patient can walk into our Didsbury dental practice and have a new smile within just one visit. This may in effect be less time than a conventional denture would take to fit.
Available bone – One of the main criteria for a dental implant in Manchester or indeed anywhere in the world is that the patient needs sufficient bone in which to anchor the implant into. This could be problematic for long-term denture wearers who have continued to lose bone. Of course, the alternative is to undergo a bone graft which is certainly more expense, however another option might be computer-guided flapless surgery.
In this most modern of techniques, dental implants are placed using state-of-the-art keyhole surgery where implants are correctly positioned to within a fraction of a centimetre. This may mean that in some cases, placement can occur in less bone and therefore, time consuming and costly bone grafting is avoided altogether.
Surgical processes – There's no getting away from the fact that placing dental implants requires some type of surgery and this is understandably a sticking point for some patients, particularly those who are anxious or nervous. However, as mentioned previously, new techniques are coming to the fore that make tooth implant surgery quicker, painless and promote a speedier recovery. In some cases, dental implant placement can occur in just 15-20 minutes. This is because most of the work is done virtually during the planning stages. If you look at it this way, that's no more time than you'd take to have a dental check-up or a tooth filling!
The key takeaway – Dental implants in Manchester vs long-term dentures
Although initially costlier, dental implant-retained dentures have the ability to provide long-term denture wearers with a radically life changing and permanent solution to their denture problems. While it's understandable that any decision like this shouldn't be taken lightly, it's well worth looking at the dilemma, both holistically and with a long-term view.
If you'd like to find out more about how our Didsbury dental practice can help you with your long-term denture problems, then come and talk to the team at Church Road dental and Cosmetics about our dental implants in Manchester. To book a consultation call us on 0161 486 0743 today!