We all know the value of a beautiful, healthy smile. Flashing a gorgeous smile can promote happiness, positivity and make you feel good on inside too. But unfortunately, not all of us are born with great looking teeth and 1 in 4 of us regularly do our best to avoid smiling. One common reason many people feel too embarrassed to smile can be due to one or more missing teeth – but it's not too late to do something about it! Dental implants in Manchester is the best option to restore your smile. Let's take a look at 4 great reasons why fixing your teeth can change your whole life for the better.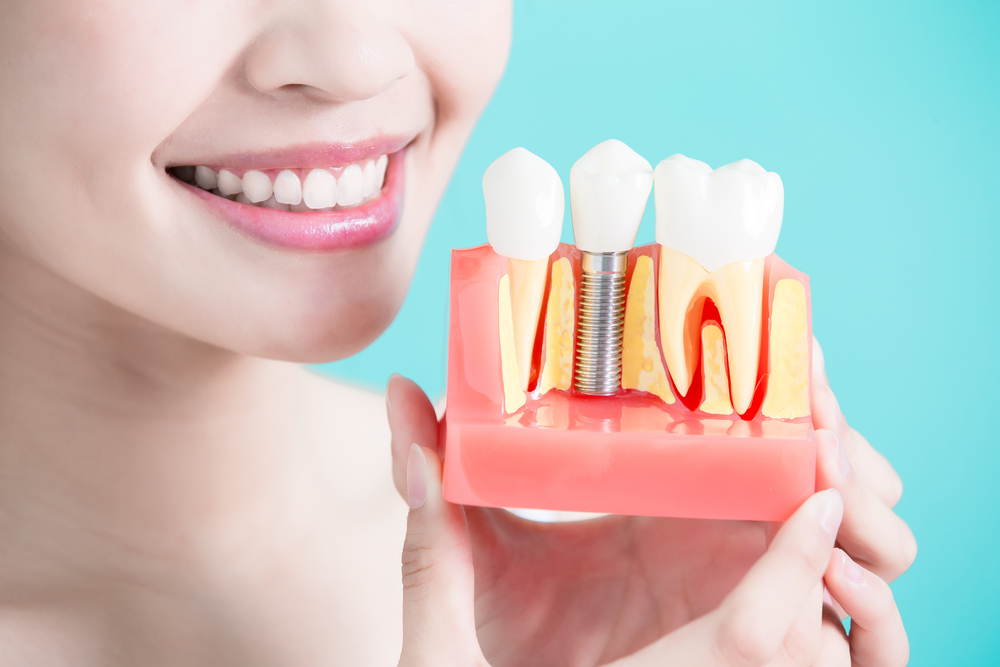 1. Retain your youth
When it comes to staying youthful, it's time to forget all the advantages that plastic surgery and Botox offers! Manchester patients can stay looking and be feeling younger just by having a healthy smile. Unlike skin, while teeth don't get wrinkles, they can show signs of aging. With 50% of people admitting that the first facial feature they notice is a smile – your teeth are a great place to start if you'd like to look healthier and younger!
Our body is designed with teeth in mind. The lips, cheeks, and skin covering our face are much firmer where there are teeth to be covered. So as we get older and lose a few teeth, we also lose the supporting bone structure. This can leave your face appearing sunken in, wrinkly and much older than you actually are…
Thankfully, there is a solution! Having a dental implant in Manchester helps:
Stop the jawbone deteriorating and prevents a gaunt, sunken look
Plumps your lips because having a full set of teeth pushes the lips forward and fills out your smile
Boost your confidence and self-esteem by giving you a natural glow
2. Good relationships and career success
As mentioned, a great looking smile is one of the first things we notice about people when we first meet them. Along with increasing attractiveness, wearing a healthy smile also makes you appear more approachable and fun, two qualities that are appealing to the opposite sex. In fact, one study revealed that not smiling gives off a bad impression and causes you to appear disinterested – not great on a first date!
The majority of us avoid smiling – not because we're unfriendly and cold – but because we're self-conscious about our teeth. But did you know that if you're hiding your smile, it could even be affecting your professional life?
A UK study by BUPA showed that 67% deemed a good smile an important work asset and 42% of people admitted they find healthy looking teeth much more authoritative! So restoring your smile with a dental implant in Manchester could be just the boost you need to jump into a new career or relationship!
3. Stop letting your food choose you
Do you shy away from harder and chewy looking foods because you know your teeth couldn't handle it? Much too often people have to choose foods that are softer and easier to chew and miss out on healthier options. Missing teeth can make meal times much less enjoyable and bad diet choices can have long-term effects on your overall well-being. No dental issues should come in the way of a good nutritious meal.
What's more, just as the bones in our body stay strong and healthy through exercise, did you know that your jaw bones need exercising too? Chewing wholesome and healthy foods is one way keep your teeth and jawbone healthy and strong. In fact, that's one of the main reasons why dental implants in Manchester are the best option for tooth replacement. Being firmly anchored into the jaw, they act just as natural teeth do! This means you can eat whatever you fancy and best of all, the implant helps to stop jaw bone deterioration.
4. Prevent osteoporosis and bone loss
Osteoporosis is a fairly common condition that makes bones more weak and fragile, affecting both men and women. Did you know that the jaw is often one of the first places this condition is detected? The more teeth we have, the easier we can chew. Remember we said that chewing exercises our jaw bone and helps keep it strong and healthy? So replacing missing teeth with dental implants not only keeps the rest of our teeth strong and healthy but it's been shown to halt bone loss altogether.
As you can see, a great smile is much more than just a fashion statement, there's science behind the importance of having strong and healthy teeth! Smiling more makes you happier, healthier and more successful – and when you are confident, you smile more. What's more, it can keep you looking young without the need for invasive procedures which cosmetic surgery and Botox offers! Manchester patients can visit Church Road Dental & Cosmetics for a free consultation and learn more about how a dental implant in Manchester could change your life. Call us today on 0161 486 0743.