For many people, the thought of visiting their Bramhall dentist is enough to make them shudder.  If you feel this way, don't be ashamed – you're not alone. It's extremely common, with one in three of us feeling anxious during a visit to our Bramhall dental practice and around one in eight of us struggling with a severe dental phobia.
Unlike most fears, this one often stands in the way of maintaining good oral health – which means it's really important that we address it. While we understand that a dental phobia is a legitimate fear, the good news is that there's absolutely no need to be scared of your dentist! Why?  Two factors… Advances in technology and a greater focus on patient care. With this in mind. Let's dive in and take a closer look about what's improved since you last visited your dentist in Bramhall.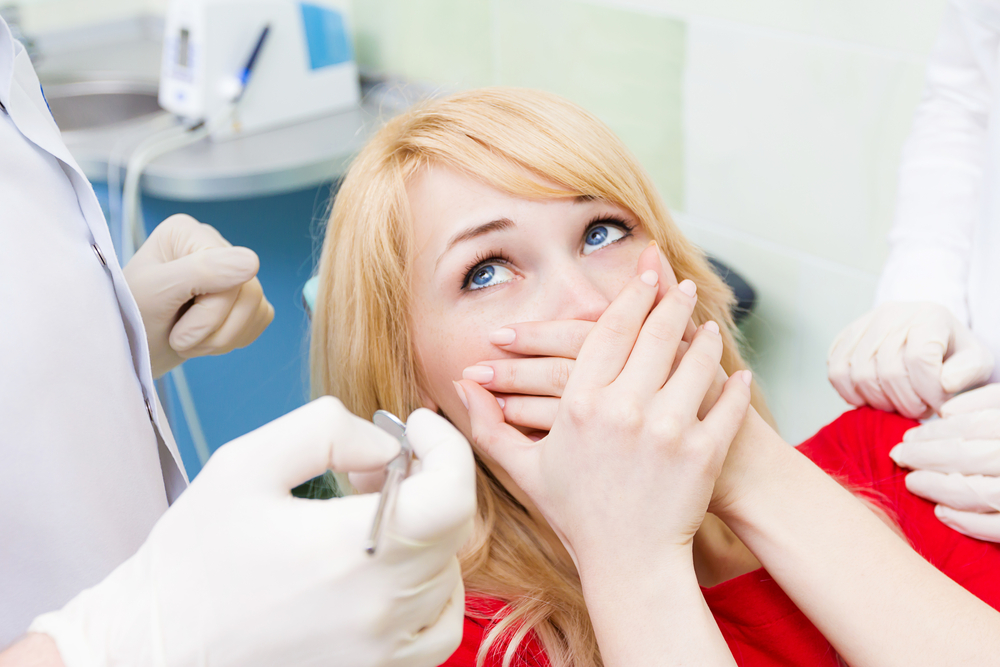 Firstly, what are the main causes of dental anxiety?
It's quite clear why most people dislike dentists. First off, trusting a stranger with a loud drill to make holes in your teeth certainly doesn't seem appealing in the slightest. What's more, it can create a sense of vulnerability and helplessness and goes against everything we know about self-preservation.
There's also the fear of:
Pain – this is common among older patients because their early visits to the dentist may have been before any advances in pain-free dentistry.
Past traumatic experiences – If you've had a bad experience in the past, then it's only natural that you'll be much more nervous the next time around.
Embarrassment – some people feel really self-conscious about their teeth and because any type of dental assessment requires that we take a close look, people often feel ashamed which makes them anxious or uncomfortable.
If you feel one or maybe even all of the above factors combined, it's easy to see why you might decide to skip an appointment at your Bramhall dental practice.
So, now we know why many people are anxious or nervous about visiting the dentist, let's take a closer look at why you shouldn't be scared of your local Bramhall dentist:
1. We're actually here to help
Contrary to popular belief, we don't get any joy out of causing you pain! But what we do take pleasure in is helping you to achieve a healthy smile that you feel confident wearing. In fact, if you ask most dentists why they chose this profession, it's often because they want to help make a positive difference, because their dentist was a good role model or because they had a traumatic childhood experience themselves and want to help change the negative view of dentistry. Always remember: our job is to get you out of pain, not cause it!
2. Treatments are comfortable and pain-free!
We've all heard the gory horror stories about dentistry in days gone by – but nowadays, times have really changed. In fact, the upside of how commonplace dental phobias are has spurred researchers on to find new ways to reduce pain and discomfort in the dental chair. That means no more giant, scary needles or loud, hair-raising drills. Instead, we've got advanced techniques, state-of-the-art equipment and modern materials that all help make a trip to your local Bramhall dental practice a pleasant, pain-free experience.
3. One bad experience shouldn't ruin them all
If you've had a bad experience at one dental practice, you'll likely find yourself anxious about visiting another. But remember that not all dentists are the same and finding the right match could make all the difference for your oral health. Find a dentist that understands what you're going through and is well-trained in treating patients who suffer from dental anxiety. So if you feel that your current dentist isn't the right match for you then you're well within your rights to switch to another practice that suits your needs better. It might help to check out some reviews to get a good dental recommendation in your area.
4. The longer you leave treatment, the worse problems get
Ignoring a nagging toothache or throbbing abscess can seem like a tempting option if you're an anxious patient – but that's not a good idea. Leaving the problem will only cause it to worsen and could not only result in more serious dental issues but can also compromise your overall health too, not to mention end up costing you more money in the long-run. So as the saying goes, prevention is better than cure – and the more you visit, the easier it will be.
If you're struggling with dental anxiety, talk to your Bramhall dentist about your fears. A lot can be said for how effective the simple combination of gentleness and kindness by your dentist can be – it can go a long way in helping you feel less stressed over your dental visits. If you feel your current dentist in Bramhall isn't best suited to you it might be time to make the switch.
Here at Church Road Dental, we are dental phobia certified, meaning we understand how you feel and have much experience when it comes to helping phobic patients. If you're looking for a phobic-friendly Bramhall dental practice, call us now on 0161 486 0743. Let us help you get your confidence back!