Children's dental health at Easter time- all those Easter treats, and how quickly they come by, can make children happy for weeks after the celebrations end. But sugary treats do not go along children's dental health. Should Easter eggs and chocolate bunnies be cut completely from your children's diets? That would be an excessively drastic measure. There are ways to manage your children's dental health and still let them enjoy Easter. Here are some tips to look after your children's dental health this Easter.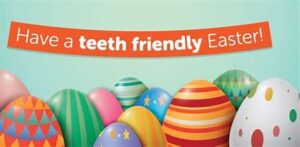 Ensure chocolate is kept to mealtimes to protect your children's dental health
It is not always the case of how much chocolate your child consumes, but mainly how often that causes dental health problems. By keeping the chocolate to mealtimes, means that the teeth can be cleaned after, preventing cavities which could be caused by sugar.
Give your child a glass of water after eating chocolate
This will help to produce salvia in the mouth, which will help to rinse away any plaque, bacteria and debris. A glass of water also doesn't contain any sugar, so is the healthiest option for your child to drink whilst washing down their Easter egg.
Monitor their intake
The longer amount of time chocolate is in the mouth, will produce more acids that cause tooth decay. Oversee your child's intake of their Easter egg, and give them small pieces that won't stay in their mouth for long periods. This is a great way to protect your children's dental health.
Brushing and flossing is essential for keeping children's dental health to a good standard
No amount of water or saliva is as good as brushing and flossing after consuming sweet treats. It helps clean all the sweet debris left stuck on teeth. Of course, brushing alone does a good cleaning but leaves teeth's in between surfaces still dirty. That's why flossing is important.
In order to maintain children's dental health, make sure they wait 30 minutes after eating before they brush and floss. When your child eats sugar, it creates a big amount of acids in their mouth, which can wear away enamel easily. Waiting before brushing is important so that the acid level in the mouth goes down before applying the physical pressure of a toothbrush and floss on the enamel of teeth.
Cut down the frequency
Each time a child eats sweet food, he or she exposes their teeth to sugar. And to be safe, they must later brush and floss. If you give your children Easter treats, let's say only after dinner, once a day, you reduce the amount of times they put sugar in their mouths. Furthermore, during a meal, a mouth is already producing saliva that will help neutralize acids from sugar, as well as washing away food debris. So eating Easter treats right after a major meal is an excellent way to ensure your children's dental health remains in tact this weekend!
For further information about how to look after your children's oral health visit this page of our website https://www.cheadlehulmedental.com/treatment/children-dentist-manchester.html
To see all of this as a video click here: https://www.youtube.com/watch?v=Va11wRou2sM