18 June 2018
Braces Manchester or Tooth Implant – Which is done first?
If you're looking to improve your smile, Manchester dentists will tell you that two of the most popular ways to do just that are either through adult braces in Manchester or dental implants. There are occasions, however, when you may need both e.g. when you have missing teeth and some or all of your remaining teeth are partially out of alignment. This often occurs when teeth have been missing for some time. This being the case, which treatment should you have first?
If you know anything about dental implants in Manchester, you'll know that implants, by their very nature are secured directly into the jaw bone. The titanium (implant part) of the restoration mimics the tooth root by causing the bone tissue to merge with it. After a short period of healing, (and just like a tooth root) you have a super-strong, super-secure platform – a foundation from which a dental crown or bridge can be attached. Remarkable really, especially when you consider that it's only a piece of metal. Okay so it's a state-of-the-art piece of metal which has been specially engineered to fully replace a natural tooth – but you get the picture I'm sure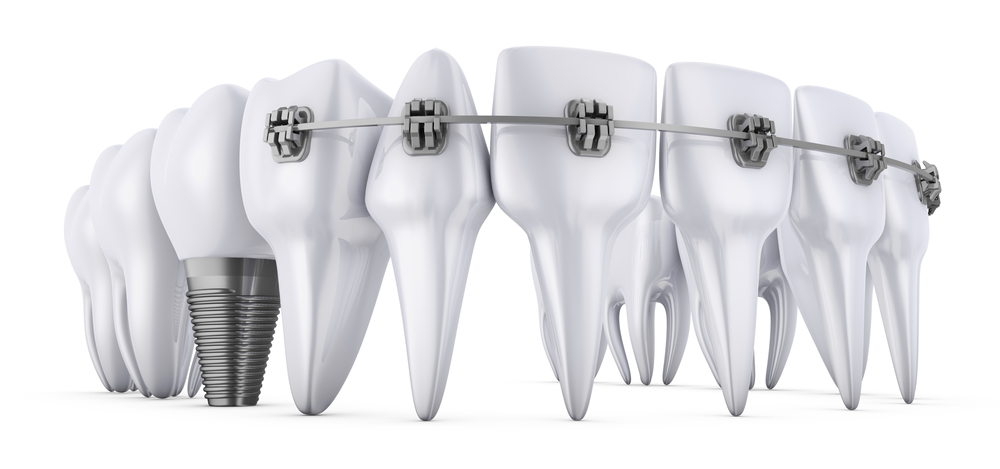 Anyway, back to the topic at hand…
No matter how technologically advanced dental implants are, there's one thing that they don't have and that's a periodontal ligament. This is the strong connective tissue that attaches the natural teeth to the bone where it sits.
So why is this important?
Quite simply because among other roles, it gives the tooth flexibility and allows degrees of movement.
In contrast, once a dental implant is anchored into position and bone fusion (osseointegration) has taken place, it can't move. In other words, unlike a natural tooth, a dental implant has zero flexibility.
So, getting back to the original question… in most cases, orthodontic treatment should be carried out primarily, before you undergo any form of dental implants because of this very reason – Braces in Manchester won't be able to move implanted teeth! Therefore it's best if any tooth movement is carried out first so that your implants have the right spacing in which to function.
That said, there are always several exceptions to the rule. These are as follows…
Dental Implants – Manchester Temporary Anchorage Devices
To perfect your smile in Manchester, your dentist may suggest utilising a type of dental implant as an anchor to help move other teeth. Otherwise known as Temporary Anchorage Devices (TAD's) they provide an anchorage point – albeit temporary – for a pulling or pushing force which would otherwise have to be applied to the teeth from outside the mouth- e.g. orthodontic headgear. While wearing headgear can be both uncomfortable and unsightly, TAD's provide a better aesthetic for certain patients seeking orthodontic treatment.
Front teeth alignment using accelerated orthodontics
Some braces in Manchester are designed to specifically correct or align the front teeth only. This is usually done for aesthetic reasons using fast or accelerated brace systems such as C-fast, Six Month Smiles etc. It also means the back (posterior) teeth aren't altered. On these occasions, if a patient has a missing tooth located at the rear of the mouth, then it's likely that this can be implanted first without getting in the way of any orthodontic treatment.
Braces Manchester treatment – nearing completion
On some occasions, dental implants in Manchester can be fitted just as your braces have worked their magic and you're coming to the end of your treatment. In certain cases, it may be possible to attach an implant at the back of the mouth so healing can begin just as the braces are being removed. However, this method does require ideal teeth positioning with no further indications of tooth movement. So it should only be done in these circumstances. More importantly, communication between your orthodontist and dental implant team is key to ensure any placed dental implants won't be compromised.
So in answer to the question, patients should really look to have braces first and dental implants second as dental implant placement is usually determined by the positioning of other teeth.
So what if you underwent implant-based restorations some time ago and now want your teeth straightened again? Can you still have teeth straightening treatment using braces?
The answer is yes you can but it isn't always the best option. Let's explain…
If you try to apply forces to the implant using braces, Manchester dentists will rightly tell you that the implant won't move. Why? Because it isn't a natural tooth and therefore doesn't behave in the same way. However, any 'proper' teeth which are connected to the implant via wires and brackets will.
In these cases, the implant has a tendency to determine the positioning of other teeth. In other words, only connect the implants to the archwires if you want to align teeth in accordance with your dental implant.
Alternatively, if you're after a desired position which is different from your implants in order to perfect your smile, Manchester patients should ensure the implant can (in some cases) be bypassed and not connected to the wiring system.  An implant crown can also be removed and a new crown fabricated after your teeth have reached the final and desired positioning, however, for obvious reasons, this isn't the best and most cost-effective option.
So there you have it, everything you need to know about dental implants in Manchester and whether you should get them before or after braces treatment.
If you feel that your smile could be improved using either orthodontics, or implants, or both; then come and talk to the team at Church Road Dental and Cosmetics. As a trusted Manchester dentist, we've been in the 'smile business' for many years, so why not book a consultation and let us show you how we can help you. To make an appointment, contact us on 0161 486 0743 today.
Back to Blogs
Treatments
Taking your smile in a positive direction
When it comes to a friendly, caring, and professional dentist in Cheadle Hulme, you won't find better than Cheadle Hulme Dental and Cosmetics. Why not book an appointment by contacting us directly at 0161 486 0743? We look forward to welcoming you.
View our treatments