Braces in Manchester are generally suitable for patients of all ages. Many dentists in Alderley Edge use them to help transform the smile by correcting issues such mild over-crowding and severely crooked teeth.  But what if you've lost some teeth and have a few gaps, is it still possible to wear braces and enhance your smile? The answer in most cases is yes but it might mean the way we achieve your desired look may vary more than usual. Depending on your case, we might be able to simply use braces to shift the teeth and close the gap or we might need to restore your smile afterward with dental implants in Manchester. Let's find out more…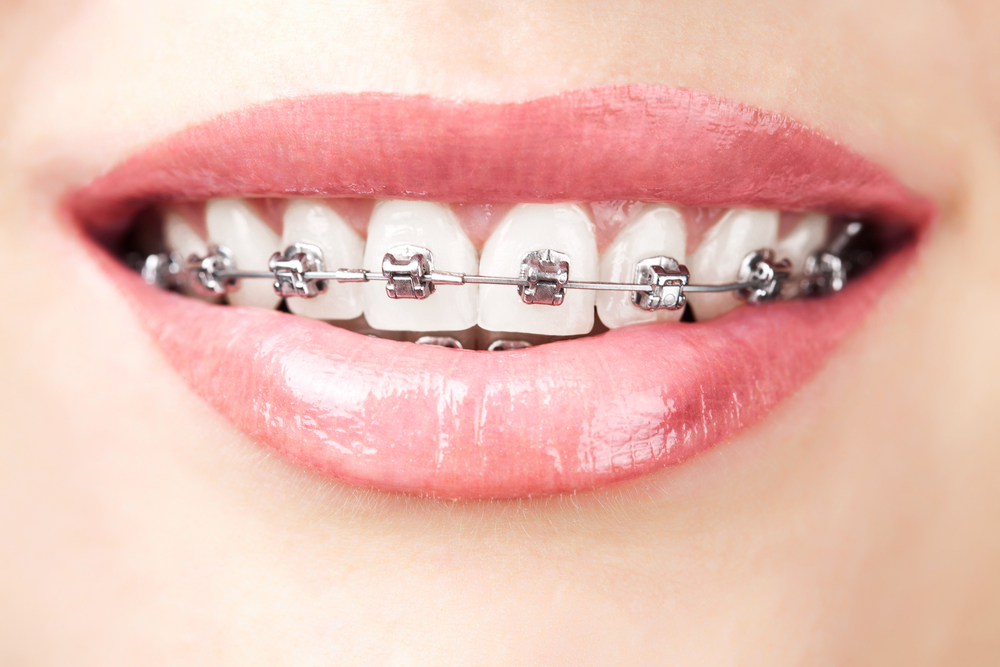 Reasons teeth may be missing
There are a number of reasons why you might be short of a few teeth. It could be due to:
Decay – although a cavity can be simple to treat when caught early if decay is ignored if will gradually destroy the tooth and damage the nerve. When this happens, often the tooth is beyond saving and the only option is to remove it.
Gum disease – this is one of the main causes of tooth loss in the UK and affects around 45% of adults. If not treated, harmful bacteria can attack the teeth and gums, causing bone deterioration and eventually tooth loss.
Trauma – unfortunately accidents do happen and a fall or blow to the mouth can leave you with a knocked out tooth and an empty gap.
Congenitally missing teeth – sometimes people are born without certain teeth that just never form. When this happens, the most commonly missing teeth are often wisdom teeth, lateral incisors or second premolars.
Why should I replace missing teeth?
Leaving your gap isn't ideal for a number of reasons because your teeth serve an important purpose. Aside from affecting your health, appearance, and self-esteem, the surrounding teeth often shift from their original place and move into the empty space. This can cause functional issues and affect how you bite and chew and can also lead to gum disease problems. Getting braces fitted can usually move your teeth into the correct alignment and close any gaps.
Working around missing teeth
If you're missing teeth, don't worry, we've got a few options as to the best way to treat your problem with braces in Manchester. As with most treatments, the best option for you personally will vary depending on your individual situation. But here's two common example of how braces can help with missing teeth:
Sometimes, it's as simple as closing the gap that has been created from losing a tooth. This would work particularly well if your teeth are already a bit overcrowded because you now have the extra space to shift teeth into. We can nudge the teeth together to close your gap and straighten your smile at the same time!
If missing teeth need to be replaced with restorations such as dental implants, Manchester patients may need the space to be widened to make a little more room for an implant. Other times, space might simply need to be maintained while other teeth are straightened around the gap. This is so you can have your dental implants in Manchester fitted at a later date to fill the space, once your brace treatment is complete. Either way, the surrounding teeth can be moved as necessary.
Why choose braces?
Having orthodontic treatment can help those with missing teeth to get their confidence back but also improve their oral health at the same time. In fact, braces are beneficial for many reasons. They help align teeth correctly, close any gaps, open up spaces for restorations, straighten crooked teeth and even prevent problems that could occur in the future if not corrected now.
Braces are generally advised by our dentist near Alderley Edge, for patients who suffer from overcrowding or misaligned teeth because it can make biting together or cleaning a little more difficult. On the other hand, if you've experienced the loss of a tooth, it could be the space that's causing your alignment issues as the neighbouring teeth begin to shift around. In either case, aligning your teeth better and closing the gap with braces in Manchester could be the answer to your problem.
If you're worried about getting braces because of how they might affect your appearance, don't be! Here at Church Road Dental, we've got a number of discreet brace systems to offer, ranging from Invisalign to behind the teeth Lingual braces – whatever suits your lifestyle best.
What next?
If you're missing a tooth and are worried about the alignment of your teeth, why not book a free consultation to discuss braces in Manchester and find out whether you're a suitable candidate? Our dentist near Alderley Edge will work with you to create the smile you've always dreamed of. Whether you need braces or dental implants. Manchester patients have a variety of quick and discreet brace systems to choose from at Church Road Dental, so what are you waiting for? Call us now to book on 0161 486 0743.