Some of Hollywood's most famous faces like Madonna, Anna Paquin, and Eddie Murphy, proudly sport a gap between their front teeth – known in dental terms as a 'diastema'. Choosing to keep your gap is completely down to your personal preference but if you decide you'd prefer to change your smile, why not visit our cosmetic dentist in Cheadle Hulme? From orthodontics to dental implants, Manchester patients have a number of options for closing the gap, wherever it might be located in your mouth.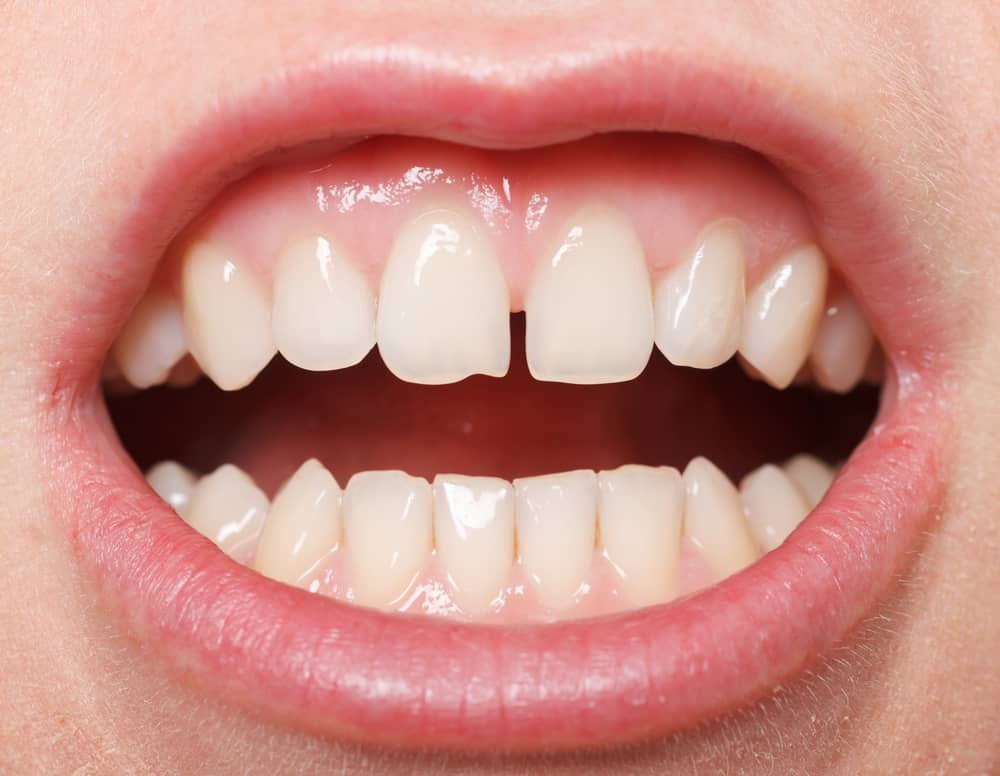 What causes gaps between teeth?
Widely spaced smiles can be caused by a number of reasons, these include:
Teeth that are too small or large in proportion to your jawbone
An oversized labial frenum (the piece of tissue above the front two teeth) can grow between and cause a gap.
Sucking your thumb as this action forces the front two teeth forward and creates a wider space.
An unnatural swallowing reflex pushes the tongue against your teeth every time you swallow and will cause the front teeth to move over time, leaving a space.
Gum disease can cause your jawbone (that supports your teeth) to recede and weaken which creates a space as the teeth loosen due to bone loss.
Losing a tooth to decay, infection or during an accident
Can I close the gap in my smile?
Yes! If your smile is making you self-conscious and you'd like to close the gap, there are a number of ways to do it, depending on your situation. Possible options include:
Dental Bonding
Dental bonding is most likely the quickest, easiest and cheapest way to fix your gap. This simple procedure involves applying a tooth-coloured composite material to your teeth either side of the gap to extend the tooth surface. The dentist will then shape the material to look natural. Dental bonding can usually be done in only one visit and is reversible if you change your mind later.
Although dental bonding is a quick fix, the material is more prone to staining, it won't be as strong as other options – such as veneers – and it's only really suitable for gaps that are smaller in size. That being said, if you choose to have a dental bonding, with good care and maintenance they can last many years and are quick and easy to repair when they do become damaged.
Porcelain Veneers
Dental veneers are another cosmetic procedure that we have to offer here at Church Road dental practice in Manchester. A veneer is a thin layer of porcelain custom made for you by our dental lab. They're securely cemented in place to hide any gaps or imperfections and look very natural.
One downside to choosing dental veneers is that the process is irreversible because a small layer of enamel must be removed from the teeth in order to make room for the veneers to sit. Dental veneers are able to correct more cosmetic issues than dental bonding but speak to your dentist to find out if it's the best option in your particular case.
Orthodontics
For our patients with larger tooth gaps in Cheadle Hulme, orthodontics might be the better option. Wearing a brace will permanently fix the gap in your smile instead of just covering the problem with veneers and might also correct functional problems – giving you a healthier and straighter smile.
With this option, keep in mind that even if you only want to close one space in your smile, moving those teeth may then create gaps between others, so you'll probably need to wear braces on all your teeth. Orthodontic treatment will definitely take longer than dental bonding or veneers to correct your smile, so it's not the best option if you're looking for a quick-fix. If you don't fancy the idea of wearing visible metal braces, don't let that put you off because here at Church Road dental practice in Manchester, we have a variety of quick and invisible brace systems to offer, such as Invisalign or 6 month smiles braces.
Dental implants
If you're missing a whole tooth then your best option might be a dental implant. Manchester patients choose implants because they're looking for a permanent solution to restore their smile that supports their jawbone and is way more secure than dentures.
The only real disadvantages of dental implants are that they're the most expensive option to replace a tooth and it's a more invasive process because they require surgery. That aside, they've got great success rates and are the most reliable and cost-effective replacement option in the long run.
Do you have a gap in your smile that you'd love to close? If so, our friendly team at Church Road dental practice in Manchester can help! With our range of available treatments from orthodontics and veneers to dental implants, Manchester patients can get the smile they've always dreamed of. Why not schedule a free consultation today to find out more? Contact us on 0161 486 0743 or fill in the contact form on our website www.cheadlehulmedental.com. Let us help you to flash the smile you really want.