06 May 2019
Cosmetic Dentistry Manchester – Does Teeth Whitening Work And Is It Safe?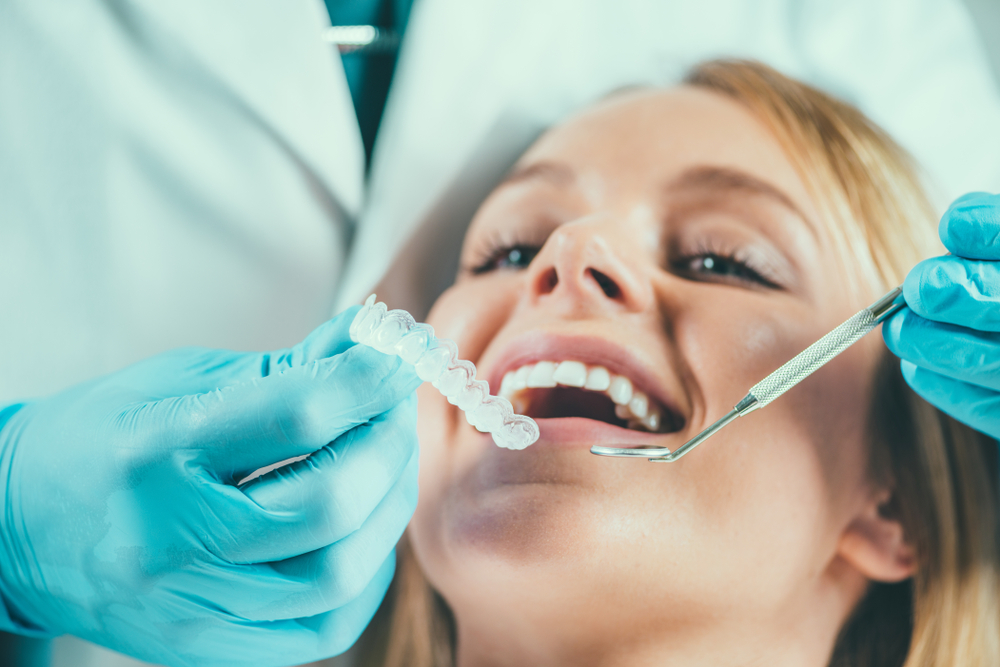 When it comes to cosmetic dentistry in Manchester at least, teeth whitening is by far the most popular procedure. Convenient treatment (an hour or less for chairside teeth whitening) and instantaneous results, play a big part in the popularity of this cosmetic dental procedure. However, if done too much or incorrectly, it can in some cases cause damage. This begs the question…does teeth whitening work and is it really safe?
Ask any dentist in Hale, or a cosmetic dentist offering teeth whitening in Poynton per se, and they'll suggest that teeth whitening does indeed work and is indeed safe, provided that the procedure is carried out by a dental professional. The issue is that there's a lot of misinformation on the subject of teeth whitening on the internet, making it quite difficult to assess the situation for someone considering teeth whitening as an option.
What are the concerns with regards to dental bleaching products?
Teeth whitening products when over-used or used incorrectly, can damage the dental enamel and cause irritation to the gums. Some of these effects (particularly with regards to the wear and tear on the tooth enamel) are both permanent and irreversible. Over the past few years the teeth whitening sector has grown exponentially and now, there are a huge number of DIY teeth whitening kits available in the UK ranging from whitening strips and gels, through to teeth whitening pens and toothpastes.
In the UK, manufacturers aren't permitted to sell dental bleaching products with a stronger hydrogen peroxide content than 0.1% or 6% if dispensed by a dentist. Despite this, they can still become harmful in the hands of an inexperienced or impatient user who for whatever reason doesn't follow instructions properly. In addition, there are stories where people have bought illegally imported whitening kits with far stronger levels of hydrogen peroxide and after self-appliance, have also suffered problems.
This in reality is where a lot of the negativity surrounding teeth whitening comes from. Many people have suffered the consequences of cheap or illegal teeth whitening and understandably, they have taken to the world wide web to vent their frustrations. This is why talking to a dentist in Hale, or anywhere else in the area is key, if you want proper and sound advice regarding cosmetic dentistry in Manchester.
Seeking teeth whitening in Poynton from a dental professional
There are many advantages to seeking professional teeth whitening at your chosen dentist. Let's take a closer look at some of them.
Next to zero chance of enamel damage
Did you know that there's a limit to just how much you can bleach your teeth? It's true! After sufficient whitening, the process plateaus and the bleaching agent simply won't cause any further whitening. Instead, it starts to break down the molecules of the enamel which will in turn alter the structure, making teeth inherently weaker.
To stop this from happening, both chairside and take home teeth whitening is carefully controlled, so you only ever receive the right amount of whitening. This is despite the fact that dentists regularly use bleaching products with hydrogen peroxide levels between 35 and 40%. What you get instead is effective (and in some cases instantaneous) teeth whitening, carried out in a safe and controlled way.
A dental professional will stop you undergoing the process when you're not ready
Excessive tooth sensitivity is one side effect of teeth bleaching that many people complain about. Did you know however that much of this is exacerbated by defective restorations cavities or cracks already which are present in the mouth? If you decide to opt for DIY teeth whitening or seek cheap teeth whitening from a non-registered dental professional, chances are that you or they, won't know the problems that lie beneath. As a result excessive and prolonged tooth sensitivity can, and often does, ensue.
Conversely, when you visit a dentist for cosmetic dentistry in Manchester for the first time, they will always give you a thorough examination. Only when they are satisfied that your mouth is free from problematic cracks, cavities and defective restorations will they proceed with any type of teeth whitening treatment. The result is likely to be little or no tooth sensitivity post treatment.
Professional teeth whitening lasts longer
Because of the nature of DIY teeth whitening products such as whitening strips, gels and pens sold in the UK, the low levels of bleaching agent are unlikely to last very long (if at all). Conversely, professional chairside teeth whitening can last for many months. In fact 1-2 years is the norm, but this does depend on eating and drinking habits. Naturally, if you only drink water and avoid non-staining foods, then it's not unreasonable for your teeth whitening process to last longer.
On the flip side, if you're a caffeine addict and enjoy the odd Spaghetti Bolognaise washed down with several glasses of chianti, then it's likely that whitening time will be decreased. Even so, and from a safety aspect however, having your teeth whitened professionally can prolong the time in between treatments and that has to be good news for your overall smile.
So there you have it…
The key takeaway is that teeth whitening does work and is safe, provided you get the treatment done by a registered dental professional. While it might cost a little more, initially, we would suggest that for your own dental health and safety at least, it's worth it in the long term.
If you'd like to find out more about any aspects of cosmetic dentistry in Manchester, or teeth whitening in Poynton then come and talk to Church Road Dental and Cosmetics. We're a dentist near Hale that uses only proven teeth whitening products and procedures to bring out the best in your smile.
We'll talk with you to discuss the best options and expectations for your treatment. To book a consultation contact Dr Shi Karim and the team. Call us on 0161 486 0743 or book an appointment online. We look forward to showing you what we can do to help your smile.
Back to Blogs
Treatments
Taking your smile in a positive direction
When it comes to a friendly, caring, and professional dentist in Cheadle Hulme, you won't find better than Cheadle Hulme Dental and Cosmetics. Why not book an appointment by contacting us directly at 0161 486 0743? We look forward to welcoming you.
View our treatments