02 March 2022
Dental Assistant or Dental Hygienist?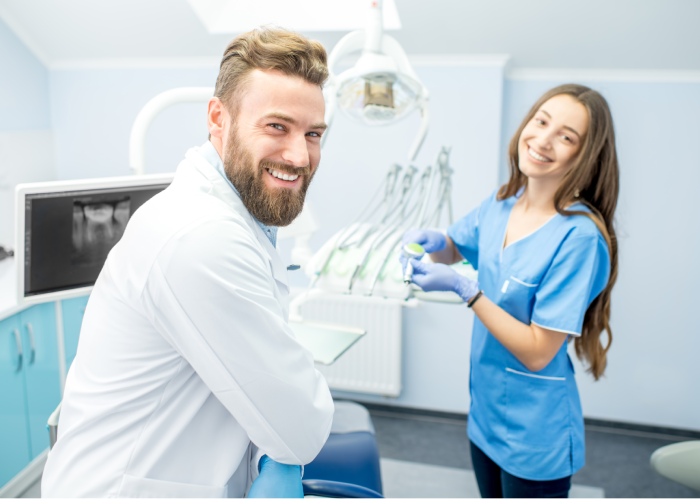 Thanks to the ability to access specialised dental services, caring for your teeth and gums has never been easier. While there are many professionals who specialise in this field, dental hygienists and assistants represent a crucial portion of the equation. However, it can sometimes be tricky to spot the differences between these two titles.
Dental assistants are primarily involved with the administrative side of things. They also help to prepare equipment for use by the dentist, and may assist the dentist at times in patient procedures.
Hygienists provide direct care of patients. Their responsibilities may include cleaning your teeth, performing x-rays and examining your gums for any signs of trouble. Dental hygienists also act as a go-between between the patient and the dentist.
Let's summarise these points with the help of three observations:
Dental assistants are primarily concerned with administrative and preparatory tasks, and may assist the dentist in procedures.
Hygienists tend to perform "hands-on" practices within the office environment such as cleanings, gum examinations and x-rays.
However, both will provide you with targeted solutions based around your unique dental needs.
"Although both a dental hygienist and dental assistant work under a dentist, these are two different job roles."
Read more about the roles of each here:
What's the Difference Between a Dental Hygienist and Dental Assistant?
Back to Blogs
Treatments
Taking your smile in a positive direction
When it comes to a friendly, caring, and professional dentist in Cheadle Hulme, you won't find better than Cheadle Hulme Dental and Cosmetics. Why not book an appointment by contacting us directly at 0161 486 0743? We look forward to welcoming you.
View our treatments