When it comes to encouraging good dental hygiene for children, it's never too early to get started! Your kid's teeth are at risk of decay as soon as they first begin to erupt. According to a recent study, 1 in 4 children suffers from tooth decay by the time they start school, and tooth extraction is the most common reason for children being admitted to hospital in the UK.
Dental disease can cause unnecessary time off school for treatments such as broken tooth repair and can also cost parents time off work to take them to the nearest Cheadle, Stockport or Poynton dental practice. The good news is that tooth decay is completely preventable by following some basic guidelines to help get your kids into a good oral hygiene routine.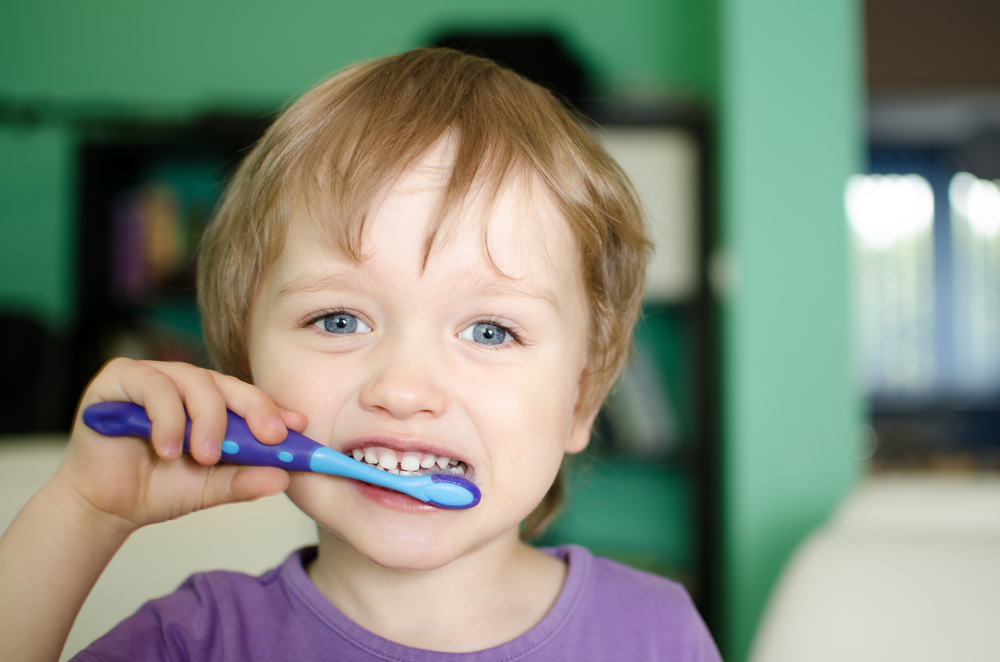 The importance of teaching your kids early
Most parents wonder why it's important to practice good oral hygiene with their toddlers – especially because they're going to lose all their milk teeth soon anyway! But here are a few reasons why it's never too early to start teaching your kids to care for their smile:
It shows them the importance of good oral care right from the beginning. Instead of trying to teach them new habits at an older age (when they're much less receptive) they'll get into a healthy routine that will likely last a lifetime!
They'll get used to clean their teeth and the time it takes to do so from an early age which helps you avoid any resistance and bathroom arguments further down the line.
A good oral routine wards off dental disease such as decay which protects your child's smile and helps you save time and money on trips to the dentist for problems such as broken tooth repair
Help your children embrace dental hygiene
Teach your kids to have a healthy smile for life by keeping their oral care routine fun! By making brushing, flossing, and check-ups a positive experience, it keeps your child excited about maintaining good dental health. Here are 5 ways to promote dental hygiene for children to help your kids grow up with gorgeous, healthy smiles:
1. Do it together
Kids love to mimic their parents, so one way to make your child more interested in good oral care is to brush and floss together. Show your child how you brush your teeth and teach them your skills! After brushing, show them how to floss (if they're old enough) or do it for them – they'll love to be involved and will be eager to keep up the routine with you. Another tip is to buy kid-friendly toothpaste and flossers that are designed for smaller mouths and sensitive gums. Using the most appropriate products will help your children feel more comfortable and get them to view oral health more positively.
2. Make cleaning fun
Give tooth brushing an air of excitement! Use your imagination and think of creative ways that you can make the activity fun. For example, how about listening to fun sounds or entertaining songs for the recommended two minutes of brushing? This keeps the experience enjoyable and helps your children brush for longer without getting bored.
3. Choose a cool toothbrush
Next time your child's toothbrush is ready to be replaced, take them with you to the store and let them pick out a new brush designed for kids that catches their eye. Having their favourite cartoon characters on their toothbrush – such as SpongeBob or Dora the Explorer – helps them bring their television friends into the bathroom and makes the experience all the more fun.
4. Books & videos
Grab some children's cartoon books that encourage good oral care and read them together, or you could show your child a fun DVD or video about dental hygiene for children. Such books and videos that are specifically designed to promote dental care for kids are a really effective method to teach them how to look after their teeth in a way they can relate to.
5. Have a reward system
Now your child knows they need to brush their teeth twice a day and floss regularly, reward them for doing so. Keep track of their brushing on a calendar in your bathroom and put a sticker on each day – every time your child completes the routine. Let them know that at the end of the week (as long as there are two stickers for each day) they get to choose a game or activity for the whole family to play as a special reward. This helps to create a link in your child's mind between good dental care habits and having fun. You could even throw in a bigger reward after they've followed the routine for a full month, such as a trip to the cinema or a special dessert.
Visiting the dentist
Let your children know that regular visits to your nearest Cheadle, Stockport or Poynton dental practice are just as important as following their home care routine is. To make sure your child develops the right attitude toward visiting the dentist and gets the right care, make sure you choose a kid-friendly dentist. Look for a dental practice that has a waiting room with kid's toys and fun posters and that has friendly staff who are trained to interact well with children.
Set your little ones up for a lifetime of great oral health by following our tips on dental hygiene for children. Start teaching your child as early as possible to avoid problems later on with decay or broken tooth repair treatments and remember to keep it fun and exciting! What's more, don't forget about the importance of regular dental visits at your local Cheadle, Stockport or Poynton dental practice. To book your next family visit here at Church Road Dental Practice, contact us today on 01614 860 743.