When it comes to dental implants, Manchester dentists will tell you that they are in fact the ideal tooth replacement, and not without good reason. Aside from the fact that they're hassle-free, Implants are also incredibly lifelike and long-lasting. However while you might think that a Manchester dentist fitting dental implants in Didsbury exchanges implants for teeth on a one-for-one basis, what you mightn't know is that they can also use implants to fit multiple gaps, or even entire rows of teeth. With this in mind, what are your options? Our Manchester emergency dentist explains…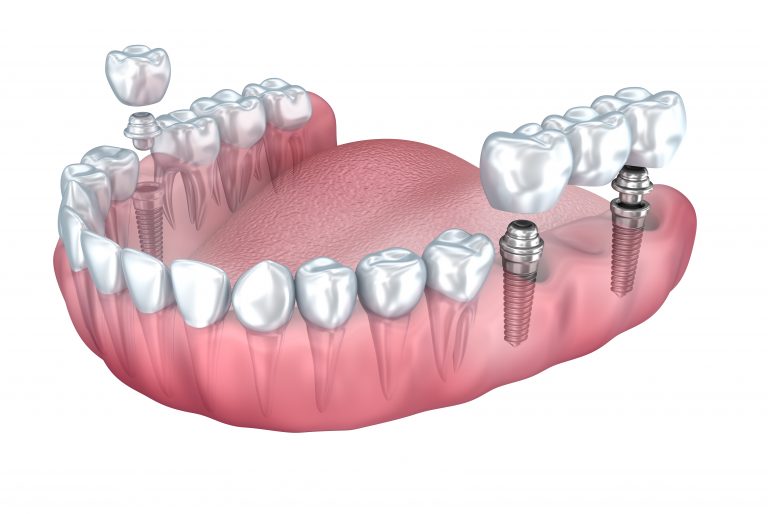 Implant-supported bridges
Conventional dental bridges are problematic in that they utilise adjacent healthy teeth. These teeth are used to support the framework, which in turn supports the bridging tooth or teeth. Normally, the procedure requires that the healthy adjacent teeth be filed down so that the bridging framework fits snugly on top. When this happens the healthy tooth can often become compromised or weaken once reshaped.
On the contrary with an implant-supported bridge, the bridging teeth are supported by the framework which itself is attached directly to the implant. The implant is anchored into the jaw of into the first available gap and from this, the prosthetic bridging teeth can be supported. Doing it this way creates a much stronger and stable platform for the bridging teeth to sit, plus any nearby healthy teeth aren't jeopardised.
Implant-supported dentures
Because dental implants in Manchester don't come cheap, it simply wouldn't be feasible for a dentist to place individual implants into multiple gaps. Therefore if a person suffers from multiple missing teeth or even entire rows of teeth, the might want to consider implant-supported dentures. Just like implant-supported bridges, one or two strategically placed implants are strong enough to support an entire framework of dentures. What's more, while conventional dentures rely mainly on suction to hold them in place, implant-retained dentures are held firmly in position by the implanted teeth. Ultimately this means zero chance of embarrassing denture slippage as the removable dentures are locked firmly in place by a  simple mechanism on the implants themselves.
So there you have it! While individual dental implants Didsbury are commonly used to plug the gaps where single teeth once were, they can also be used in various ways to help with multiple gaps. If you'd like to find out more information on the versatility of dental implants Manchester, contact our Manchester emergency dentist today on 0161 486 0743.