If you're considering your options for replacing lost or missing teeth then we'd have no hesitation in suggesting dental implants. Manchester patients often tell us that they look and feel so lifelike that they feel as if they've been gifted with a third set of teeth. As great as dental implants are however, you may not be able to have them if your mouth isn't healthy.
One of the issues that affect your suitability for dental implants is gum disease. If this is present then you will need to visit our gum clinic in Manchester for treatment before we can go forward with the dental implant procedure. Fortunately, we can carry out any treatments required on site before placing dental implants. We really are your one-stop private dentist in Stockport.
One of the most important criteria for dental implants is that the patient has a healthy jaw with sufficient depth of healthy bone to support them. This is because dental implants are surgically placed directly into the jawbone and after a few months, they fuse with the bone that surrounds them to form a strong platform which can support a dental crown, bridge, or even dentures.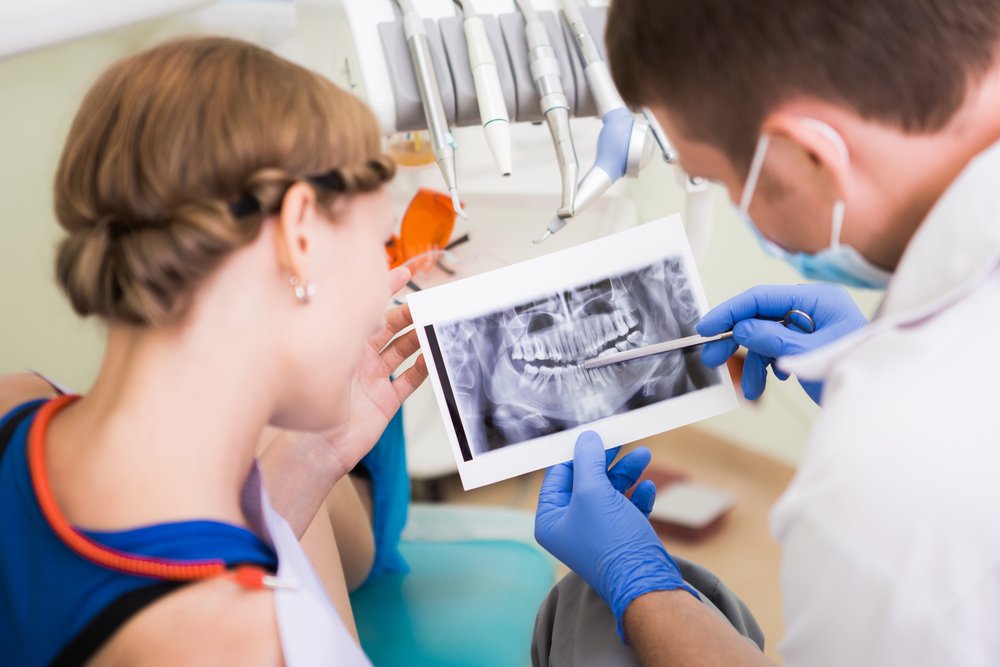 Before receiving dental implants in Manchester
Besides having a healthy jawbone it's essential that your gums are healthy too. When you visit us for a consultation, we'll check your mouth for any signs of gum disease and if necessary, get this treated first.
Did you know that gum disease is one of the leading causes of tooth loss? Gums play a massive role in oral health and yet many people fail to do the things they should to keep their gums healthy. This includes brushing and flossing their teeth each day and visiting their private dentist in Stockport for 6 monthly check-ups.
It also means getting help from our gum clinic in Manchester if you spot the symptoms of gum disease. Many people don't realise they have gum disease because often they don't feel any pain. However, if you notice blood when you rinse your teeth after brushing, and/or your gums feel swollen and tender, or look more red than normal, then these are all signs that you may have gum disease. You should never ignore these symptoms as other things may be happening in your mouth which you can't see.
It could be that pockets are forming in your gum tissue creating the perfect environment for harmful bacteria to grow and form a sticky substance known as plaque. If this is not removed then it will harden and turn into tartar.
Tartar typically forms around the gumline and can't be removed by brushing alone. It can cause the gums to recede and come away from your teeth, and in full-blown cases of periodontitis, it can even attack the bone where your teeth are anchored into place.
It's at this point that you may notice your teeth becoming wobbly and they could even fall out!
Placing dental implants into a patient's mouth at this stage would be completely irresponsible since they would stand very little chance of success.
This doesn't mean you can't ever have dental implants. Instead at our gum clinic in Manchester, we may have to restore bone and gum tissue before going ahead with any form of teeth replacement. If necessary, this may involve you undergoing bone or gum grafts.
After dental implant placement
Once your dental implants in Manchester have been placed then it's very important that you maintain a good level of oral hygiene.
Dental implants are a fantastic way of restoring your smile with teeth that look and function just like your natural teeth. Surely you wouldn't want to put that in jeopardy by letting your oral hygiene slip?
Implants are treated like natural teeth, so yes, you will still need to brush your teeth twice a day and use dental floss or another tool to remove harmful bacteria from your mouth.
You may have to alter your flossing technique with implants but it is still important. If you're having trouble flossing, our hygienist can give you a few tips. As an alternative, you could try using a water flosser. This may make it easier for you to target those spaces between dental bridges and dentures and gum tissue that are hard to reach with your toothbrush.
Peri-Implantitis – number one enemy of implants
While we've covered the effects of gum disease before getting dental implants, your private dentist in Stockport is sure to discuss with you the dangers of peri-implantitis which look and acts in a similar manner to periodontitis.
Peri-Implantitis is a type of gum infection which occurs in or around dental implants. The symptoms are similar to gum disease in that your gums are likely to redden and become sore or swollen. You may also find they bleed after brushing your teeth.
Just like gum disease, peri-implantitis can damage the bone that's holding your implants in place – which in turn affects their stability. You're more at risk of developing this condition if you smoke tobacco, suffer from diabetes, or fail to brush and floss properly.
Fortunately, it's not all doom and gloom. Our gum clinic in Manchester can treat peri-implantitis, but you need to book an appointment as soon as you notice any of the symptoms.
Prevention is better than cure
All dentists will tell you that good oral hygiene is paramount whether you have all your teeth, are considering dental implants in Manchester, or already have dental implants.
By getting into the habit of caring for your teeth on a daily basis, and maintaining a good level of oral hygiene, you may never need a tooth replacement. Should you need to replace any teeth, however, your private dentist in Stockport will be pleased to help you restore your smile.
Don't forget, the health of your gums can affect your suitability for dental implants and the length of time your implants survive.
If you have any questions about gum disease, dental implants or any of our other services then please contact Church Road Dental and Cosmetic on 0161 485 7373 to make an appointment. We'll be happy to answer your questions and discuss your best options.