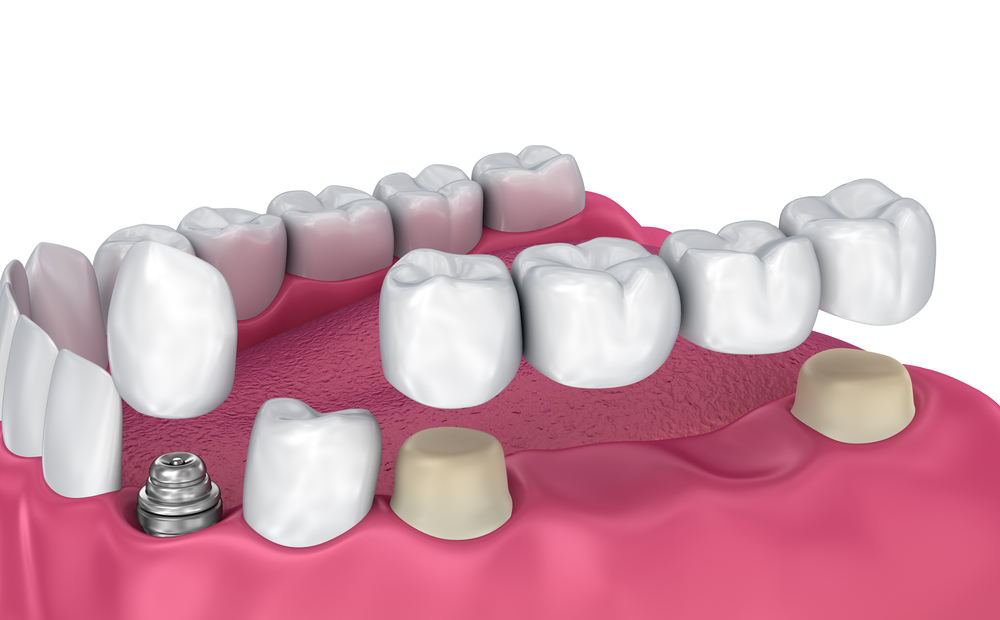 While it's a relatively easy choice when it comes to regenerating a smile using non-surgical cosmetic techniques such as dermal lip fillers, Manchester residents have several choices and more considerations to take into account when it comes to missing tooth replacement – Namely a dental bridge or dental implants. Our Manchester-based team at Church Road Dental and Cosmetics discuss your options.
While both implants and dental bridges in Manchesterdo the same job of replacing a missing tooth gap, they offer vastly differing approaches. Moreover, there are also definitive advantages and disadvantages to both. With this in mind, let's take a closer look at the pros and cons of each method in turn.
Dental Bridges
Did you know that dental bridges have been around in some form or another for thousands of years? In fact, there is evidence to suggest that ancient Mayans used primitive dentistry in the form of animal bone and shells to plug missing tooth gaps. Thankfully today's bridges are much more sophisticated and do a pretty good job in terms of form and functionality.
The advantages
The main advantage to opting for a dental bridge as a form of missing tooth replacement is the cost. In addition to being a predictable and reliable treatment some 3000 years in the making, fitting a dental bridge is considerably cheaper than any implant-based restoration. Because it's a non-surgical process, treatment can be completed quicker – normally within several weeks, with little or no discomfort. Moreover, dental bridges are a treatment that everyone is familiar with. As a result, patients are unlikely to get any nasty surprises during or after fitting.
However, while a dental bridge sounds like the perfect no-hassle, cost-effective option, this particular treatment does have its downside too.
The disadvantages
The main disadvantage of conventional bridges is that they rely heavily on the support of other teeth. These are needed to support the bridging framework which in turn holds the 'gap' tooth in place. For this reason, the two adjacent teeth located either side of the gap will need to be filed down and reshaped in order for the framework to be attached. Ultimately, not only can this place more stress on the teeth in question but it can also compromise – what may otherwise be – natural healthy teeth.
In addition, some patients find it difficult to clean around the pontic (gap) tooth, whereas an implanted tooth can be brushed and flossed as per normal.  These are certain factors you should bear in mind when making your decision.
Dental Implants
When compared to conventional bridges, implant-based restorations are a relatively new invention only first being placed into a patient in 1965. However, since that time, they have developed into what has become the gold standard of missing teeth replacement today. Nowadays over 500,000 are placed each year in the US alone and anyone seeking out dental implants in Manchesterper se has any number of clinics where patients can undergo this type of treatment. Well planned implant treatments can produce highly aesthetic and functional results. So much so in fact that unless you tell someone, they would never know that you have undergone restorative treatment at all.
The advantages
Unlike dental bridges, Manchester patients can seek comfort in the fact that this procedure is a standalone treatment. In other words, it doesn't rely on the support of any adjacent teeth. Because the implant part of the tooth is anchored directly into the jawbone where the gap is, no healthy teeth are compromised.
Another important factor to take into consideration is the implant's effect on any surrounding bone. When a tooth is missing, essential minerals from the bone tissue that once supported the natural tooth root gets reabsorbed back into the body. When this happens the bone starts to diminish, Unfortunately, this is an ongoing process that can lose as much as 25% within the first year.  By mimicking the tooth root, a dental implant tricks the body into thinking that the bone tissue is needed. As a result, any bone loss is halted. Replacing teeth with full or partial dentures or conventional bridges, won't solve this issue.
But what about the downsides?
The disadvantages
As already stated, implant-based restorations require one or more minor surgical procedures over a period of several months. One, to fit the implant itself and a small quicker procedure to attach the abutment/crown. This may deter some patients. In addition, once the titanium root is anchored into position it usually needs several months in order that the bone tissue bonds with it. As a result, dental implants although incredibly lifelike and reliable, aren't a quick fix solution.
Finally, there's the cost factor to take into consideration. Dental implants in Manchester or anywhere else for that matter, don't come cheap. There's the precision-engineered implant itself which is made from lightweight but durable titanium – the same titanium used on Formula 1 racing cars. Then there's the surgical procedure. A lot of planning goes into implant placement beforehand to ensure the restoration is implanted at exactly the right trajectory and depth. This ensures a quick, speedy and indeed, safe placement.
Naturally, when opting for conventional dental bridges, Manchester patients get a cost-effective non-surgical solution that works in the short term. But while a dental implant is initially more costly and time-consuming to fit. If cared for properly, it can last two-three times longer than a conventional bridge. In fact, when the very first implants were placed into a patient back in 1965, they remained fully functional right up until the patient's death in 2006 some 40 years later. So while a dental implant may cost more in the short term, they will save you money in the long term.
Hopefully, this has given you more information if you are considering dental implants vs dental bridges in Manchester. If you'd like to talk to our dentist to discuss your options further, then we offer a no-obligation consultation here at Church Road Dental and Cosmetics.
Why not contact us today on 0161 486 0743 for further information. Alternatively, if you are simply looking for quick fix cosmetic dental treatment such as chairside teeth whitening or dermal lip fillers, Manchester patients should know that we offer these too.Check out our websitefor further details.