28 January 2019
Dental Implants Manchester- Are They Really The Best Choice?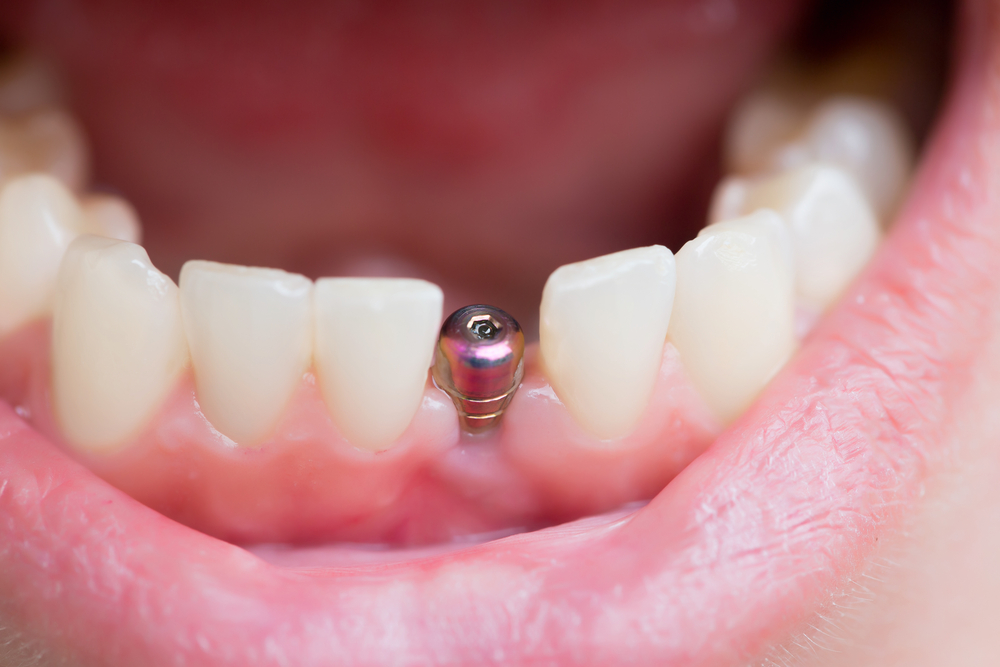 If you have a missing tooth then you may be considering what you should do. While many people opt for dental implants, Manchester patients might want to know if there are better, more cost effective choices available. With this in mind, our smile dentist in Manchester talks you through your options…
Option 1 – Do absolutely nothing
While the cynic in you might think that a private dentist in Wilmslow will look to discourage you from not replacing a missing tooth for financial reasons, the truth is that it isn't as simple as saving you money. Did you know for example that when a tooth is missing, it can kickstart a whole catalogue of events that can lead to further tooth loss? It's true!
Even if your missing tooth isn't in your smile line, it can cause the remaining teeth to shift in the mouth as they start to gravitate towards the gap. This in turn can lead to tooth misalignment which can make them difficult to clean. Failure to do so, can lead to gum disease and eventually, if not treated, further missing teeth.
In addition, when a tooth is missing, the surrounding bone tissue that once supported the tooth root is no longer needed. As such it gets reabsorbed back into the body. As time goes by, more and more bone gets reabsorbed and eventually it will lead to a change in jaw shape, an aged appearance and, yes, you've guessed it… further tooth loss!
So while you might consider that doing nothing will save you some cash in the short term, you might want to consider the long-term consequences and indeed the cost implications of doing just that.
Option 2 – A dental bridge
Unlike dental implants, Manchester patients may be considering a non-surgical tooth replacement option known as a dental bridge. In essence, a conventional bridge is a framework of two crowns which supports a further crown that sits permanently in (or bridges) the tooth gap. Dental bridges are one of the oldest forms of missing tooth replacement and have been around in one form or another for over a hundred years. While they do a good job of restoring both the functionality and aesthetics of a smile. They aren't without their issues. Our Smile dentist in Manchester explains…
The main issue with a conventional bridge is that way in which it is fitted. If you know anything about the dental bridge, you'll know that it needs to be fully supported. This is achieved by making use of your natural teeth either side of the tooth gap. As such, the said teeth are filed down and reshaped in order that the crowns (the ones which take the framework for the bridging tooth) can sit comfortably in position. While it's true that the crowns do act as protectors for the reshaped teeth, the reshaping aspect can also compromise what would have been otherwise been normal healthy teeth. Clearly this isn't an ideal scenario for any patient.
Option 3 – A partial denture
Another option that patients may want to consider for replacing a missing tooth is a partial denture. Unlike a full denture, partials are made to plug the gaps of one or more teeth, rather than entire rows. Partials can normally be fitted in just two visits and in the short term, offer a cost effective solution. Moreover, modern day dentures are lightweight, comfortable and incredibly lifelike, so they are far removed from the clunky dentures of old. However, they too aren't without their problems/issues.
Firstly, and unlike both conventional bridges and dental implants, Manchester patients should note that they aren't designed to be a permanent fixture. For the sake of hygiene and to some extent, safety, they're designed to be taken out at night when sleeping. This can be a hassle for some people.
Secondly, because partial dentures aren't a permanent fixture, they may be prone to some type of movement. This may in some cases cause embarrassment when speaking or eating.
What about bone loss?
It's important to point out that many people live a hassle-free existence with both conventional bridges and full or partial dentures. However, one of the issues that can't be ignored is that of continued bone loss. Our private dentist in Wilmslow explains…
We've already mentioned that one of the problems with missing teeth is ongoing bone loss. Unfortunately, even though bridges and dentures have the ability to plug the missing tooth gap, bone loss is still an issue. This is why the shelf like of a dental bridge and partial denture is limited to somewhere between 7-12 years on average.
Usually what happens is that during this period, the jaw shape will change significantly enough so that the bridge or denture no longer fits snugly. As such, it can become uncomfortable to wear. Therefore the best (and in reality, only) option, is to fit a newer replacement.
Option 4 – Dental implants
While an implant-based restoration might not seem initially cost effective (costs generally fall somewhere between £1000 and £3000 per tooth depending upon the amount of work needed before placement) they can represent a true cost saving in the long-term. So how come?
Firstly, because dental implants are secured down into the jawbone by means of a titanium screw, the compatibility of the metal causes any remaining bone tissue to merge with it. This is what creates a strong and permanent standalone platform. In addition, because the titanium screw acts just like a tooth root, any surrounding bone tissue is re-stimulated and therefore is no longer re-absorbed back into the body. As a direct result, any further bone loss is halted once and for all.
So what does this mean for you?
Aside from being a hassle-free, permanent tooth replacement option, once dental implants in Manchester are fitted, they should last for several decades or more. During that same period, patients can expect to replace a conventional bridge and/or a partial denture at least once, making implant-based restorations a cost-effective option in the long-term.
But what about the initial surgery?
While it's true that many people are apprehensive about undergoing an invasive dental process, the truth is that by utilising modern technology and techniques, fitting a dental implant is a quick and easy, pain-free process. In fact, when most patients visit our smile dentist in Manchester, they're surprised by just how quick the surgery part of the process is.
In addition, in many cases the recovery process is speedy too, with some people going back to work within a couple of days. This does however depend upon the degree of surgery and the number of implants.
So are there any down sides to dental implants?
Initial costs
As already mentioned, there's no getting away from the fact that initially at least, dental implants can be costly. What's more, if patients need to undergo additional treatments such as sinus lifts or bone grafting, then this too will push the price up. Moreover, under normal circumstances, dental implants in Manchester aren't available under National Health, so patients seeking treatment will have to bear the brunt of the full cost. That said, many dentists including us here at Church Road Dental and Cosmetics offer a number flexible payment options including spreading the cost over a series of months, so don't forget to ask your dentist about payment options.
Implants are not a 'fit and forget' option
One of the cool things about dental implants is that they look and act just like a permanent natural tooth. So, when it comes to ongoing care and maintenance, regular brushing and flossing will suffice.
That said, despite the fact that implant-based restorations are artificial, bacteria can still be problematic, just as it is to your natural teeth. For this reason, patients need to be committed to proper care and maintenance not just for a few months, but for the rest of their lives. Did you know for example that the number one reason for implant failure is the lack of routine oral care by the patient? Therefore, regular and ongoing home care coupled with regular dental visits are a must.
Not everyone is a good candidate
Because fitting dental implants requires a surgical procedure, a patient's initial health plays a big part. For example those with:
· Heart conditions
· Obesity issues
· Cancer (particularly in the head and facial area)
or those who are:
· Heavy drinkers
· Heavy smokers, or have
· Uncontrolled diabetes
…may find that other non-surgical tooth replacement options may be better suited.
In addition, because an implant needs sufficient bone mass to anchor into, it may mean that a patient who has experienced long-term tooth loss may not be immediately eligible. Instead they may have to undergo a bone graft first, prior to placement.
That said, modern computer-guided methods do have the ability to place dental implants into Manchester patients with greater accuracy, and in these cases, a bone graft might not always be necessary prior to placement.
So there you have it…your tooth replacement options explained…
As you can see, the gold standard of tooth replacement is dental implants. Manchester patients however should explore all avenues before they make a decision. Of course, patients can always book a no-obligation consultation with our private dentist in Wilmslow, or our smile dentist in Manchester who will talk you through your options, but most importantly, a missing tooth should never be ignored.
To find out more, book a consultation with Dr Shi Karim and the team at Church Road Dental and Cosmetics and take the first steps towards restoring your gappy smile. Call today on 0161 486 0743.
Back to Blogs
Treatments
Taking your smile in a positive direction
When it comes to a friendly, caring, and professional dentist in Cheadle Hulme, you won't find better than Cheadle Hulme Dental and Cosmetics. Why not book an appointment by contacting us directly at 0161 486 0743? We look forward to welcoming you.
View our treatments