18 August 2015
Dental Implants Manchester – How A Church Road Dentist Can Bring Back Your Missing Smile
If you have missing teeth and are considering dental implants – Manchester based church Road Dental and Cosmetics is arguably the place to go.
The fact is, there's nothing more life-like, more technologically advanced, and more long-lasting than dental implants. By seeking an experienced Church Road dentist we do everything we can to give you back your great looking smile. As our name suggests, Shi Karim and the team have a special interest in a wide range of cosmetic treatments including Manchester teeth whitening, however our highly experienced team also offer a variety of advanced implantation restorations including implant-retained dentures, implant-retained bridges and tailored implant plans to suit your needs.
So Why Choose Dental Implants – After All They're Expensive Right?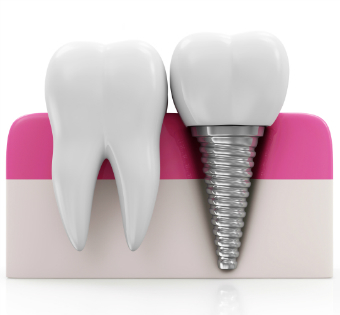 You could of course opt for conventional dentures as a form of missing teeth. They're initially cheaper, they replace missing teeth, and to a certain extent they return your smile. What's more they don't require any surgical procedure to keep them in place. However because conventional dentures sit on the gum line they won't halt the bone loss process which occurs naturally after tooth loss. This means that snug fitting dentures WILL after a period of time become loose and often, uncomfortable. For this reason dentures need continual adjustment and eventual replacement.
Conversely dental implants in Manchester are anchored directly into the jaw bone to create a super strong platform. Not only does this process stop further bone loss, but your teeth remain fixed in place. This means no movement, no embarrassing slippage, and no more problems when you chew or speak. What's more, provided implants are cared for correctly, they have been known to last forty years or more. When you compare this with the average shelf life of a denture (7-10 years) you can see how implant based restorations are a hassle-free, long-term investment that will save you money.
So What About That Smile?
As a Church Road dentist, cosmetic dentistry is a big part of what we do. This means that before any implants are fitted we can apply a Manchester teeth whitening technique to ensure your new porcelain crowns match in perfectly with your natural looking teeth. The result is a great looking, natural smile that even your local dentist would be hard to spot as a restoration.
But That's Not All…
Because implant based restorations give you a fuller facial appearance, the sunken cheeks and sagging skin that tooth loss brings can instantly disappear making you look years younger. Now that's definitely something to smile about!
If you'd like to find out more about dental implants in Manchester, or indeed any of our other services we offer then contact our Church Road dentist and book yourself a no-obligation consultation. Shi Karim and the team are here to help you get all your questions and concerns answered so that you can make a fully informed dental decision. To book yours, contact us today on 0161 486 0743. Alternatively you can also make a booking via our website at www.cheadlehulmedental.com We look forward to welcoming you to our clinic.
Back to Blogs
Treatments
Taking your smile in a positive direction
When it comes to a friendly, caring, and professional dentist in Cheadle Hulme, you won't find better than Cheadle Hulme Dental and Cosmetics. Why not book an appointment by contacting us directly at 0161 486 0743? We look forward to welcoming you.
View our treatments