05 May 2017
Dental Implants Manchester or Dentures–Which Is Best For You?
When you're in need of a dentist in Didsbury to replace your missing teeth, there's good news and there's bad news. The good news is that you have several options open to you. The bad news is that you also have a dilemma. Do you opt for dentures or do you decide to go with dental implants? Manchester residents may be wondering which is best. Let's take a closer look.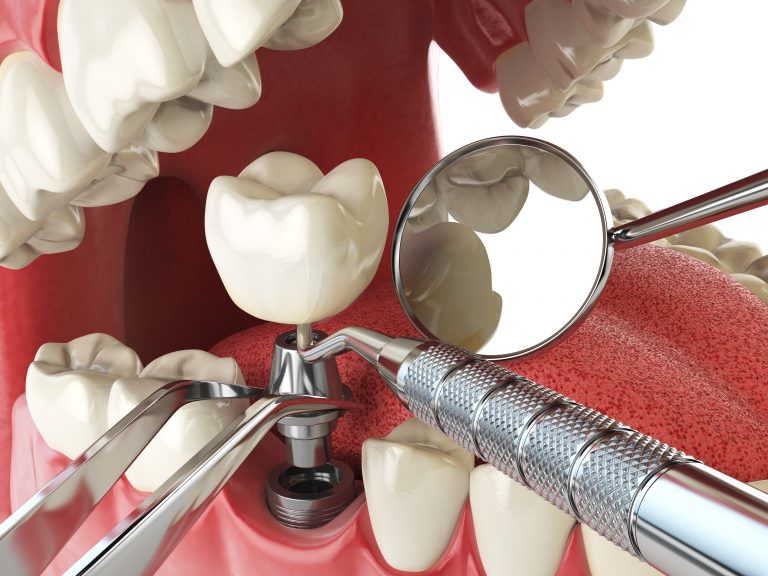 The dilemma between dentures and dental implants is something that most folk seeking tooth replacement battle with. A Manchester gum clinic for example will typically offer both procedures but inevitably, both treatments have their pros and cons.
Let's take dentures….
Conventional dentures can either be full (replacing an entire arch of teeth) or partial (replacing several or more teeth). They're quick to produce (usually patients have their permanent dentures within 2-4 weeks) and quick to fit – normally in just one sitting. Ultimately patients can have new lifelike teeth in as little as 2 weeks and the process is simple and painless. Modern day dentures are also more lifelike, more comfortable, and arguably longer lasting than their predecessors. So in most cases, others won't even know you're wearing dentures unless you tell them. Dentures have also been around in some form or another for hundreds of years. As such they're a tried and tested method of tooth replacement, so if there are any complications, then a good dentist in Didsbury will have a solution.
Now let's take a look at dental implants….
While dentures have been around for hundreds of years, implants are the (relatively) new kids on the block. Although implants have been used successfully since the 1960's it wasn't until the late 1990's that dental implants became more widely available and let's face it, more affordable. That said, they have much going for them. When a patient opts for dental implants, Manchester dentists will look into the patient's overall health and lifestyle to see whether the patient is a good candidate. This is important because unlike dentures which rely on suction to hold them in position, dental implants (as the name suggests) are 'implanted', directly into the jawbone. Ultimately this means that dental implants are retained permanently in the mouth so the patient needs to have healthy gums and be generally in good health overall.
Because implants utilise a bio-compatible material (titanium) the remaining bone tissue merges and fuses with them in a process known as osseointegration. Because this occurs, it not only creates a super-strong platform, but more importantly any further bone loss is halted once and for all. So for patients who have undergone dental implants in Manchester, many come away not only with a perfect long lasting smile, but a youthful rejuvenated look. That's all well and good, but are there any disadvantages?
Of course the very nature of dental implants means that anyone visiting a Manchester gum clinic will be expected to undergo a surgical process, so it might not be for everyone. That said, modern technology and modern techniques means that this is a pain-free process. What's more, unlike dentures, the implant process can take up to 9 months to complete so it isn't a quick-fix solution. Finally because of the number of processes involved and the treatment needed, having dental implants fitted isn't cheap. However, most dentists offer a variety of payment options and when you take into account the fact that dental implants have been proven to last for over forty years, they actually offer incredible value for money. Once they're in position, they're hassle-free, allowing you to continue on with life as normal.
So there you have it, the pros and cons of both dentures and dental implants. Manchester patients will need to think carefully before choosing and this is where our dentist Didsbury can help. Why not visit our Manchester gum clinic and talk to Shi Karim and the team about your options. Here you can get all your questions and concerns answered allowing you to make the right dental decision for you. To book a consultation call us direct on 0161 486 0743 today and start the ball rolling towards restoring your great looking smile.
Back to Blogs
Treatments
Taking your smile in a positive direction
When it comes to a friendly, caring, and professional dentist in Cheadle Hulme, you won't find better than Cheadle Hulme Dental and Cosmetics. Why not book an appointment by contacting us directly at 0161 486 0743? We look forward to welcoming you.
View our treatments