16 July 2018
Dental Implants Manchester or Veneers – Which to Choose?
Are you in two minds whether to choose dental implants in Manchester or porcelain veneers? Manchester patients can restore their smiles beautifully with both options but there are differences between the two that can affect which you eventually decide on. We offer dental implants and veneers to Manchester patients, but you should know the relevant information before making your decision.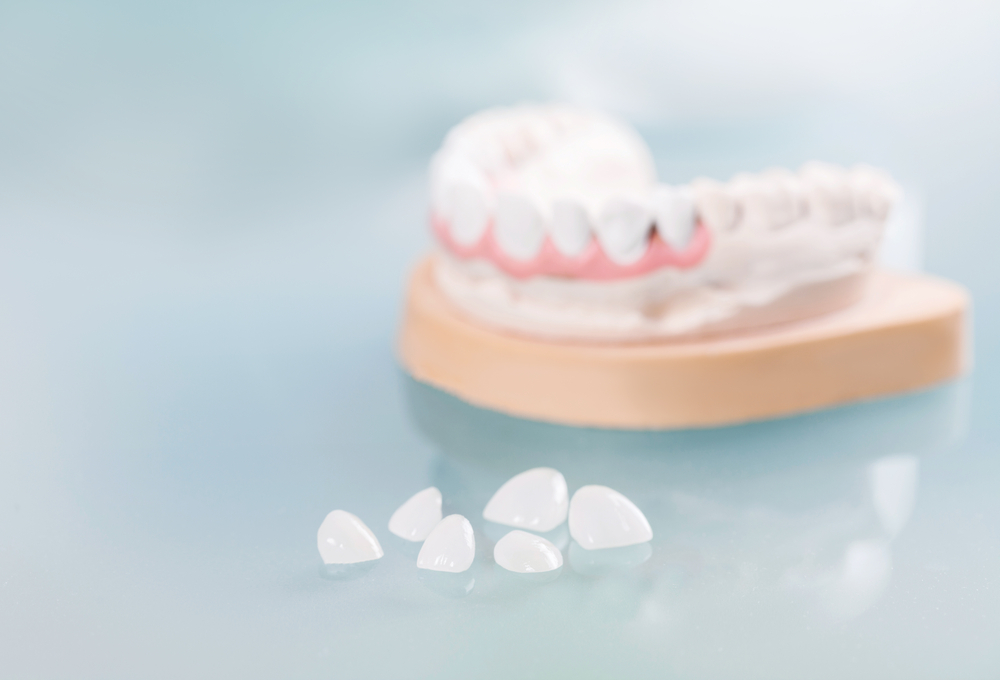 Dental Implants or Veneers – Which is best for you?
Both implants and veneers have their own unique advantages and cons; and certain priorities such as aesthetics, procedure, and the cost will be likely to influence your decision.
Dental Implants
Dental implants in Manchester are a more recent and popular choice of functional and aesthetic cosmetic dentistry. An implant is a screw-like titanium post which is inserted into the jaw and acts as an artificial tooth. Over a period of 3 to 6 months, the post integrates into the jaw. As such, it becomes a permanent part of the body because of a natural process is known as osseointegration. It's possible to attach a single crown onto the top of the implant or alternatively your dentist can use several strategically placed implants to support a whole set of artificial teeth with an abutment.
What are veneers?
To get a clearer understanding of veneers, Manchester patients could compare them to a false nail which is applied over a fingernail to enhance its appearance. Only in this case very thin shells, made from porcelain or a composite material, are placed over the outer surface of teeth to hide cracks or discolouration. When deciding between composite or porcelain veneers, Manchester dentists often recommend porcelain because of its translucent properties which are very similar to that of tooth enamel and give a totally natural appearance.
What is the standard dental implant procedure?
A standard dental implant procedure is somewhat lengthy in that it includes several visits to the dental clinic and a healing period of between 3 to 6 months. That said, there is no need to worry about feeling any pain – the procedure itself is carried out using local anaesthetic and we promise you won't feel a thing.
These are the various steps involved in the entire procedure:
• Initial consultation – This is necessary for anyone considering dental implants in Manchester and involves a thorough oral examination, 3D X-rays to determine the condition of the bone, and consideration of their dental and medical history to ascertain if they are a suitable candidate.
• Tooth extraction – Teeth may need extraction if they can't be saved and then a period of healing time will be necessary.
• Bone grafting – This may be necessary if there is a lack of bone, or gum tissue grafting to enhance the overall appearance may even be necessary. Both procedures involve surgery and healing time before dental implants Manchester can be placed.
• Implant installation – Once fully healed, implants will be placed into the jawbone. Often abutments are fitted to the implants at this time, before stitching the gum tissues back together again. The patient is then sent home to wait for osseointegration to take place.
• Placement of crowns – Once osseointegration has occurred successfully, custom-made crowns are attached to the implants using the abutments. Where all of a patient's teeth are being removed, a complete arch of prosthetic teeth (denture) can be supported on just 4 strategically positioned implants. This is known as the 'all on four' method.
If you simply can't wait that long to show off your beautiful new smile, Manchester dentists can often carry out a same-day implant procedure. These implants are fitted with a crown, bridge, or dentures immediately after they've been placed into the jaw.
How are veneers applied?
This a far quicker process and usually requires 2 visits. During the first visit, your dentist will take an impression of your teeth so that your veneers can be fabricated. Having already chosen your choice of material and had it colour matched to your teeth, this is also delivered to the lab. Bear in mind that the price will be determined by whether you opt for composite or porcelain veneers in Manchester. Your teeth will also be prepared by shaving off a thin level of enamel before fitting you with temporary veneers.
Once your permanent veneers are back from the lab you'll be called in for the second visit in order for them to be cemented in place on your teeth.
In what situations are veneers useful?
Veneers are generally used to disguise
• Chipped teeth
• Cracked teeth
• Gapped teeth
• Discoloured teeth
• Crooked or misaligned teeth
By opting for veneers, Manchester patients can benefit from a brilliant new smile in no time at all.
Advantages of dental implants in Manchester
• Longevity (at least 15 -20 years) if cared for correctly
• A permanent solution which becomes part of the body
• Halts bone loss
• No additional care needed
• No food restrictions
• Can be used to restore all the teeth of a single jaw
Limitations of veneers in Manchester
• Cannot replace teeth instead veneers are used to cosmetically restore damaged natural teeth
• Limited life of around 10 years after which replacement will be necessary
• Veneers can crack in certain situations especially if not bonded correctly during installation
• If not bonded properly they can slip to reveal the gums, exposing them to possible tooth decay and gum disease
Which should you choose?
Hopefully, by now, you understand the differences between dental implants and veneers. Manchester patients should be aware that despite their initial high cost, dental implants can't be matched in terms of their appearance, convenience, and lifespan. What's more, same-day dental implants in Manchester can be placed even quicker than veneers. While dental implants replace teeth, porcelain veneers in Manchester hide the imperfections of natural teeth.
Why not make an appointment with Church Road Dental on 0161 486 0743 and see what Dr. Karim and his dental team can do to restore your great looking smile.
Back to Blogs
Treatments
Taking your smile in a positive direction
When it comes to a friendly, caring, and professional dentist in Cheadle Hulme, you won't find better than Cheadle Hulme Dental and Cosmetics. Why not book an appointment by contacting us directly at 0161 486 0743? We look forward to welcoming you.
View our treatments