04 February 2019
Dental Implants Manchester – Teeth Whitening Before or After?
How often have you wished that you had a perfect white smile? Well the good news is that your wish is easily attainable with a variety of cosmetic dental treatments such as dental implants in Manchester and teeth whitening in Wilmslow. A lot can be achieved with careful planning and a little patience. However, if you're intending to have a substantial amount of dental work carried out, then it's important that treatments are carried out in the right order.
Therefore, it's important that you choose the right dentist in Didsbury to carry out your smile makeover using dental implants in Manchester as they'll be able to talk you through each of the necessary processes, step by step, and will have explained beforehand what you can realistically hope to achieve.
At Church Road Dental we provide an extensive range of cosmetic dental treatments which collectively make up a smile makeover and because they're all carried out under one roof by our experienced dentists, our patients don't have the hassle of visiting multiple locations. This makes it more convenient for them, and easier for us to co-ordinate their treatments and ensure the best results possible.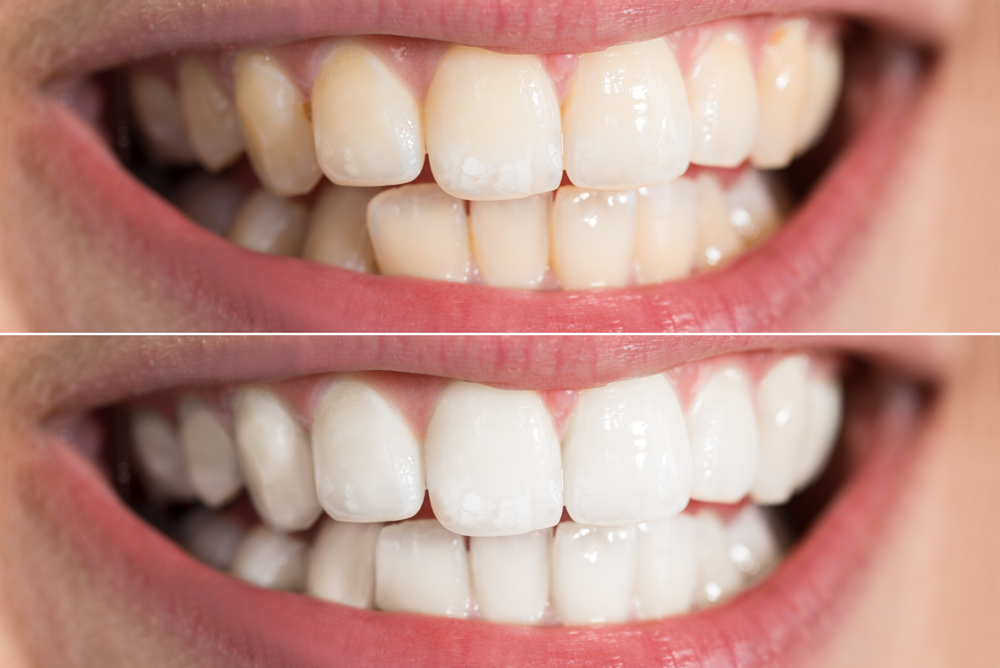 Tooth whitening in Wilmslow and dental implants
Teeth whitening is one our most requested cosmetic treatments and is bound to be included in your smile makeover. However, it's normally best to have this procedure done first before continuing with other restorative treatments such implants, crowns, bridges and veneers. It's important that your teeth whitening treatment is completed before the final restorations are fabricated so that they can be colour matched to your natural teeth for a seamless smile.
Your dentist in Didsbury may recommend that you wait a couple of weeks after teeth whitening treatment to give the colour time to stabilise. Since dental implants in Manchester can take several months to heal, it's the perfect time to start whitening your teeth in order to get the level of whiteness you want before the implants are ready to be topped with dental crowns.
What are your teeth whitening options? 
Most dentists in Manchester provide in-chair whitening and take-home whitening kits. We use Zoom whitening because it offers a level of flexibility to suit everyone's individual whitening needs.
Whether you want your new white smile in a hurry, or you prefer to whiten your teeth at a slower pace in the comfort of your own home, we're sure to have a tooth whitening solution that fits your lifestyle, whitening needs, and budget.
Power Laser Whitening
If you're wanting to have your smile whitened quickly for a special event such as a wedding or vacation, then we recommend Zoom Power Laser teeth whitening in Wilmslow. It has the ability to whiten your teeth by up to 8 shades and can be completed in about one hour, so you could even slot it into your lunch break!
Your dentist will first cover your gums and lips, leaving just your teeth exposed. The Zoom whitening gel is then carefully applied to your teeth. Like most teeth whitening agents, it contains hydrogen peroxide which bleaches your teeth. The gel is then activated using a special lamp which makes it easier for the gel to penetrate the surface of teeth, breaking down and removing any stains. It's then rinsed off so that your dentist can check the colour of your teeth.  This procedure is repeated for another 3 or 4 times allowing the dentist to carefully monitor your progress. Once the desired shade is reached and the gel has been washed off, you'll be free to leave with a sparkling white smile.
In order to help your white smile last longer, patients are typically issued with custom-made bleaching trays allowing them to top up their smile as and when necessary at home.
Take-Home Whitening Kits
If you're looking for a cheaper tooth whitening option which can be carried out at home, then your dentist in Didsbury can provide you with a handy take-home kit.  First, a mould of your teeth will be made so that custom bleaching trays can be made. Unlike the take-home kits you can buy from local stores, custom trays are designed to fit your teeth snugly avoiding uneven whitening. The whitening gel is also stronger than store bought kits, so the results are much more noticeable.
Your dentist will show you how to fill the trays with gel and you'll then wear them over night when you go to bed. In the morning, simply rinse off the gel and repeat the process again the next night and so on. The rate at white teeth whiten varies from one person to another which is why your dentist will need to check your progress after a couple of weeks. Usually you can see a difference after this time, but you may need to continue wearing your trays at night for a few more weeks until you're happy with the results.
Whitening first, always!
If your teeth are looking a little yellow or discoloured, then it's good advice to have them whitened before you receive any new crowns or veneers. This ensures that the final shade that's chosen for your restorations is as close as possible to the colour of your newly whitened teeth and the result looks totally natural.
Porcelain veneers and crowns can't be bleached or lightened to match teeth that have been whitened, so should you choose to have teeth whitening in Wilmslow after undergoing restorative dental work, it's quite likely that you'll end up with unevenly coloured teeth. Let's face it, this isn't a great look and you'll probably end up footing another bill to replace your restorations!
One last point to bear in mind is that teeth whitening should only be carried out if you have a healthy mouth, which is why it's advisable to visit your dentist in Didsbury to check that you are a suitable candidate for teeth whitening. Naturally your teeth won't stay white for ever which is why you should be prepared to top up your smile as and when necessary with take-home whitening kits from your dentist.
Whether you're considering dental implants in Manchester as part of a smile makeover or your teeth are looking a little dingy and you're in need of teeth whitening in Wilmslow, then why not pay Church Road Dental a visit. We love to create perfect smiles. Give us a call today on 0161 4860743 and move one step closer to the smile you've always wanted.
Back to Blogs
Treatments
Taking your smile in a positive direction
When it comes to a friendly, caring, and professional dentist in Cheadle Hulme, you won't find better than Cheadle Hulme Dental and Cosmetics. Why not book an appointment by contacting us directly at 0161 486 0743? We look forward to welcoming you.
View our treatments