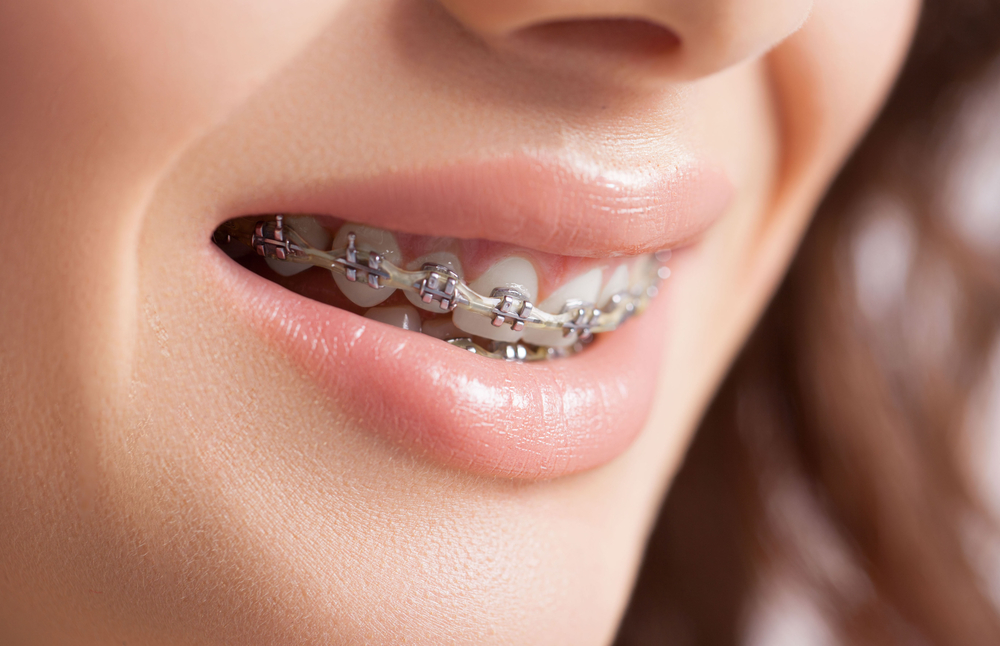 Orthodontic braces offer the chance for people of all ages to totally transform their smiles. This could be anything from mild overcrowding right through to complex bite problems. One question that does tend to come up is whether braces can work with dental implants in Manchester and if so, should they be worn before or after treatment?
Our private dentist in Manchester explains…
Orthodontic treatments such as braces are in high demand. According to one NHS survey carried out back in 2015, around 202,300 adults, teens and children underwent some form of braces treatment in England and Wales alone. That's over 200,000 people per year seeking orthodontic treatment! However, those figures don't include the many thousands more who seek treatment privately.
So with the increase in orthodontic awareness in the UK and the acceptance that braces are now regarded as 'cool', what's the deal when it comes to dental implants? Can they be worn together? If so, in what order?
Dental implants vs natural teeth – The differences explained
When it comes to missing teeth replacement, dental implants are rightly considered the gold standard. In other words, until scientists have figured out a way that we can actually regenerate our own adult teeth, implant-based restorations are the closest thing we have to teeth replacement as it stands.
That said, despite the fact that quality dental implants in Manchester are so incredibly lifelike, there are some basic differences….
One of the main differences is that because implants are anchored firmly into the jawbone, they don't normally move once in position. Not so with our natural teeth!
Because our natural teeth are attached to an elastic ligament (known as the PGL) rather than a rigid solid structure like a titanium post, they are able to move around. For most, this is a perfectly natural and harmless process. However, as we age, it can mean that sometimes, teeth have a tendency to crowd towards the front of the mouth. For many patients, the obvious solution to this age-old problem is orthodontic treatment.
Braces offers people the chance to straighten their smile without undergoing surgery; but what happens if you already have one or more dental implants in place? Are braces really still an option?
The short answer is yes – Braces can be worn comfortably with dental implants!
However, depending upon individual circumstances, there are several approaches we can take.
Braces before implants
As a private dentist in Manchester, we will always try to advise you on the best course of action to suit your needs and requirements because every case and every patient is different.
But in an ideal world, orthodontic treatment is best carried out before undergoing any type of implant-based restoration and indeed, this is the route that most patients take.
The reason for this is that when an implant is finally fitted, (remember, the implant can't be shifted once in position) the teeth will already be perfectly aligned and ready to receive the new addition.
Even if you have a missing tooth, we can always fit a temporary crown to ensure that you won't be left with a gap. Then it's simply a case of removing the temporary crown, and then fitting the permanent dental implant to complete the look.
There are times however when rather than being a choice, braces treatment before implants is absolutely necessary. This is usually in circumstances where sufficient space needs to be created in order to make room for the forthcoming implant and the substitute tooth root.
So now you know about undergoing braces before implant treatment and the logic behind it, what about twisting it around? Let's take a look…
Braces after dental implants
In Manchester, it could be the case that a patient already has dental implants or decides that they want to undergo dental implants first. The good news is that this process is by no means impossible. The bad news is that it can prove a little more tricky.
Provided that the dental implant/implants are in the right position initially, a skilled orthodontist or experienced general dentist should be able to move the teeth around the implanted area. This can be achieved using either traditional fixed braces or by utilising the latest removable clear aligners. So far so good…
The problem comes when the implant in question isn't in the ideal position!
If your dental implant has been in place for a while and for whatever reason is no longer in an ideal position, it won't look right once your natural teeth have been shifted. Of course, it may be possible to replace the existing implant with a newer, straighter version at the end of your orthodontic treatment, but you will need to bear in mind that this is likely to incur further costs and time.
A cheaper and easier alternative might be to simply replace the crown and leave the implant part (the titanium post that is anchored into the jaw) in position. However, this isn't always an ideal solution and it is something that an experienced private dentist in Manchester should be able to advise you on.
Alternatively, you could even leave the implant and crown exactly where it is and instead settle for a slightly compromised result – although this is probably something that we would advise against because it may affect optimal bite alignment.
So there you have it…
Just to recap…
You can undergo orthodontic treatment alongside dental implants. However, in a best-case scenario, braces offer patients near perfect results when used before undergoing any form of implant-based restoration.
In some circumstances, orthodontic treatment is carried out after dental implants in Manchester have been fitted. However, patients should bear in mind that because implants don't move, teeth are usually straightened around the implant. Therefore the implant should always be in the right position to start with.
If you would like to know more about orthodontic braces, dental implants or both, then why not talk to our private dentist in Manchester.
At Church Road Dental and Cosmetics we have been restoring patients' smiles for many years using the latest orthodontic and restorative dental techniques. Why not book yourself a no-obligation consultation with Dr. Shi Karim and the team and let us show you exactly how we can help you.
We'll develop a personalised treatment plan, detailing exactly what needs to be done including timeframes involved, and of course – the exact costs.
Call today for an appointment on 0161 486 0743 or visit our website and book online. On behalf of the Church Road Dental team, we look forward to welcoming you.