21 March 2013
Do you want the perfect smile that is top secret?
In our effort to make sure we are up to date on all the latest orthodontic treatments available we are now offering Secret Smile braces to our range of cosmetic orthodontic options. Secret Smile braces are unique in that they are completely invisible.
The brace is attached to the inside surfaces of your teeth so cannot be seen. This is most convenient for people who have careers in the public eye or just simply do not wish people to know they are having treatment done. Because it is a cosmetic brace it just works on your front six teeth which makes the treatment time greatly reduced which is also an attractive factor for a lot of people. Your first visit would be a consultation with our smile advisor to give you an idea of the treatment, the costs and also answer any questions you may have about the procedure. If you then decide you would like to have the treatment done you would have a further consultation with one of our friendly dentists to check if you are suitable for the secret smile brace.
This is fast becoming a popular choice for orthodontic treatment as it is so discreet and very difficult to tell that you are having any treatment. It is a well known and favoured orthodontic option used amongst celebrities including Myleene Klass & Kate Middleton.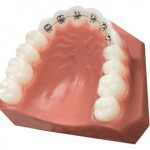 Frequently Asked Questions
Is the brace really invisible?
Yes, the brace is attached to the inside surfaces of your teeth so cannot be seen by others. Is there any food that I can't eat? You should follow a healthy diet; avoid foods and drinks high in sugar and also any hard or crunchy foods which may damage your brace.
Why is treatment so quick?
This is as we are simply improving your smile rather than treating your bite which can take around two years.
Will my teeth move back after the treatment is finished?
As with all orthodontic treatment, we recommend that you wear a retainer.
Will it hurt?
The fitting of the brace is totally painless. It is normal to experience discomfort from your teeth for a couple of days following fitting and adjustment. With Secret Smile braces some people may find that the brackets rub their tongue initially. We provide a special comfort guard for you to wear over the brace to protect your tongue from irritation for the first couple of weeks until you become used to the brackets.
Will it affect my speech?
Some people find that they lisp for a couple of days after the brace is fitted but most people adapt very quickly and no one will realise you are wearing it.
If you would like to know more or to book a consultation appointment simply call the practice on 01614860743 or email us at [email protected] and we can arrange a free consultation appointment for you.
Back to Blogs
Treatments
Taking your smile in a positive direction
When it comes to a friendly, caring, and professional dentist in Cheadle Hulme, you won't find better than Cheadle Hulme Dental and Cosmetics. Why not book an appointment by contacting us directly at 0161 486 0743? We look forward to welcoming you.
View our treatments