06 November 2015
Does Teeth Whitening Hurt?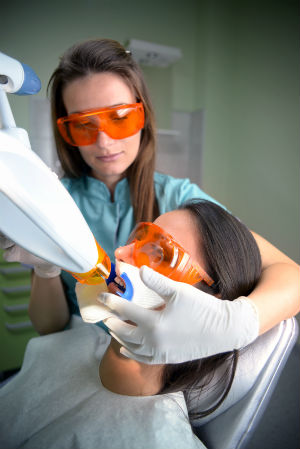 Whether you're considering teeth whitening Manchester as part of an overall smile makeovers Manchester treatment or whether you've come to the conclusion that years of coffee, smoking and red wine have definitely wiped the shine off your teeth, one question might spring to mind, "Does teeth whitening hurt?"
Most people will experience some type of sensitivity. Sometimes it's during the treatment but more often it's after. The good news is that it won't be permanent and under normal circumstances, any form of sensitivity (which is generally sporadic at best) tends to fade within 48 hours. So how bad is the pain? The nearest feeling is similar to that of biting into a choc-ice and experiencing that tingling ice cold feeling in your teeth. It's neither excruciating, or long lasting, instead it's just uncomfortable.
So what causes sensitivity when you experience teeth whitening in Manchester?
In reality sensitivity after teeth bleaching happens for two reasons. Firstly, as the laser works its magic on the teeth, the bleaching molecules penetrate the tooth surface, increasing blood flow and pressure. This can irritate the tooth nerve slightly and it becomes more sensitive to stimuli. This is why when during a series of 3 x 15 minute treatments a patient mightn't feel any sensitivity during the first session, but may feel it more as the treatment moves into the second and third stages.
The other factor that might cause tooth sensitivity is increased tooth porosity. Whether you opt for laser tooth whitening as part of a clinics all use the same process. The bleaching agent removes the protein layer on the surface of your teeth. It has to do this in order to banish those yellow surface stains that most of us tend to experience. In doing so it opens up the pores of the teeth, exposing the underlying dentin, and causing tooth sensitivity.
Is there anything you can do to prevent prolonged tooth sensitivity after tooth whitening?
Firstly don't brush your teeth immediately after treatment as it can heighten the sensitivity stakes. Instead try brushing your teeth beforehand. It really pays to let your teeth recover afterwards at least for a few hours. You can also apply a desensitising gel or paste to your teeth which is often calcium based. You should be able to buy this from any pharmacy or instead talk to your dentist about it. This helps to plug the open pores on the surface of the teeth reducing sensitivity. Finally anti-inflammatory's such as ibuprofen can also help.
So in answer to the question "Does teeth whitening hurt?" the truth is that most patients will experience slight discomfort, but it's not permanent, and usually any tenderness felt will only last for around 48 hours. If you're longing to have a whiter brighter smile and are seeking  or smile makeovers Manchester treatments, then contact Church Road Dental and Cosmetics. We use the latest laser treatments to ensure you get a great smile with as little discomfort as possible. To discuss your options further you can either book a free consultation via our website at  or alternatively you can call us direct on 0161 486 0743. Shi Karim and the team look forward to hearing from you.
Back to Blogs
Treatments
Taking your smile in a positive direction
When it comes to a friendly, caring, and professional dentist in Cheadle Hulme, you won't find better than Cheadle Hulme Dental and Cosmetics. Why not book an appointment by contacting us directly at 0161 486 0743? We look forward to welcoming you.
View our treatments