01 July 2015
Hide your brace not your smile :-)
Lingual Braces: The Secret Brace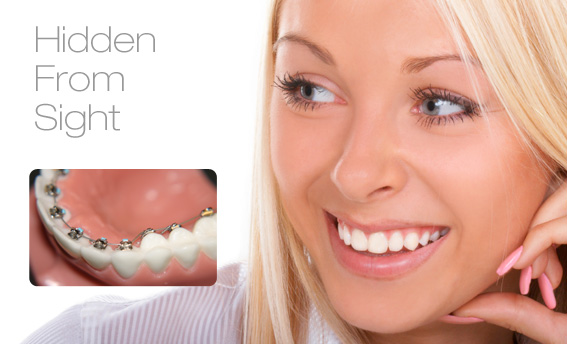 If you have crowded or protruding teeth, there are probably times in your life when you wish you didn't. Crooked teeth can affect your self-esteem and make you uncomfortable posing for family photographs or feel self-conscious about smiling. As your smile is one of the first features that people will notice about you when you are introduced, this may feel problematic to you.
Braces can straighten your teeth to give you an even smile and avoid any future dental issues but you may dread the idea of getting them. Having a mouth full of metal can seem unattractive and could be enough to delay some people getting them.
Luckily, you don't need to put off your dental appointment. There is an alternative. Lingual braces are a revolutionary new 'invisible' brace that can straighten your smile without showing off any metal.
How do Lingual Braces Work?
Lingual braces work in the same way as traditional braces but they are placed differently. Instead of being fixed at the front of your teeth, they are fixed to the back so that the metal work is concealed. This means you don't have to worry about opening your mouth and can feel confident in all sorts of social and professional situations, whether you're being interviewed by your boss or trying to dazzle a new date. Whether you're at school and you don't want to be teased or you're an older person who has always wanted to improve the look of your teeth, you can enjoy the benefits of a lingual brace.
Sporting a Winning Smile
To sport a winning smile, you first need to find a cosmetic dentist that can fit lingual braces. The dentist will make an impression of your mouth. This impression will then be used to make each bracket of the braces, tailored specially to your unique teeth. During a subsequent dental visit, a type of medical cement is applied to the back of the teeth and the brackets are cemented into place. Use of the brace is long-term and you will have to continue to wear it for at least a year but good things come to those who wait.
Famous Faces who Wear Lingual Braces
Lots of people who have to appear in public during the course of their career – such as news readers, actors and even royalty – have worn lingual braces. The most famous couple reported to wear them are Prince William the Duke of Cambridge and Catherine the Duchess of Cambridge.
William was spotted in 2009 showing off some of his brace when he was photographed posing with children at JCB. A spokesperson for the palace said that he had been wearing lingual braces for 10 years. Despite this, it was the first time the media or the public had ever noticed – a testament to how effective the 'invisible' brace is. According to media reports Prince William's wife has since joined him to help perfect her trademark smile.
Other famous people who are said to have benefited from lingual braces include TV presenter and singer Myleene Klass, singer Miley Cyrus and actor Tom Cruise.
If you'd like a superstar smile without the grills, lingual braces could be the ideal solution.
Back to Blogs
Treatments
Taking your smile in a positive direction
When it comes to a friendly, caring, and professional dentist in Cheadle Hulme, you won't find better than Cheadle Hulme Dental and Cosmetics. Why not book an appointment by contacting us directly at 0161 486 0743? We look forward to welcoming you.
View our treatments