19 December 2013
How to get the perfect smile for the big day – Part 1
Planning your wedding is an exciting time.

It can also be a little daunting and scary! We all want to look our best on the day, and when reliving memories flicking through the photo's in years to come….
Is it all about the dress? Well, here at Church Road Dental and Cosmetics we believe it's the whole package. We want you to have the time of your life and feel confident enough to enjoy it to the full. If you're worried about showing your teeth, feeling apprehensive or wishing your smile was brighter, then we're here to help. We understand your smile can play a major part in your day, from laughing at the speeches, to trying not to forget your vows, from singing on the dance floor with friends and family to posing for the all important photos!
We recently had a lovely couple come to us, Tom and Rachelle, who had concerns about their smiles. They were so excited about getting married it was infectious! We knew we wanted to do something special to make their day memorable in all the right ways.
Have a look at the photos below to see how one of our Specialist Cosmetic Dentists, Dr Stephen Dodd, transformed their smiles:
Tom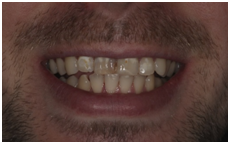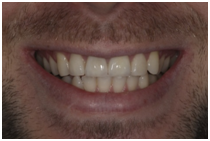 Before                                                                    After
Rachelle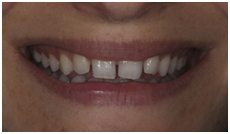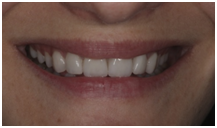 Before                                                     After
To achieve these looks we decided on a combination of treatments:
To lift the colour we advised on teeth whitening. We custom made trays to fit Tom and Rachelle while they were sitting in the chair, which meant we could start whitening their teeth straight away. Patients are keen to go once they've made the decision.

We prepared a mix of crowns and veneers, to give their teeth the finishing touch.
As a professional cosmetic practice we strive to limit "invasive" treatment. Your teeth are a precious asset and we aim to make them the best they can be for you. We can limit the effect of crooked teeth or gaps, the colour or shade of your teeth, the shape of your front teeth, or even reduce the effect of frown lines. We really do the whole package!
But don't just take our word for it! You can read what Tom and Rachelle had to say about their pre-wedding visit to Church Road Dental and Cosmetics here.
Back to Blogs
Treatments
Taking your smile in a positive direction
When it comes to a friendly, caring, and professional dentist in Cheadle Hulme, you won't find better than Cheadle Hulme Dental and Cosmetics. Why not book an appointment by contacting us directly at 0161 486 0743? We look forward to welcoming you.
View our treatments